ProMusica to Open 45th Season with a Weekend of Beethoven & Bruch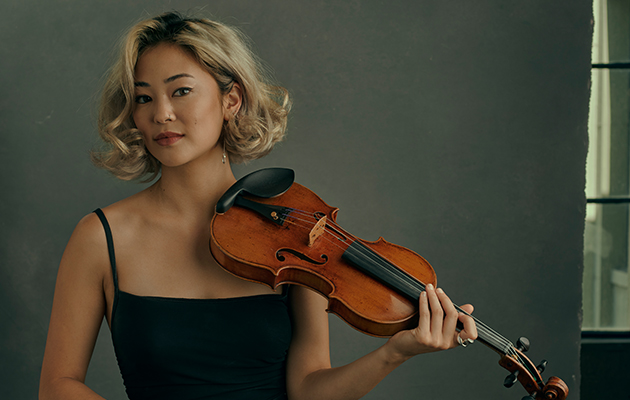 The concerts will feature rising star violinist Simone Porter
(Columbus, OH) – ProMusica Chamber Orchestra's 45th anniversary season will open this October with their signature mix of the contemporary and classic, featuring guest violinist, Simone Porter as soloist. Under the direction of Music Director David Danzmayr, Opening Weekend: Beethoven & Bruch will include Beethoven's Symphony No. 2, Grammy-nominated composer Carlos Simon's Fate Now Conquers, and Bruch's Violin Concerto No. 1, performed by Porter. The concerts will be held on Oct. 7 and 8 at 7 p.m. at the Southern Theatre.
"This season is one of celebration," said Janet Chen, CEO of ProMusica. "It marks the 10th anniversary of our artistic leaders, David Danzmayr and Vadim Gluzman, whose musical visions and artistry have made an incredible impact on our orchestra, our musicians, and in our community. We are excited to open this 45th season with a rising star artist and a program that represents the diverse blend of new and the traditional."
Porter, an Avery Fisher Career Grant recipient made her professional solo debut at the age of 10 with the Seattle Symphony and her international debut with the Royal Philharmonic Orchestra in London at age 13. Since, Porter has performed with prestigious orchestras, the New York Philharmonic Orchestra, the Philadelphia Orchestra, and the Los Angeles Philharmonic; and under the baton of renowned conductors including Gustavo Dudamel and Yannick Nézet-Séguin. At only 26 years old, she is recognized as an emerging artist of impassioned energy, interpretive integrity, and vibrant communication. Porter performs Bruch's richly poetic and show-stopping Violin Concerto No. 1, a piece that is a personal favorite of Danzmayr's.
The program will open with Fate Now Conquers – by Carlos Simon, a Grammy-nominated composer, curator and activist and one of today's young rising composers. An Atlanta native and Composer-in-Residence for the John F. Kennedy Center for the Performing Arts, Simon found inspiration in the musical worlds of gospel and jazz. However, his portfolio displays a broad range, with works that also draw upon contemporary electronic, neo-romantic, and classical sources. The work itself gestures to Beethoven's legacy — drawing from the brilliant orchestral colors, extreme dynamic ranges, and dramatic flairs, all of which capture the Beethovenian spirit.
Beethoven's exuberant Symphony No. 2 caps the celebratory kick-off to the orchestra's 45th season.
Additional information about the Opening Weekend: Beethoven & Bruch concerts are available at https://promusicacolumbus.org/event/opening-weekend-2023/.
###
TICKET INFORMATION
Tickets for Opening Weekend: Beethoven & Bruch range from $18-$64. Tickets are on sale now and are available through the ProMusica Box Office at 614.464.0066 ext. 101 and online at promusicacolumbus.org via Ticketmaster.
ABOUT PROMUSICA
ProMusica Chamber Orchestra delivers a world-class and unique classical music experience—through innovative chamber orchestra programming, education outreach, audience intimacy, and artistic excellence. Recognized for its commitment to performing new and contemporary repertoire, ProMusica has commissioned 68 new works and has presented more than 110 premieres.
Bringing worldwide talent to Columbus since 1978, ProMusica offers an adventurous musical experience through intimate performances on the stages of the Southern Theatre and The Fives. The orchestra, comprised of 37 musicians, showcases homegrown talents, rising stars, and guest artists of international acclaim. Beyond the concert hall, the orchestra is equally at home throughout the community, serving thousands of individuals through key education and outreach programs. Known for its dual traditions of artistic integrity and fiscal responsibility, ProMusica is now in its 45th season.
ProMusica's 2023-2024 season is supported by the Greater Columbus Arts Council, The Columbus Foundation, the Ohio Arts Council, Nationwide, the Reinberger Foundation, and the ProMusica Sustaining Board. Media support is provided by WOSU Classical 101 FM.