"Confluence" Finally Comes Together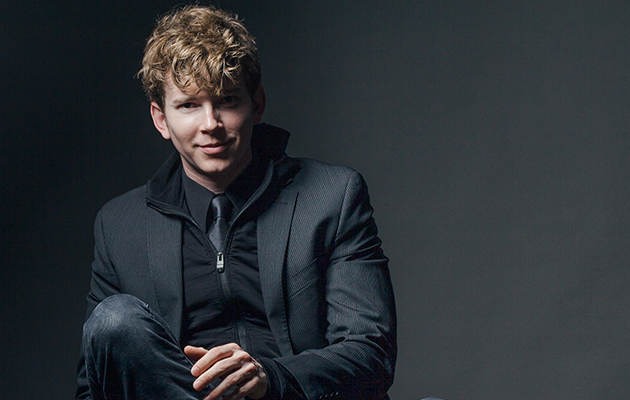 Cellist-composer Joshua Roman's double concerto, Confluence is finally making it's world premiere at the Southern Theatre this weekend. Roman's piece (written in 2019) was originally intended to premiere in April of 2020, but was delayed two years due to the Covid-19 pandemic." Our program notes author Marc Moskovitz spoke with Josh twice while he was in the process of composing the concerto and we wanted to let you "eavesdrop" on the compositional process:
PART I:
Marc: Hi Josh! Good to hear your voice again! Today is January 8, 2020…how far along are you presently and what can you tell us about it?
Josh: It's a single movement, though it will have clear sections and will last about 16 minutes. I am trying to plan how it all fits together but I don't want to force it into a specific structure and I actually already have far more material than will end up going into the piece. There's a lyrical section in the middle, for instance, but some of what I hear is not quite what I'm looking for for this piece, so it may get used somewhere else. And just yesterday I found the sound I'm looking for in one of the sections—it's a balance between looking for things and letting things evolve, but yesterday it all became much clearer…
Marc: How about the work's inspiration—what are you trying to communicate to your listeners?
Josh: If you remember my earlier concerto, it was very thematically driven and largely about how relationships end and what one might learn from that. The central movement was a fight like one would have in a relationship. Now that I also have a violinist as a soloist, I wanted to create a true partnership so I'm looking at the two instruments and asking myself, "What are the strong characters of each, how do they learn to learn to work together, and what's both beautiful and challenging about what they do?" Musically I'm letting that guide the piece.
Marc: And the title?
Josh: At this stage I don't have a title and I'm trying not to get caught up in any extra-musical meaning. I think of it as a double concerto but as a genre that seems a little too grand, given its overall size. Who knows? As the deadline draws closer, some of these things may change so let's talk again in a few weeks and I can share how things have developed.
PART II:
Marc: Hello again, Josh! So it's nearly a month later [Feb 3, 2020]—where do things stand with "our" new piece?
Josh: Well, I have reached the double bar but the revision process began as soon as my first draft was complete so I'm now refining various layers of the piece.
Marc: Have you had any epiphanies or setbacks?
Josh: As a matter of fact, I had found what I thought was an attractive theme but the longer I obsessed over it, the more I came convinced I didn't write it. After a few weeks I figured it out….it wasn't an exact quotation but it had strong similarities with one of the most popular TV show themes from the last ten years! I was absolutely horrified and had to go back and discard most of the elements that made it similar. So that was a minor setback. I also came to realize that some sections were simply too complicated for what I was trying to communicate…I was simply trying to do too much. So I let go of a lot of conflict between the soloists and have created something simpler and more harmonious or concordant.
Marc: Well, I'm glad you discovered your TV theme before you got sued for plagiarism! And when will you meet up with Vadim?
Josh: Next month, by which time I'll have a complete piano score. At this point the whole piece is basically finished, though in this last stretch there is a possibility that small things may still be tweaked. Presently it exists as a partially orchestrated score, with some passages more fully orchestrated and others simply notated as clusters of harmonies or percussion rhythms in the margins and so on.
Marc: And how about the work's structure?
Josh: Overall it is built of three parts: I think of the middle section, the heart of the work, as a pool of rejuvenation, something very peaceful; the concerto opens with an energetic spinning out of an idea that literally lands in this beautiful contemplative middle portion or pool; and the dancelike third section borrows from the playful opening and then builds up steam to an exciting finish. So overall it's very organic. I'm still playing with how to integrate the almost impressionistic accompaniment of the opening with the melody that floats over it but I'm very happy with where the piece is and am confident it will be beautiful and expressive.
Marc: Josh, I think I speak for the entire orchestra when I say we are excited to collaborate with you again. Thanks for spending time sharing your thoughts, good luck with your final revisions and we'll see you on stage!
Joshua Roman's commission and world premiere is made possible through the generous support of Marilyn and Marty Campbell.
Additional support of the commission is provided by the generosity of an Anonymous donor.
Joshua Roman's appearance is made possible by the Marzella family.
---
To learn more about the rest of our April 2 & 3 "Classically Modern" program, you can continue reading Marc's program notes here.