ProMusica welcomes rising star violinist Esther Yoo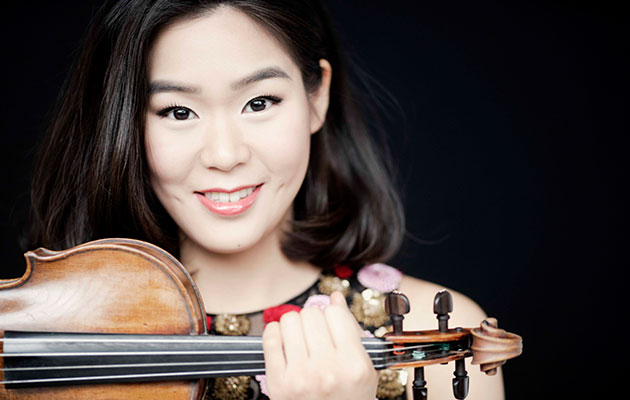 Program features works by Tchaikovsky, Haydn, Golijov, and Wolfgang Danzmayr
(Columbus, OH) – Internationally acclaimed rising star violinist Esther Yoo makes her ProMusica debut with a performance of Tchaikovsky's Violin Concerto — one of the most celebrated works of the violin repertoire — on Saturday, Jan. 11, 2020 at 5:30 p.m. at the Worthington United Methodist Church, and Sunday, Jan. 12, 2020 at 7:00 p.m. at the Southern Theatre.
The concert begins with a work by Argentinean composer Osvaldo Golijov, as ProMusica continues the season's theme of including a piece composed in the 21st century on every program. Golijov's ZZ's Dream, a favorite work of Danzmayr's, was composed in 2008. Next, guest artist Esther Yoo takes the spotlight with Tchaikovsky's Violin Concerto, a piece that is typically performed by larger symphony orchestras, though Danzmayr and Yoo feel it will work well in a more intimate setting.
Next, the orchestra will present the beautiful Elegie, a piece originally written for piano by David's father, Wolfgang Danzmayr – these will be the first public performances of the orchestrated version. The program closes with Joseph Haydn's Symphony No. 75 – a shorter work that Danzmayr describes as "Haydn at his best" – written in the late 18th century.
"We are delighted to have Esther Yoo joining us for our January concerts – she is a stunningly talented violinist, at just 25 years old," said Executive Director Janet Chen. "That, and having the opportunity to premiere the orchestration of 'Elegie' by David's father, is going to make for a really special concert."
In an era when technical perfection is a given, the spotlight inevitably shifts to interpretation, and Esther Yoo's playing has been described as "mesmerizing," "soulful," "spellbinding," "intensely lyrical," and "taking her audience into an enchanted garden." She performs regularly with many leading conductors – including Vladimir Gustavo Dudamel, Esa-Pekka Salonen, Thierry Fischer, Vasily Petrenko, Karina Canellakis and Andrew Davis – as well as orchestras such as the Philharmonia, Los Angeles Philharmonic, BBC Symphony Orchestra, Seoul Philharmonic, Deutsche Radio Philharmonie and the Royal Liverpool Philharmonic. She has also performed at a range of prominent festivals including the BBC Proms and Aspen Music Festival.
###
SINGLE TICKET AND SUBSCRIPTION INFORMATION
Single tickets to any regular season concert – ranging from $16 to $58 – are on sale now. Subscription packages including a Flex Series and the Worthington Series are still available for the 2019-20 season. Subscriptions and single tickets are available through the ProMusica Box Office (614-464-0066 ext. 101; www.promusicacolumbus.org) or through Ticketmaster.
ABOUT PROMUSICA
ProMusica Chamber Orchestra delivers a world-class and unique classical music experience—through innovative chamber orchestra programming, education outreach, audience intimacy, and artistic excellence.  Recognized for its commitment to performing new and contemporary repertoire, ProMusica has commissioned 68 new works and has presented more than 120 premieres.
Bringing worldwide talent to Columbus since 1978, ProMusica offers an adventurous musical experience through intimate performances on the stages of the Southern Theatre and the Worthington United Methodist Church. The orchestra, comprised of 37 musicians, showcases homegrown talents, rising stars, and guest artists of international acclaim. Beyond the concert hall, the orchestra is equally at home throughout the community, serving thousands of individuals through key education and outreach programs. Known for its dual traditions of artistic integrity and fiscal responsibility, ProMusica is now in its 41th season.
ProMusica's 2019-2020 season is supported by the Greater Columbus Arts Council, The Columbus Foundation, the Ohio Arts Council, Nationwide, and the ProMusica Sustaining Board. Media support is provided by WOSU Classical 101 FM.
###