Internationally Acclaimed Violinist Gil Shaham Performs Two Evenings of ProMusica Benefit Concerts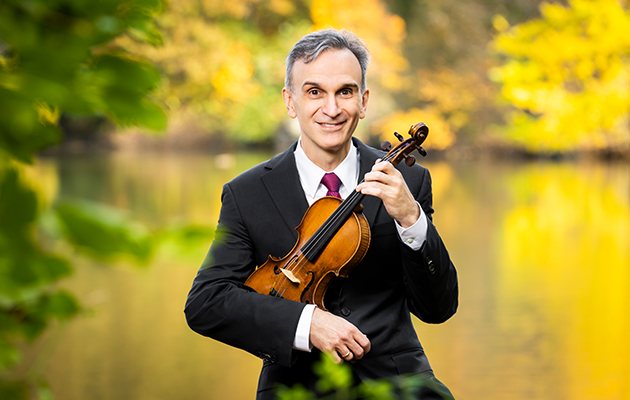 Two-part Season Finale also features favorite duo of  ProMusica leaders David & Vadim
(Columbus) – ProMusica Chamber Orchestra will conclude its 2020-21 Season of Festivals with a two-part Season Finale, featuring two world renowned violinists, Gil Shaham and Vadim Gluzman, who will each perform as soloists with the orchestra. All performances will take place at The Fives.
Part One of the Season Finale showcases Creative Partner Vadim Gluzman with the orchestra on Friday, June 4. Led by Music Director David Danzmayr, this one-night-only program brings together the musicians and ProMusica's artistic leaders – reunited on stage for the first time since August 2020. Additionally, the evening will begin with a presentation by the students of ProMusica's Play Us Forward (PUF) program that brings music instruments and instruction to middle school students at no cost, and has continued throughout the school year despite the COVID restrictions.
Part Two, the finale conclusion, will feature two performances by Grammy Award winning violinist Gil Shaham on June 8 and 9 — which will serve as the orchestra's benefit concerts this season.  Recognized by The New York Times as "one of today's pre-eminent violinists", Shaham has been named as Musical America's "Instrumentalist of the Year" and is highly sought after throughout the world to perform with leading orchestas and conductors. This will be Shaham's debut appearance with ProMusica, and he will perform two pieces as part of the overall performance that highlights composers and their works that celebrate heritage and culture.
"After such an immensely challenging 2020-21 year, it is an incredible dream to be able to welcome Gil Shaham to perform live, in–person with ProMusica and for our Columbus audiences," said Janet Chen, CEO of ProMusica. "To also be able to reunite David and Vadim with our musicians is icing on the cake. We made the best out of this uncertain pandemic year, and are looking forward to concluding this year boldly with great music, and sharing it with our community."
Chen added that as COVID restrictions in Ohio will be lifted only a few days before these concerts, ProMusica will still enforce specific health rules of face masks and social distancing to assure audiences of their safety at the venue. The ease of restrictions will allow for some adjustments from prior concerts – each concert will now be 90 minutes with an intermission.
Additionally, the benefit concerts with Gil Shaham will include a signature cocktail drink and individually boxed gourmet foods for concert goers to enjoy one hour before the concert, offering a more enhanced experience for those attending.
SpringFEST: David & Vadim – Friday, June 4 at 7:30 PM, The Fives
After a brief presentation by PUF students, the program begins with Barber's infamous Adagio for Strings, followed by Vadim's as soloist on Mozart's Violin Concerto No. 3. We celebrate Argentine composer Astor Piazzolla's 100th birthday year performing two of his works: Adios Nonino and Fuga y Misterio. The evening will conclude with Michael Haydn's Symphony in G Major, originally thought to be composed by Mozart.
ProMusica presents An Evening with Gil Shaham – Tuesday June 8 and Wednesday June 9 at 7:30 PM, The Fives [Doors open at 6:00 PM, Pre-Concert Sips & Snacks from 6:15-7:15 PM]
Both nights will be benefit concerts and will replace ProMusica's annual Soiree concert that typically takes place in February, but didn't happen this year due to the pandemic. The concert's theme highlights the works and contributions by composers from a diverse heritage. The program opens with acclaimed violinist Gil Shaham performing two works: Estonian composer Arvo Pärt's Fratres; followed by Mozart's Violin Concerto No. 5, "Turkish" . The second half of the concert highlights favorite folk dances: Bartók's Romanian Dances; Brahms' Hungarian Dances No. 1 and 5; and Dances of Panama by William Grant Still, the first African American to conduct a professional symphony orchestra in the United States. All proceeds from the benefit concerts will support ProMusica's artistic and education programs.
Grammy Award-winning violinist Gil Shaham regularly gives recitals and performs with ensembles on the world's great concert stages and most prestigious festivals. Highlights of recent years include the acclaimed recording and performances of J.S. Bach's complete sonatas and partitas for solo violin.
Appearances with orchestra regularly include the Berlin Philharmonic, Boston Symphony, Chicago Symphony, Israel Philharmonic, Los Angeles Philharmonic, New York Philharmonic, Orchestre de Paris, and San Francisco Symphony as well as multi-year residencies with the Orchestras of Montreal, Stuttgart and Singapore.
Tickets for SpringFEST: David & Vadim are $58 per person.
Tickets for ProMusica presents An Evening with Gil Shaham are $150 per person and includes pre-concert sips and snacks. A portion of the tickets are tax-deductible.
Both performances go on sale to the public on Monday, May 17 at 10:00 AM and all tickets must be purchased in advance, online at www.promusicacolumbus.org. Capacity is limited and all guests will be seated socially distanced. Face masks will be required for all patrons.
###
ABOUT PROMUSICA
ProMusica Chamber Orchestra delivers a world-class and unique classical music experience—through innovative chamber orchestra programming, education outreach, audience intimacy, and artistic excellence.  Recognized for its commitment to performing new and contemporary repertoire, ProMusica has commissioned 68 new works and has presented more than 120 premieres.
Bringing worldwide talent to Columbus since 1978, ProMusica offers an adventurous musical experience through intimate performances on the stages of the Southern Theatre and the Worthington United Methodist Church. The orchestra, comprised of 37 musicians, showcases homegrown talents, rising stars, and guest artists of international acclaim. Beyond the concert hall, the orchestra is equally at home throughout the community, serving thousands of individuals through key education and outreach programs. Known for its dual traditions of artistic integrity and fiscal responsibility, ProMusica is now in its 42nd season.
ProMusica's 2020-2021 season is supported by the Greater Columbus Arts Council, The Columbus Foundation, the Ohio Arts Council, Nationwide, The Reinberger Foundation and the ProMusica Sustaining Board. Media support is provided by WOSU Classical 101 FM.
Additional information is available at www.promusicacolumbus.org.