Vadim Gluzman Returns to ProMusica as Soloist and Leader for Program of Mozart and Golijov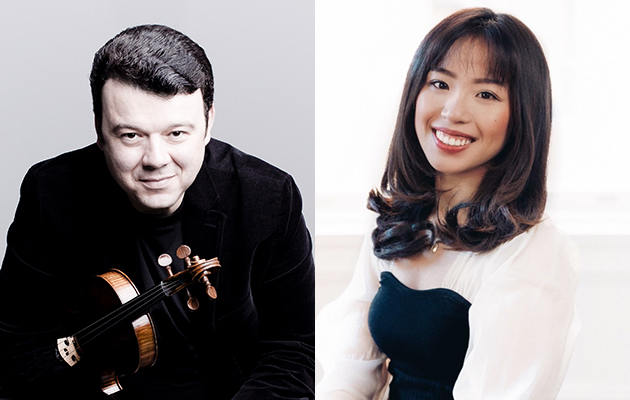 Rising Star Pianist Janice Carissa makes Columbus Debut
(Columbus) – ProMusica Chamber Orchestra's creative partner, violinist Vadim Gluzman, returns to lead the orchestra in April and will be joined by Indonesian pianist and rising star, Janice Carissa. The program will showcase two works by Mozart, paired with a chamber work by Osvaldo Golijov. Mozart & Golijov will take place April 15-16 at the Southern Theatre at 7 p.m.
The dreamlike sonorities of Osvaldo Golijov's Dreams and Prayers of Isaac the Blind, a work for klezmer clarinet and string quartet, will be bookended by the brilliant and sprightly melodies of Mozart's Serenade No. 6, "Serenata notturna", and the legendary composer's stirring Piano Concerto No. 23 in A Major.
"Vadim Gluzman first introduced us to Janice four years ago, pre-pandemic, noting her incredible talent at a relatively young age," said Janet Chen, ProMusica's CEO. "We are very excited to have watched her career quickly rise and finally able to invite her to debut with ProMusica and with Vadim leading at the helm. I think we will see a lot more of this rising star in the years to come and are very excited to bring her to Columbus!"
The concert will open with Mozart's "Serenata notturna", composed in 1776. The work is uniquely scored for string orchestra plus timpani, and highlights two violins, a viola, and double bass as featured soloists.
Next, the orchestra will be pared down to just five musicians, including principal clarinetist Ilya Shterenberg, Gluzman and concertmaster Katherine McLin on violin, violist Michael Strauss, and principal cellist Marc Moskovitz, as they present Golijov's Dreams and Prayers of Isaac the Blind. Golijov wrote the work in 1994, and it has been described by the composer as an "epic" approach to music that has roots in the music of Haydn and Beethoven, as well as Klezmer music, the instrumental music of the Ashkenazi Jews.
The program concludes with Janice Carissa's ProMusica debut as soloist for Mozart's Piano Concerto No. 23 in A Major. Recently named as a prestigious Gilmore Young Artist, Carissa is also a winner of the Salon de Virtuosi, and made her debut with the Philadelphia Orchestra at age 16. Her appearance is made possible through a collaboration with Gluzman's North Shore Chamber Music Festival's Arkady Fomin Scholarship Fund.
Vadim Gluzman joined ProMusica Chamber Orchestra in 2013 as Creative Partner and Principal Guest Artist. Universally recognized among today's top performing artists, Gluzman breathes new life and passion into the golden era of the 19th and 20th centuries' violin tradition. Gluzman's wide repertoire embraces new music, and his performances are heard around the world through live broadcasts and a striking catalogue of award-winning recordings exclusively for the BIS label.
###
TICKET INFORMATION
Tickets for Mozart & Golijov range from $18-$64. Tickets are on sale now and are available through the ProMusica Box Office at 614.464.0066 ext. 101 and online at promusicacolumbus.org via Ticketmaster.
ABOUT PROMUSICA
ProMusica Chamber Orchestra delivers a world-class and unique classical music experience—through innovative chamber orchestra programming, education outreach, audience intimacy, and artistic excellence. Recognized for its commitment to performing new and contemporary repertoire, ProMusica has commissioned 68 new works and has presented more than 110 premieres.
Bringing worldwide talent to Columbus since 1978, ProMusica offers an adventurous musical experience through intimate performances on the stages of the Southern Theatre and The Fives. The orchestra, comprised of 37 musicians, showcases homegrown talents, rising stars, and guest artists of international acclaim. Beyond the concert hall, the orchestra is equally at home throughout the community, serving thousands of individuals through key education and outreach programs. Known for its dual traditions of artistic integrity and fiscal responsibility, ProMusica is now in its 44th season.
ProMusica's 2022-2023 season is supported by the Greater Columbus Arts Council, The Columbus Foundation, the Ohio Arts Council, Nationwide, the Reinberger Foundation, and the ProMusica Sustaining Board. Media support is provided by WOSU Classical 101 FM.