Joshua Roman returns to Columbus for World Premiere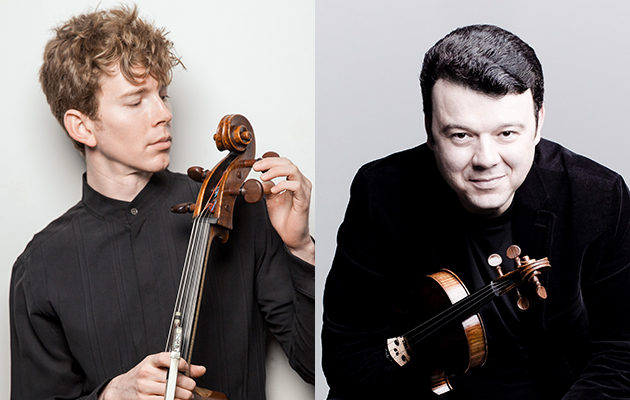 ProMusica to feature creative partner Vadim Gluzman, David Danzmayr leads
(Columbus) – Acclaimed cellist and composer, Joshua Roman – a longtime friend to ProMusica – comes to Columbus in April for the long awaited world premiere of his double concerto,  Confluence. This new work is ProMusica's 68th commission to date, and the second piece the orchestra has commissioned from Roman, the first being his Cello Concerto co-commissioned with the Illinois Philharmonic Orchestra in 2016. In addition, Creative Partner and Principal Guest Artist violinist Vadim Gluzman, will join the orchestra — with Music Director David Danzmayr conducting – to finally present this work that had been postponed in 2020 due to the pandemic.
The Classically Modern concerts will be presented on Saturday, April 2 at 5:30 p.m. and Sunday, April 3 at 7 p.m. at the Southern Theatre.
The program will open with Argentinian composer Osvaldo Golijov's 1996 tango Last Round, followed by Vadim Gluzman performing Felix Mendelssohn's infamous Violin Concerto in E Minor. The second half offers the world premiere of Joshua Roman's double concerto Confluence featuring the composer himself and Gluzman. The evening will conclude with Joseph Haydn's whimsical "Surprise" Symphony.
"Finally, David, Vadim and Joshua are reunited to present a program and world premiere that was canceled due to the pandemic in April 2020" said ProMusica CEO Janet Chen. "After two-plus years, we are finally able to present this work, ProMusica's 68th commission. It will be a memorable and emotional evening with our guest artists and musicans to bring this new composition to life, something we have been looking forward to after such a long time."
Joshua Roman is a cellist, accomplished composer and curator whose performances embrace musical styles from Bach to Radiohead. Before setting off on his unique path as a soloist, Roman was the Seattle Symphony's principal cellist – a job he began at just 22 years of age and left only two years later. He has since become renowned for his genre-bending repertoire and wide-ranging collaborations. Roman was named a TED Senior Fellow in 2015. His live performance of the complete Six Suites for Solo Cello by J.S. Bach on TED's Facebook Page garnered nearly one million live viewers, with millions more for his Main Stage TED Talks/Performances, including an improvisational performance with Tony-winner/MacArthur Genius Grant recipient Bill T. Jones and East African vocalist Somi.
Violinist Vadim Gluzman is in his ninth season as Creative Partner and Principal Guest Artist with ProMusica. His wide repertoire embraces new music and his performances are heard around the world through live broadcasts and a striking catalogue of award-winning recordings exclusively for the BIS label. He is universally recognized among today's top performing artists and appears regularly with major orchestras all over the world including the Berlin Philharmonic, Boston Symphony, Cleveland Orchestra, Chicago Symphony, Philadelphia Orchestra, San Francisco Symphony, Israel Philharmonic, London Philharmonic, London Symphony, and Leipzig Gewandhaus Orchestra. He performs on the legendary 1690 'ex—Leopold Auer' Stradivari on extended loan to him through the generosity of the Stradivari Society of Chicago.
Joshua Roman's commission and world premiere is made possible through the generous support of Marilyn and Marty Campbell, with additional support provided by the generosity of an Anonymous donor. Joshua Roman's appearance is made possible by the Marzella family.
Tickets for the Classically Modern concerts range from $16 to $58 and are be available through the ProMusica office (online at www.promusicacolumbus.org, and by phone at 614.464.0066 ext. 101) or via Ticketmaster.
Only single tickets will be sold for the remainder of ProMusica's 2021-22 concerts to ensure flexibility and safety for all audiences. A section for social distanced seating will also be available upon request, through the ProMusica office. CAPA requires all patrons, staff, and volunteers to wear masks at all times while inside the Southern Theatre, in addition to showing proof of vaccination upon entry.
###
ABOUT PROMUSICA
ProMusica Chamber Orchestra delivers a world-class and unique classical music experience—through innovative chamber orchestra programming, education outreach, audience intimacy, and artistic excellence. Recognized for its commitment to performing new and contemporary repertoire, ProMusica has commissioned 68 new works and has presented more than 110 premieres.
Bringing worldwide talent to Columbus since 1978, ProMusica offers an adventurous musical experience through intimate performances on the stages of the Southern Theatre and The Fives. The orchestra, comprised of 37 musicians, showcases homegrown talents, rising stars, and guest artists of international acclaim. Beyond the concert hall, the orchestra is equally at home throughout the community, serving thousands of individuals through key education and outreach programs. Known for its dual traditions of artistic integrity and fiscal responsibility, ProMusica is now in its 43rd season.
ProMusica's 2021-2022 season is supported by the Greater Columbus Arts Council, The Columbus Foundation, the Ohio Arts Council, Nationwide, the Reinberger Foundation, and the ProMusica Sustaining Board. Media support is provided by WOSU Classical 101 FM.