Rhiannon Giddens to perform with ProMusica at the 2023 Soirée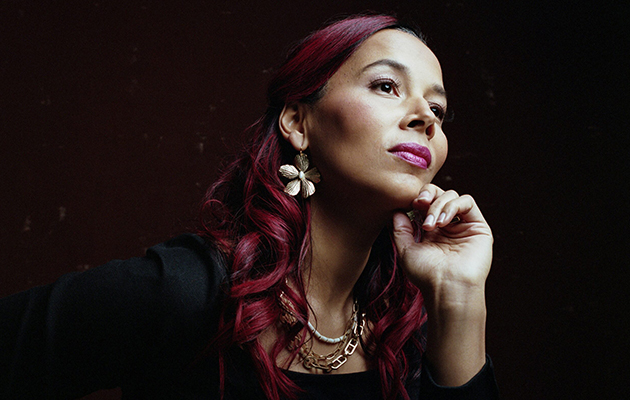 Danzmayr conducts as ProMusica celebrates Americana
(Columbus) – ProMusica Chamber Orchestra today announced that singer-songwriter and multi-instrumentalist Rhiannon Giddens will join the orchestra for the return of its annual fundraiser, the 2023 Soirée Benefit & Concert, on Jan. 19, 2023 at the Southern Theatre.
Recipient of the prestigious MacArthur "Genius" Grant, Giddens is the co-founder of Grammy award-winning band, The Carolina Chocolate Drops, and was recently announced as the Artistic Director of the esteemed Silkroad Ensemble, succeeding Yo-Yo Ma. Giddens' critically acclaimed solo work masterfully blends American musical genres including gospel, jazz, blues, and country, while showcasing her extraordinary emotional range and dazzling vocal prowess. Smithsonian Magazine called Giddens "an electrifying artist who brings alive the memories of forgotten predecessors, white and black." NPR called last year's single "Avalon," written and performed with multi-instrumentalist Francesco Turrisi, "a prayer beyond religion, pulsing with earthly joy."
The 2023 Soirée pre-concert party will begin at 6 p.m. in the ballroom of The Westin Great Southern Columbus hotel, 310 S. High Street, and the concert will begin at 8 p.m. in the adjoining Southern Theatre, 21 E. Main Street. Funds raised from this event go to support ProMusica's artistic and education programs.
In addition to her talents as a vocalist, Rhiannon Giddens also plays banjo and fiddle in The Carolina Chocolate Drops. Her elegant bearing, prodigious voice, and fierce spirit is abundantly evident on her critically acclaimed solo debut, the Grammy-nominated album Tomorrow Is My Turn. Giddens is also a member of the band Our Native Daughters with three other black female banjo players, Leyla McCalla, Allison Russell and Amythyst Kiah, and co-produced their debut album Songs of Our Native Daughters in 2019. Giddens is featured in Ken Burns' Country Music Series, where she speaks about the African American origins of country music. Other televised performances include The Late Show, Austin City Limits, Later…with Jools Holland, and both CBS Saturday and Sunday Morning, among numerous other notable media appearances. She performed for President Obama and the First Lady on In Performance at the White House: In the Gospel Tradition.
"Our signature Soirée has always been a beloved event for ProMusica and for our audiences, and we are thrilled to bring it back after a three-year COVID hiatus" said Janet Chen, CEO of ProMusica. "We wanted to feature an extraordinary talent for the Soirée's return – an artist who can seamlessly weave together a myriad of musical sounds, melodies, and genres, yet stay true and authentic to their artistic roots. Rhiannon's renown and artistry is fast on the rise, and we are so excited to collaborate with her for this one-night-only special and not-to-be-missed event!"
###
TICKET INFORMATION
Tickets for the 2023 Soirée Benefit & Concert will be available to ProMusica subscribers during a pre-sale that will last Oct. 12 through Oct. 19. Tickets will go on sale to the general public on Wednesday, Oct. 19 at 11:00 a.m., available through the ProMusica Box Office or via Ticketmaster. Concert-only tickets will cost $45 to $95, sold through the ProMusica Box Office or via Ticketmaster. Patron packages to attend both the party and the concert will be available at two levels through the ProMusica Box Office only, for: $250 Patron Level and $350 Platinum Patron Level. A portion of each package is tax-deductible.
ABOUT PROMUSICA
ProMusica Chamber Orchestra delivers a world-class and unique classical music experience—through innovative chamber orchestra programming, education outreach, audience intimacy, and artistic excellence. Recognized for its commitment to performing new and contemporary repertoire, ProMusica has commissioned 68 new works and has presented more than 110 premieres.
Bringing worldwide talent to Columbus since 1978, ProMusica offers an adventurous musical experience through intimate performances on the stages of the Southern Theatre and The Fives. The orchestra, comprised of 37 musicians, showcases homegrown talents, rising stars, and guest artists of international acclaim. Beyond the concert hall, the orchestra is equally at home throughout the community, serving thousands of individuals through key education and outreach programs. Known for its dual traditions of artistic integrity and fiscal responsibility, ProMusica is now in its 44th season.
ProMusica's 2022-2023 season is supported by the Greater Columbus Arts Council, The Columbus Foundation, the Ohio Arts Council, Nationwide, the Reinberger Foundation, and the ProMusica Sustaining Board. Media support is provided by WOSU Classical 101 FM.