ProMusica Returns to Franklin Park Conservatory for 6th Annual Summer Music Series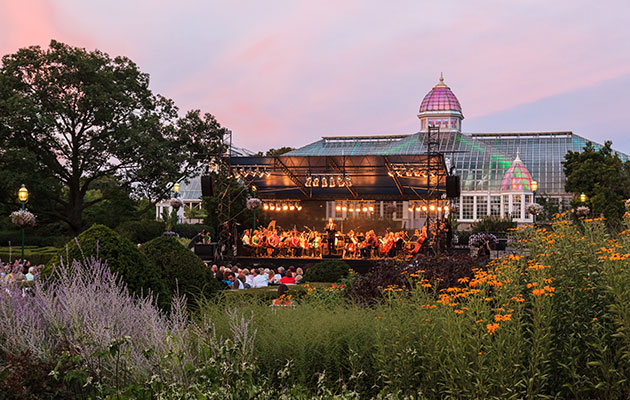 A 3-concert festival to take place Aug. 10, 12 and 13
(Columbus, OH) – ProMusica Chamber Orchestra's popular free Summer Music Series returns to its original summer home on the beautiful grounds of Franklin Park Conservatory and Botanical Gardens for three outdoor live concerts on Thursday, Aug. 10, Saturday, Aug. 12 and Sunday, Aug. 13. All performances start at 8 p.m.
"For six years, we have been able to present our outdoors summer concerts at no cost to the Columbus community," said ProMusica Executive Director Janet Chen. "We feel the Summer Music Series is an important offering, adding to the array of arts activities for audiences to enjoy in the summer months. It's incredible to know that over the years, we've reached over 5,000 individuals, many who do not have the opportunity or financial means to attend live concerts. It's community work that we are proud of, presented at the highest level."
Each year, thousands of ProMusica fans, music lovers, and new friends come out to enjoy world-class performances led by Music Director David Danzmayr. Each concert embraces the opportunity to let the orchestra's own musicians shine as soloists with a different musical program each night that mixes contemporary with the classics.
The series opens on Thursday, Aug. 10 with ProMusica drawing its Schubert Symphony Cycle to a conclusion with Schubert's Symphony No. 2 along with a selection of Mozart's arias from his famed opera, "Marriage of Figaro." Saturday's performance previews ProMusica's two-year Beethoven Symphony Cycle with Beethoven's Symphony No. 7 and selections from Piazzolla and Fitzenhagen featuring ProMusica's Cello Quartet as soloists. The series concludes on Sunday, Aug. 13 with Bartok's lively Romanian Folk Dances, Piazzolla's Coral, a tango arranged for string orchestra, and Tchaikovsky's Serenade for Strings.
Thursday, Aug. 10
Mozart – Overture to The Marriage of Figaro
A selection of arias from Mozart's The Marriage of Figaro
Schubert – Symphony No. 2
Saturday, Aug. 12
Fitzenhagen – Ave Maria*
Piazzolla – La Muerte *
Piazzolla/Zamastil – Concierto Para Quinteto
Beethoven – Symphony No. 7
*featuring the ProMusica cello quartet alone without orchestra
Sunday, Aug. 13
Bartók – Romanian Folk Dances
Piazzolla – Coral, arranged for String Orchestra
Tchaikovsky – Serenade for Strings
All performances include pre-concert children's activities that start at 7 p.m. Children will be able to explore the Franklin Park Conservatory grounds in an Orchestra Scavenger Hunt, create their own music with a Glass Bottle Xylophone and engage in other fun activities and crafts inspired by music and nature.
The 2017 ProMusica Summer Music Series will be presented in partnership with Franklin Park Conservatory and Botanical Gardens, located at 1777 East Broad Street. The concerts will be held on the Conservatory's Grand Mallway, just west of the Palm House. Guests are invited to pack a picnic and stroll the grounds before the concert.
Reserved table seating, pre-order wine and a limited catering menu will be available online via Franklin Park Conservatory & Botanical Gardens beginning on July 15, 2017. There will also be on-site food sales and cash bars at each performance.
ProMusica's Summer Music Series is presented by the Crane Family Foundation and Cardinal Health, with additional support from the City of Columbus Recreation and Parks Department and L Brands. For additional information, please visit www.promusicacolumbus.org.
ABOUT PROMUSICA
ProMusica Chamber Orchestra delivers a world-class and unique classical music experience—through innovative chamber orchestra programming, education outreach, audience intimacy, and artistic excellence. Recognized for its commitment to performing new and contemporary repertoire, ProMusica has commissioned 65 new works and has presented more than 110 premieres.
Bringing worldwide talent to Columbus since 1978, ProMusica offers an adventurous musical experience through intimate performances on the stages of the Southern Theatre and the Worthington United Methodist Church. The orchestra, comprised of 37 musicians, showcases homegrown talents, rising stars, and guest artists of international acclaim. Beyond the concert hall, the orchestra is equally at home throughout the community, serving thousands of individuals through key education and outreach programs. Known for its dual traditions of artistic integrity and fiscal responsibility, ProMusica is now in its 39th season.
ProMusica is funded in part through the work of the Greater Columbus Arts Council, The Columbus Foundation, The Reinberger Foundation, the Ohio Arts Council, and the ProMusica Sustaining Board. Media support is provided by WOSU Classical 101 FM.
###
06/22/2017