ProMusica's SpringFEST Concert Series Opens In-Person on April 17 & 18 at The Fives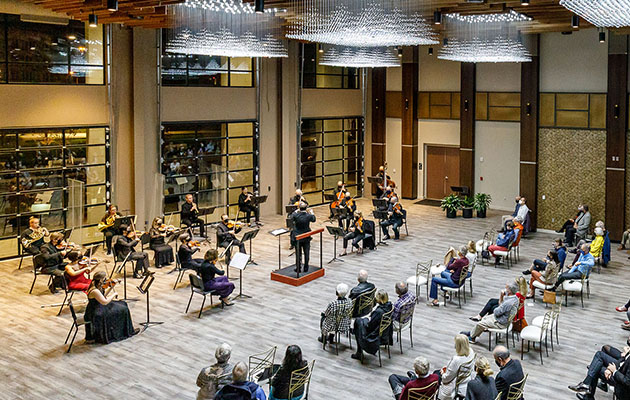 A second SpringFEST digital concert will premiere on April 23
(Columbus) – ProMusica Chamber Orchestra will conclude its "2020-21 Season of Festivals" with SpringFEST, kicking the series off with in-person performances of Mahler's Fourth Symphony arranged for chamber ensemble on Saturday, April 17 at 7:30 PM and Sunday, April 18 at 2 PM at The Fives, located at 555 W. Goodale Street.
SpringFEST continues with Serenades, a digital concert that premieres on Friday, April 23 at 7:30 PM and will be available for streaming on-demand until May 6.
"We are looking forward to welcoming back live audiences for our performance of Mahler 4, and I can't think of a more fitting piece for this occasion. The chamber version of this highly emotional piece is reflective of the many experiences we have felt from this past year – from darkness to peaceful light," said Janet Chen, CEO of ProMusica. "We have flexed every creative muscle this 2020-21 season to bring music to audiences near and far. From our digital concerts reaching viewers from across the globe to experiencing music live and in person – we are looking forward to a joyful and hopeful conclusion to this Season of Festivals."
SpringFEST: Mahler 4 – April 17 at 7:30 PM and April 18 at 2 PM, The Fives
ProMusica will perform Klaus Simon's arrangement of Mahler's beloved Symphony No. 4. Featuring Music Director David Danzmayr, soprano Martha Guth, and 14 ProMusica musicians, the chamber orchestra version offers an intimate experience of this emotional work, while preserving the integrity of Mahler's signature orchestral sound.
SpringFEST: Serenades (Digital Concert) – premieres online April 23 at 7:30 PM
SpringFEST: Serenades highlights the forces of ProMusica's wind and string sections. Samuel Coleridge-Taylor's charming Four Noveletten and Grammy-nominated composer Anna Clyne's achingly beautiful elegy Within Her Arms feature the diverse sounds of the strings. The program is bookended by the expressive and lyrical sounds of Strauss and Dvorak's Wind Serenades, performed by the dynamic wind section.
A SpringFEST Finale with multiple in-person performances is planned for June. Details will be announced soon.
Tickets for SpringFEST: Mahler 4 are $58 and must be purchased at promusicacolumbus.org in advance. Tickets are limited to approximately 100 seated guests, socially distanced, for each performance. Face masks will be required for all patrons. Tickets for SpringFEST: Serenades are $20 per household (or 1 access link) and are also available at promusicacolumbus.org.
Tickets to both concerts will go on-sale online at 10:00 AM on Wednesday, March 31.
SpringFEST is presented by PNC Bank and in partnership with Together & Company at their exclusive venue at The Fives.
###
ABOUT PROMUSICA
ProMusica Chamber Orchestra delivers a world-class and unique classical music experience—through innovative chamber orchestra programming, education outreach, audience intimacy, and artistic excellence.  Recognized for its commitment to performing new and contemporary repertoire, ProMusica has commissioned 68 new works and has presented more than 120 premieres.
Bringing worldwide talent to Columbus since 1978, ProMusica offers an adventurous musical experience through intimate performances on the stages of the Southern Theatre and the Worthington United Methodist Church. The orchestra, comprised of 37 musicians, showcases homegrown talents, rising stars, and guest artists of international acclaim. Beyond the concert hall, the orchestra is equally at home throughout the community, serving thousands of individuals through key education and outreach programs. Known for its dual traditions of artistic integrity and fiscal responsibility, ProMusica is now in its 42nd season.
ProMusica's 2020-2021 season is supported by the Greater Columbus Arts Council, The Columbus Foundation, the Ohio Arts Council, Nationwide, The Reinberger Foundation and the ProMusica Sustaining Board. Media support is provided by WOSU Classical 101 FM.
Additional information is available at promusicacolumbus.org.