ProMusica Presents Handel's Messiah on Nov. 12 & 13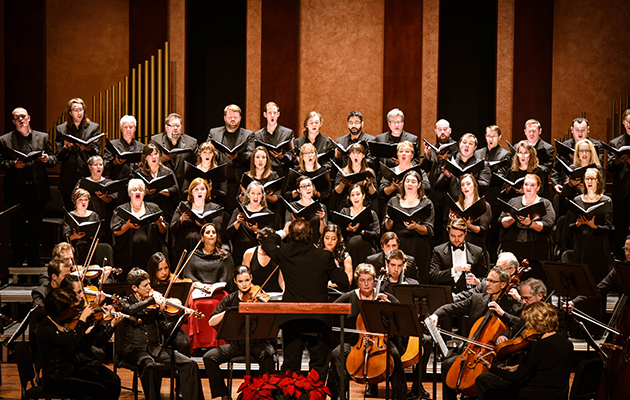 Four world-class vocal soloists and LancasterChorale are featured
(Columbus) – ProMusica Chamber Orchestra, four premiere soloists, and LancasterChorale join forces under the baton of Music Director David Danzmayr, to perform one of the world's most well-known and beloved oratorios, Handel's Messiah.
Composed in 1741, G.F. Handel's Messiah has since become some of the most frequently performed music in the classical repertoire. ProMusica will present this beloved composition on Saturday, Nov. 12 at 7 p.m. and Sunday, Nov. 13 at 7 p.m. at the Southern Theatre, located downtown at 21 E. Main Street.
After many years of performing the piece as a sing along, ProMusica is thrilled to perform the full work for audiences to enjoy. Four phenomenal vocalists and LancasterChorale will join the orchestra to elevate the experience:
Yulia Van Doren, soprano: A dedicated interpreter of repertoire off the beaten path, Van Doren has thoughtfully cultivated a unique career as one of the foremost concert singers of her generation. Particularly recognized for her work in Baroque repertoire, she has been presented as a guest artist by a majority of the premiere North American orchestras and festivals.
Julie Miller, mezzo-soprano: A return guest, Miller's recent performance as Ariodante with the Lyric Opera of Chicago was hailed as "an extraordinarily composed and possibly career-changing performance" (Chicago Sun Times) and her singing was described as "deeply musical" (Chicago Tribune).
Daniel McGrew, tenor: A winner of the 2021 Young Concert Artists International auditions, McGrew is an active performer of a broad range of repertoires spanning opera, musical theatre, early and new music.
Kevin Deas, bass-baritone: Deas has gained international renown as one of America's leading bass-baritones. He is acclaimed for his signature portrayal of the title role in Gershwin's Porgy and Bess, having performed it with the New York Philharmonic and ensembles across the country. Deas returns to ProMusica after singing in the orchestra's joint production with Opera Columbus, The Flood, in 2018.
LancasterChorale: Central Ohio's premier professional chamber choir, founded in 1985, is led by Artistic Director Stephen Caracciolo. The choir has become a staple sharing the stage with ProMusica—having performed significant works including Saint Saëns' Christmas Oratorio, Mozart's Mass and Requiem, and Beethoven's Symphony No. 9 together in recent seasons.
"From the opening overture to the famous Hallelujah chorus—there is no more powerful piece of music that evokes the glorious and sublime," said Janet Chen, CEO of ProMusica. "Together with our four vocalists and  LancasterChorale friends, as we begin the season of Thanksgiving and holidays, we look forward to bringing the full majesty of this work to our audiences."
###
TICKET INFORMATION
Tickets for Handel's Messiah are now on sale, ranging from $18 to $64, available through the ProMusica Box Office or via Ticketmaster. Season subscriptions are still available—including the "Create Your Own" and "Try Three" packages—at promusicacolumbus.org or by phone at 614.464.0066 ext. 101. ProMusica does not currently have any COVID restrictions or protocols in place, subject to change according to CDC guidelines.
ABOUT PROMUSICA
ProMusica Chamber Orchestra delivers a world-class and unique classical music experience—through innovative chamber orchestra programming, education outreach, audience intimacy, and artistic excellence. Recognized for its commitment to performing new and contemporary repertoire, ProMusica has commissioned 68 new works and has presented more than 110 premieres.
Bringing worldwide talent to Columbus since 1978, ProMusica offers an adventurous musical experience through intimate performances on the stages of the Southern Theatre and The Fives. The orchestra, comprised of 37 musicians, showcases homegrown talents, rising stars, and guest artists of international acclaim. Beyond the concert hall, the orchestra is equally at home throughout the community, serving thousands of individuals through key education and outreach programs. Known for its dual traditions of artistic integrity and fiscal responsibility, ProMusica is now in its 44th season.
ProMusica's 2022-2023 season is supported by the Greater Columbus Arts Council, The Columbus Foundation, the Ohio Arts Council, Nationwide, the Reinberger Foundation, and the ProMusica Sustaining Board. Media support is provided by WOSU Classical 101 FM.