ProMusica Opens Season with Beethoven's Fifth and Persian Folk Songs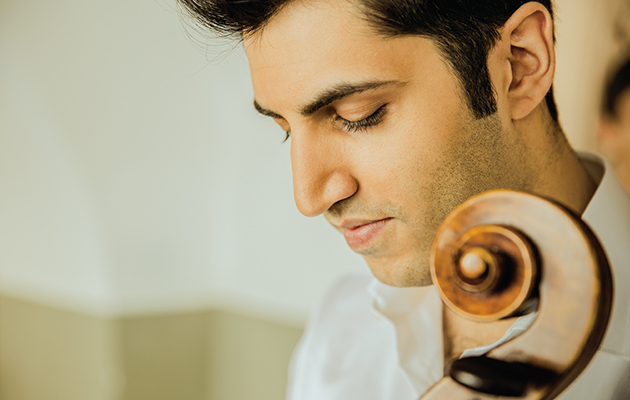 Celebrated cellist Kian Soltani makes his debut with ProMusica
(Columbus) –ProMusica opens its 2022-23 season with two nights at the Southern Theatre, for a weekend of celebration. The pair of concerts will feature guest artist Austrian-Iranian cellist Kian Soltani joining the orchestra for the first time to perform, Haydn's Cello Concerto No. 1 and the Ohio premiere of Iranian composer Reza Vali's "The Girl from Shiraz" from Persian Folk Songs.
Opening Weekend: Beethoven No. 5 will be presented on Saturday, Oct. 8 at 7:30 p.m. and Sunday, Oct. 9 at 7 p.m. at the Southern Theatre, located downtown at 21 E. Main Street.
The program will begin with Pulitzer-prize and Grammy award winning composer Aaron Jay Kernis' composition Musica Celestis for strings. Kian Soltani then joins the orchestra as soloist for a pair of works featuring the traditional and contemporary with Haydn's Cello Concerto No. 1 and Iranian composer Reza Vali's The Girl from Shiraz. The evenings will close with Beethoven's Symphony No. 5 — one of the most celebrated symphonic works in history.
"After a complex and uncertain two years, it is wonderful to feel our feet more firmly planted, and to open a season on solid ground. We are pleased to feature the inspiring cellist Kian Soltani for the first time in Central Ohio," said Janet Chen, CEO of ProMusica. "Kian is able to take us on a musical journey blending the classical artistry of Haydn with the diverse voice of Reza Vali. And featuring Beethoven's Fifth Symphony and the most famous four notes ever written will be an exciting start to our 44th season."
Born in Bregenz, Austria in 1992 to a family of Persian musicians, Kian Soltani began playing the cello at age four and was only 12 when he joined Ivan Monighetti's class at the Basel Music Academy. Hailed by The Times as a "remarkable cellist" and described by Gramophone as "sheer perfection", Soltani's playing is characterized by a depth of expression, sense of individuality and technical mastery, alongside a charismatic stage presence and ability to create an immediate emotional connection with his audience. He is sought after by the world's leading orchestras, conductors and recital promoters, propelling him from rising star to one of the most talked-about cellists performing today.
In 2020-21 Soltani made debuts with orchestras including the Munich Philharmonic, Accademia Nazionale di Santa Cecilia, ORF Vienna Radio Symphony Orchestra, and the Rotterdam Philharmonic Orchestra. In 2017, Soltani signed an exclusive recording contract with Deutsche Grammophon — his first disc Home, comprising works for cello and piano by Schubert, Schumann and Reza Vali, was released to international acclaim in February 2018, with Gramophone describing the recording as "sublime."
###
TICKET INFORMATION
Tickets for Opening Weekend are on sale, ranging from $18 to $64, available through the ProMusica Box Office or via Ticketmaster. Season subscriptions are still available online at promusicacolumbus.org or by phone at 614.464.0066 ext. 101. Subscriptions packages for the 2022-2023 season range from $99 to $324.
ABOUT PROMUSICA
ProMusica Chamber Orchestra delivers a world-class and unique classical music experience—through innovative chamber orchestra programming, education outreach, audience intimacy, and artistic excellence. Recognized for its commitment to performing new and contemporary repertoire, ProMusica has commissioned 68 new works and has presented more than 110 premieres.
Bringing worldwide talent to Columbus since 1978, ProMusica offers an adventurous musical experience through intimate performances on the stages of the Southern Theatre and The Fives. The orchestra, comprised of 37 musicians, showcases homegrown talents, rising stars, and guest artists of international acclaim. Beyond the concert hall, the orchestra is equally at home throughout the community, serving thousands of individuals through key education and outreach programs. Known for its dual traditions of artistic integrity and fiscal responsibility, ProMusica is now in its 44th season.
ProMusica's 2022-2023 season is supported by the Greater Columbus Arts Council, The Columbus Foundation, the Ohio Arts Council, Nationwide, the Reinberger Foundation, and the ProMusica Sustaining Board. Media support is provided by WOSU Classical 101 FM.