ProMusica introduces new Neighborhood Series in 2023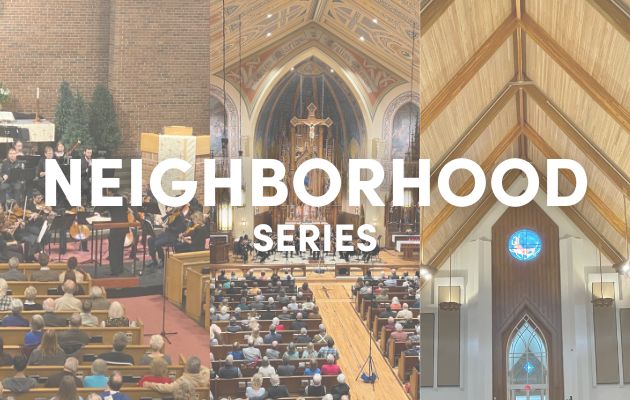 Series to be presented in multiple venues across the city
(Columbus) – In February and March, ProMusica launches a new Neighborhood Series, to take place in church venues across the greater Columbus area. The orchestra will be featured in more intimate venues, with the goal to expand its footprint and take ProMusica out of its downtown Southern Theatre setting and into surrounding communities.
Creative Partner & Principal Guest Artist Vadim Gluzman will lead the orchestra for the first concert program, Vadim & Vivaldi, which will take place on Saturday, Feb. 25 at 7:00 PM at the Worthington United Methodist Church (600 High Street in Worthington), and on Sunday, Feb. 26 at 7:00 PM at Saint Mary Catholic Church (700 S. Third Street in German Village).
This program will highlight two pieces by Antonio Vivaldi – Concerto for 4 Violins RV 580 from Il Giardino Armonico, featuring Gluzman and ProMusica musicians and violinists Katherine McLin, Jenny Ross and Solomon Liang; and the beloved The Four Seasons, showcasing Gluzman as soloist. Also on the bill will be contemporary Latvian composer Pēteris Vasks' Musica Serena, composed in 2015.
The second concert in the Neighborhood Series, Mozart & More, will be presented on Friday, March 17 at 7:30 PM at the First Community Church – North Campus (3777 Dublin Road, just south of Hilliard); on Saturday, March 18 at 7:00 PM at the Worthington United Methodist Church; and then on Sunday, March 19 at 3:00 PM at Saint Mary Catholic Church.
This program includes Richard Strauss' Serenade for Winds in E-Flat Major, Op. 7; Brazilian composer Heitor Villa-Lobos' Ciranda Das Sete Notas for Bassoon and Strings featuring principal bassoonist Ellen Connors; Jewish composer Vilém Tauský's Coventry; and W.A. Mozart's Symphony No. 38 "Prague."
"The new Neighborhood Series is a great opportunity to connect with new audiences in different geographic communities, who may prefer to first experience ProMusica closer to their own backyards," said Janet Chen, CEO of ProMusica. "We will still bring the same incredible talents of the orchestra to these beautiful and intimate venues, and are thrilled to continue finding new ways and locations to present our music."
The Neighborhood Series is presented by The Jim and Ida Copenhaver Ginter Artistic Innovation Fund. 
###
TICKET INFORMATION
Tickets for The Neighborhood Series will go on sale to the public on Thursday, December 8th. Seating will be general admission at $32 per ticket, and $12 student tickets will be available. Tickets are available through the ProMusica office and online at promusicacolumbus.org.
ABOUT PROMUSICA
ProMusica Chamber Orchestra delivers a world-class and unique classical music experience—through innovative chamber orchestra programming, education outreach, audience intimacy, and artistic excellence. Recognized for its commitment to performing new and contemporary repertoire, ProMusica has commissioned 68 new works and has presented more than 110 premieres.
Bringing worldwide talent to Columbus since 1978, ProMusica offers an adventurous musical experience through intimate performances on the stages of the Southern Theatre and The Fives. The orchestra, comprised of 37 musicians, showcases homegrown talents, rising stars, and guest artists of international acclaim. Beyond the concert hall, the orchestra is equally at home throughout the community, serving thousands of individuals through key education and outreach programs. Known for its dual traditions of artistic integrity and fiscal responsibility, ProMusica is now in its 44th season.
ProMusica's 2022-2023 season is supported by the Greater Columbus Arts Council, The Columbus Foundation, the Ohio Arts Council, Nationwide, the Reinberger Foundation, and the ProMusica Sustaining Board. Media support is provided by WOSU Classical 101 FM.