ProMusica Honors George Barrett and Douglas Kridler with Marjorie Lazarus Golden Baton Award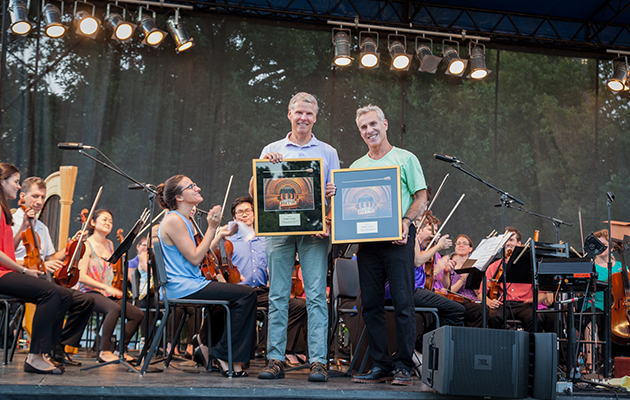 Business Leaders recognized for their dedication to ProMusica and the arts
(Columbus, OH) – At its Summer Music Series concert at The Topiary Park on Aug. 11, ProMusica Chamber Orchestra surprised George Barrett, CEO of Cardinal Health, and Douglas Kridler, President and CEO of The Columbus Foundation by honoring both community leaders with the orchestra's 2016 Marjorie Lazarus Golden Baton Award. This award, given to an individual, community organization or corporate partner for their compelling dedication to ProMusica and the arts, recognizes George Barrett and Douglas Kridler's work and vision to create The Columbus Performing Arts Prize, in which ProMusica has been a recipient.
"The Marjorie Lazarus Golden Baton Award celebrates those in our community whose passion for ProMusica fosters opportunities that are unique to our mission, and enriches the arts in our lives in Central Ohio," said Janet Chen, executive director of ProMusica Chamber Orchestra. "Their creation of The Columbus Performing Arts Prize, to celebrate the exceptional leaders in the performing arts, is one-of-its-kind and we are grateful for their commitment to our Music Director, David Danzmayr and his artistic vision."
The Marjorie Lazarus Golden Baton Award was established in 2003 by ProMusica Chamber Orchestra, in honor of Ms. Marjorie Lazarus, a longtime friend, arts patron, and supporter. Past recipients of the award have included:
* PNC Bank
* Elizabeth M. Ross
* WOSU, and classical morning host Boyce Lancaster
* Mr. Robert Lazarus, Jr.
* Mr. Richard Oman
* The Drury Inn and Suites
"I am so pleased that Doug and George were chosen as this year's award winners, it is because of their belief in ProMusica that we can put forth innovating projects like a new recording, and our upcoming series, 'Naked Classics'," said David Danzmayr, music director of ProMusica Chamber Orchestra. "The Marjorie Lazarus Golden Baton Award is only a small token of our thanks for their support and leadership, and we celebrate their dedication to elevating our art form in Central Ohio."
###
ABOUT PROMUSICA
ProMusica Chamber Orchestra delivers a world-class and unique classical music experience—through innovative chamber orchestra programming, education outreach, audience intimacy, and artistic excellence. Recognized for its commitment to performing new and contemporary repertoire, ProMusica has commissioned 63 new works and has presented more than 110 premieres.
Bringing worldwide talent to Columbus since 1978, ProMusica offers an adventurous musical experience through intimate performances on the stages of the Southern Theatre and the Worthington United Methodist Church. The orchestra, comprised of 37 musicians, showcases homegrown talents, rising stars, and guest artists of international acclaim. Beyond the concert hall, the orchestra is equally at home throughout the community, serving thousands of individuals through key education and outreach programs. Known for its dual traditions of artistic integrity and fiscal responsibility, ProMusica is now in its 38th season.
ProMusica is funded in part through the work of the Greater Columbus Arts Council, The Columbus Foundation, The Reinberger Foundation, the Ohio Arts Council, and the ProMusica Sustaining Board. Media support is provided by WOSU Classical 101 FM.