ProMusica explores Mozart's compositional genius in pair of March concerts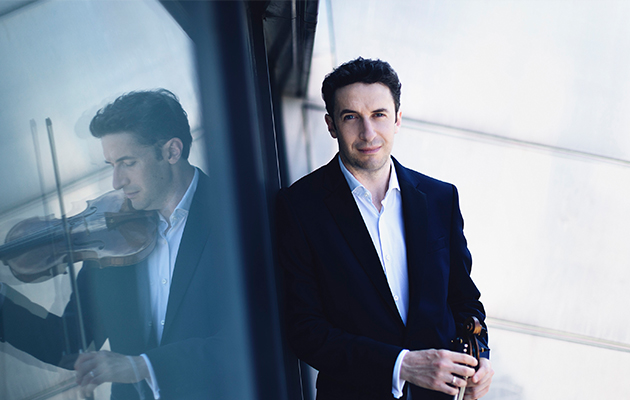 Berlin Philharmonic First Concertmaster violinist Noah Bendix-Balgley featured as composer and soloist, NAKED CLASSICS returns
(Columbus) – ProMusica Chamber Orchestra will welcome renowned American violinist and First Concertmaster of the Berlin Philharmonic Noah Bendix-Balgley for Classical & Klezmer on March 4 and 5 at 7 p.m. at the Southern Theatre. Performing his own Fidl Fantayze: A Klezmer Concerto, Bendix-Balgley will be highlighted as both composer and performer. Wolfgang Amadeus Mozart's first and last symphonies will also be featured on the program, to showcase the journey of the composer's musical genius. To deepen the musical experience for audiences, ProMusica's NAKED CLASSICS returns after a three-year hiatus, with host and presenter Paul Rissmann on Friday, March 3 at 7:30 p.m. also at the Southern Theatre.
Classical & Klezmer, will feature Mozart's Symphony No. 1, which was penned in London when he was eight years old, as well as his final symphony, No. 41, Jupiter, which he wrote at the age of 32. Sandwiched between the two Mozart symphonies will be a performance of Bendix-Balgley's Fidl Fantazye: A Klezmer Concerto arranged for chamber orchestra.
A passionate composer and chamber musician, Bendix-Balgley served as Concertmaster of the Pittsburgh Symphony prior to his current appointment as First Concertmaster of the esteemed Berlin Philharmonic. Originally from Asheville, North Carolina, Bendix-Balgley was deeply influenced by klezmer music from his father, which led to his own composition.
To kick-off the weekend, Rissmann and ProMusica will bring back the beloved NAKED CLASSICS format, after a multi-season absence during the pandemic. Rissmann, Danzmayr, and the orchestra will deconstruct and explore the unsolved mysteries of Mozart's first and final symphonies.
Through the use of digital projection, live musical excerpts from the orchestra, and interviews with the musicians on stage, Rissmann will guide the audience with a presentation that not only explores the historical background and context of the music, but also investigates its construction in a way that is easy for concert-goers to digest. In the second half of the program, Danzmayr and the orchestra will perform two pieces in their entirety, giving audiences new insight into the pieces.
Hailing from Scotland, Rissmann is a composer, presenter, and music educator. His works have been commissioned and performed by orchestras across the world including the New York Philharmonic, Royal Scottish National Orchestra, Melbourne Symphony Orchestra and London Philharmonic. He currently holds the position of Animateur for the London Symphony Orchestra and is Children's Composer in Residence for Music in the Round.
"This March concert weekend will be very special as we welcome the esteemed violinst and composer Noah Bendix-Balgley to present his own work as part of his ProMusica debut – AND finally we feature the return of our beloved NAKED CLASSICS event," said Janet Chen, CEO of ProMusica. "This series will have something for everyone, whether you are a seasoned concertgoer or newcomer, and we welcome all to be enlightened and entertained."
###
TICKET INFORMATION
Tickets for Classical & Klezmer range from $18-$64, and general admission tickets for NAKED CLASSICS: Mozart – Journey of a Genius are $28. Tickets for both concerts are on sale now and are available through the ProMusica Box Office at 614.464.0066 ext. 101 and online at promusicacolumbus.org via Ticketmaster.
ABOUT PROMUSICA
ProMusica Chamber Orchestra delivers a world-class and unique classical music experience—through innovative chamber orchestra programming, education outreach, audience intimacy, and artistic excellence. Recognized for its commitment to performing new and contemporary repertoire, ProMusica has commissioned 68 new works and has presented more than 110 premieres.
Bringing worldwide talent to Columbus since 1978, ProMusica offers an adventurous musical experience through intimate performances on the stages of the Southern Theatre and The Fives. The orchestra, comprised of 37 musicians, showcases homegrown talents, rising stars, and guest artists of international acclaim. Beyond the concert hall, the orchestra is equally at home throughout the community, serving thousands of individuals through key education and outreach programs. Known for its dual traditions of artistic integrity and fiscal responsibility, ProMusica is now in its 44th season.
ProMusica's 2022-2023 season is supported by the Greater Columbus Arts Council, The Columbus Foundation, the Ohio Arts Council, Nationwide, the Reinberger Foundation, and the ProMusica Sustaining Board. Media support is provided by WOSU Classical 101 FM.