ProMusica Chamber Orchestra announces Leslie Odom, Jr., award-winning star of Hamilton as 2018 Soirée Guest Artist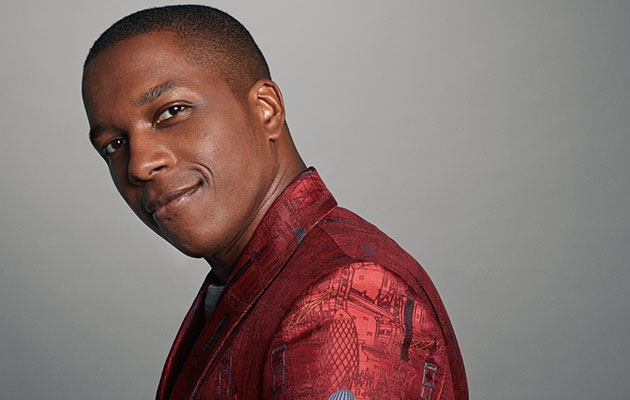 (Columbus, OH) – – ProMusica Chamber Orchestra announces celebrated Broadway star, singer and actor Leslie Odom, Jr. as guest artist for its annual Soirée benefit and concert event in February. Odom Jr. originated the role of Aaron Burr in the Broadway hit musical Hamilton, a performance for which he won the 2016 Tony Award for Best Actor in a Musical and a GRAMMY award for his principal soloist performance on the cast album in the "Best Musical Theater Album" category. Music Director David Danzmayr will conduct.
The 2018 ProMusica Soirée benefit and concert will take place at the Southern Theatre and the adjoining Westin Columbus Ballroom on Saturday, February 10th. The pre-concert party will begin at 6 p.m., with the performance at 8 p.m.
"ProMusica is thrilled to present such a multi-faceted, exciting, and imaginative artist for our annual Soirée event this year," said Executive Director Janet Chen. "Leslie Odom, Jr. has garnered incredible accolades as an actor and singer, and the opportunity to feature him alongside our orchestra promises to be an evening not-to-be-missed."
Leslie Odom, Jr. made his Broadway debut in the musical Rent at just 16 years old. That first high-profile gig lead to appearances in LucasFilm's 2012 Red Tails on the big screen as well as in high-profile recurring television roles on Smash, Person of Interest, Law & Order: Special Victims Unit, and many more. In 2015, he landed the role of a lifetime as Aaron Burr in Hamilton. With producer Joseph Abate, he released his self-titled solo debut Leslie Odom, Jr. The collection made it to #1 on the Billboard Top Jazz Albums Chart, and he followed with a holiday release, Simply Christmas. Odom capped off 2017 starring in the film Murder on the Orient Express, and will release a PBS Special and new album in 2018.
Although Odom has received acclaim for his acting performances, on stage, and on the big and small screen, he notes that music, and singing, is his primary interest. "When people listen to any of my albums or songs, I hope they hear quality first," said Odom. "I hope they hear something tastefully made, with love and attention to detail at the center. We respect our audiences and we appreciate their time and support. We don't want them to feel they've wasted either."
The 2018 Soirée is presented by American Electric Power and supported by Gold Sponsors Abercrombie & Fitch; Fifth Third Bank; Huntington; IceMiller LLP; Jones Day; PorterWright; treetree; Vorys, Sater, Seymour & Pease; The Westin Columbus; The COR Group of UBS Financial Services; Barbara K. Fergus; Dr. R. Larry Moss and Kris Moss; and Lee Shackelford.  Media support is provided by WOSU Classical 101 FM. 
###
TICKET INFORMATION
Tickets for the Soirée concert alone can be purchased for $45, $60 or $95. Patron Packages, which include the cocktail reception in The Westin Ballroom in addition to the concert, can be purchased at the $350 Gold Level, the $275 Silver Level, and the $200 Bronze Level. A portion of each package is tax-deductible. Tickets and more information are available by calling ProMusica at 614-464-0066, or online at www.promusicacolumbus.org.
###
ABOUT PROMUSICA
ProMusica Chamber Orchestra delivers a world-class and unique classical music experience—through innovative chamber orchestra programming, education outreach, audience intimacy, and artistic excellence. Recognized for its commitment to performing new and contemporary repertoire, ProMusica has commissioned 65 new works and has presented more than 110 premieres.
Bringing worldwide talent to Columbus since 1978, ProMusica offers an adventurous musical experience through intimate performances on the stages of the Southern Theatre and the Worthington United Methodist Church. The orchestra, comprised of 37 musicians, showcases homegrown talents, rising stars, and guest artists of international acclaim. Beyond the concert hall, the orchestra is equally at home throughout the community, serving thousands of individuals through key education and outreach programs. Known for its dual traditions of artistic integrity and fiscal responsibility, ProMusica is now in its 39th season.
ProMusica is funded in part through the work of the Greater Columbus Arts Council, The Columbus Foundation, The Reinberger Foundation, the Ohio Arts Council, and the ProMusica Sustaining Board. Media support is provided by WOSU Classical 101 FM.
###
01/11/2018