ProMusica Mixes Classic with Contemporary, Celebrates Diversity in 43rd Season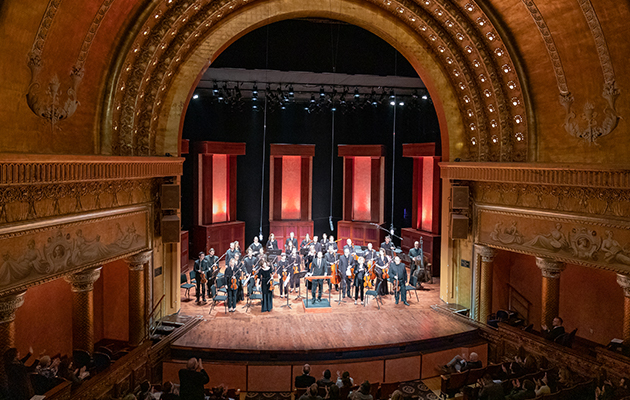 Featuring two world premiere commissioned works
(Columbus, OH) –  Following a long pandemic year, ProMusica Chamber Orchestra announces  a full slate of concerts in 2021-2022, as Music Director David Danzmayr, Creative Partner Vadim Gluzman, and the orchestra welcome internationally acclaimed guest artists, rising young talents, and celebrate diversity through its quintessential programming mix of the classics and contemporary.
Season 43 will world premiere the orchestra's 68th and 69th commissions and host of contemporary compositions while performing traditional favorites by Bach and Beethoven, with a spotlight on 18th-century German composer Felix Mendelssohn. The orchestra also returns to the Southern Theatre for its subscription concerts.
"Our creativity came alive during the past pandemic year, and we are thrilled to continue our momentum and energy with a new season full of inspirational works and incredible guest artists," said ProMusica CEO Janet Chen. "Honoring cultural heritage and diversity has been a part of our DNA but this year we are lifting voices and artists further and higher, as we spotlight the role of women musicians, women composers, and composers and soloists of diverse backgrounds. This is a year to come together through our music as we continue to emerge and heal from an emotional and challenging 16 months. Music is still so needed and our 43rd season will be joyful and full of it!"
OPENING NIGHT, Sunday, October 10, 2021, Southern Theatre: The Philadelphia Inquirer called Opening Night's guest artist and composer/performer bassist Xavier Foley, "a dazzling player who hears borders between styles as limitations best ignored." Winner of the prestigious 2018 Avery Fisher Career Grant, he was recognized on New York WQXR's "19 for 19 Artists to Watch" list and was featured on PBS Thirteen's NYC-ARTs. Foley and violinist Eunice Kim will be featured on Foley's "For Justice and Peace", a work that represents a modern dialogue about slavery's history in the United States. David Danzmayr and the orchestra rounds out the evening performing Brazilian-American composer Clarice Assad's Suite for Lower Strings and Beethoven's 7th Symphony.
NOVEMBER CONCERT, Saturday Nov. 6 and Sunday Nov. 7, Southern Theatre: Creative Partner and violinist Vadim Gluzman leads and performs with the orchestra alongside 20-year-old violinist Julian Rhee for Alfred Schnittke's Concerto Grosso No. 1.  Praised for his "sophisticated, assured tone, superb intonation, and the kind of poise and showmanship that thrills audiences." Rhee made his Milwaukee Symphony Orchestra debut at age 8 and has gone on to perform with orchestras including the Aspen Philharmonic, San Diego, Pittsburgh, Eugene, and Madison Symphony Orchestras. Julian Rhee's appearance is in partnership with the North Shore Chamber Music Festival's "Stars of Tomorrow!" program. ProMusica's musicians are uniquely highlighted for Beethoven's Septet – one of his most popular and robust chamber works.
DECEMBER CONCERT, Saturday, Dec. 11 and Sunday, Dec. 12, Southern Theatre: The New York Times called December's guest artist, pianist Simone Dinnerstein, "a unique voice in the forest of Bach interpretation." She has released ten Billboard classical-charts-topping albums and has played with orchestras ranging from the New York Philharmonic and the Montreal Symphony Orchestra to the London Symphony Orchestra and the Orchestra Sinfonica Nazionale Rai. Dinnerstein makes her ProMusica debut as she both leads and is soloist with the orchestra, performing works by Bach as well as renowned minimalism composer Phillip Glass' Piano Concerto No. 3 — which she debuted at its world premiere in Boston in 2017.
JANUARY CONCERT, Saturday, Jan. 22 and Sunday, Jan. 23, Southern Theatre: David Danzmayr conducts as the orchestra – featuring Concertmaster violinist Katherine McLin and Principal Cello Marc Moskovitz – premieres the orchestra's 68th commissioned work by Canadian composer/performer pianist Stewart Goodyear. Proclaimed "a phenomenon" and "one of the best pianists of his generation," Goodyear is also a prolific composer. He is heralded for his astounding feat of performing all 32 Beethoven sonatas in a single day. In 2019, Goodyear premiered his suite for piano and orchestra, "Callaloo", with the MDR Symphony Orchestra in Leipzig, and the Clarosa Quartet debuted his "Piano Quartet" commissioned by the Kingston Chamber Music Festival. In addition to Goodyear's world premiere "Triple Concerto", the orchestra will perform works by Mendelsohn and Samuel Coleridge-Taylor.
APRIL CONCERT, Saturday, Apr. 2 and Sunday, Apr. 3, Southern Theatre: ProMusica's artistic leaders Vadim Gluzman and David Danzmayr and longtime friend composer/performer cellist Joshua Roman join forces onstage for the orchestra's 69th commission and world premiere, Roman's "Confluence" is a triple concerto and the premiere delayed due to the pandemic. Roman, who has appeared with the orchestra several times over the years, is an accomplished composer and curator whose performances embrace musical styles from Bach to Radiohead. Roman was the Seattle Symphony's principal cellist – a job he began at just 22 years of age — and has since become renowned for his genre-bending repertoire and wide-ranging collaborations. Along with Roman's composition debut, the orchestra and Vadim will perform works by Mendelssohn, Haydn, and Argentinean composer Osvaldo Golijov.
MAY CONCERT, Saturday, May 7 and Sunday, May 8, Southern Theatre: Croatian Pianist Martina Filjak joins the orchestra with David Danzmayr conducting for the final subscription-series concert of the 2021-2022 season. The New York Times has praised Filjak's "brilliant, sensitive and imaginative playing with resourcefulness of technique and naturalness of musicality." She is another repeat ProMusica guest artist, last performing with ProMusica in 2016. Filjak's extensive repertoire ranges from Bach to Berio and encompasses more than 30 piano concertos — she is dedicated to continuous exploration of piano literature and various concert formats. The orchestra will finish the season with favorites from Beethoven and Mendelssohn, in addition to a composition by Grammy-nominated composer Anna Clyne, "Stride," which debuted in Australia in 2020.
THROUGHOUT THE SEASON: The 2021-22 season introduces a new chamber music series at Together & Company's exclusive venue at The Fives, which served as ProMusica's home throughout the pandemic. The three-concert series in this flexible and intimate setting will showcase small chamber ensembles of ProMusica's musicians who will curate their own programs. ProMusica Sessions will continue, bringing chamber music to informal, non-traditional venues across the city. Off the stage, the orchestra will further deepen its impact in the community through programs and partnerships with, but not limited to, the Columbus Metropolitan Library, Southside Early Learning Center, and its Play Us Forward partner charter schools.
###
SEASON TICKET SUBSCRIPTION (AND SINGLE TICKET) INFORMATION
Subscriptions packages for the 2021-22 season options ranging from $62 to $270 will go on sale in late-August. Single tickets to any regular season concert cost $12 to $50, will go on sale in September. Subscriptions and single tickets will be available through the ProMusica office (614-464-0066 ext. 101; www.promusicacolumbus.org) or through Ticketmaster.
ABOUT PROMUSICA
ProMusica Chamber Orchestra delivers a world-class and unique classical music experience—through innovative chamber orchestra programming, education outreach, audience intimacy, and artistic excellence. Recognized for its commitment to performing new and contemporary repertoire, ProMusica has commissioned 69 new works and has presented more than 110 premieres.
Bringing worldwide talent to Columbus since 1978, ProMusica offers an adventurous musical experience through intimate performances on the stages of the Southern Theatre and The Fives. The orchestra, comprised of 37 musicians, showcases homegrown talents, rising stars, and guest artists of international acclaim. Beyond the concert hall, the orchestra is equally at home throughout the community, serving thousands of individuals through key education and outreach programs. Known for its dual traditions of artistic integrity and fiscal responsibility, ProMusica is now in its 43rd season.
ProMusica's 2021-2022 season is supported by the Greater Columbus Arts Council, The Columbus Foundation, the Ohio Arts Council, Nationwide, and the ProMusica Sustaining Board. Media support is provided by WOSU Classical 101 FM.