ProMusica announces 2022-2023 Season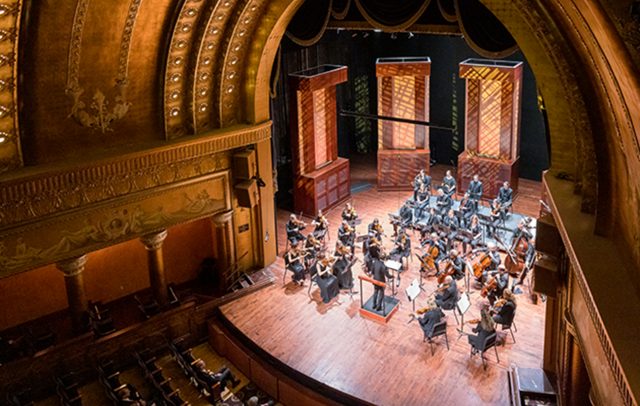 Featuring revered classics, composers of today, and the return of NAKED CLASSICS
(Columbus, OH) – ProMusica Chamber Orchestra today announced the schedule of subscription concerts, as well as the return of NAKED CLASSICS, at the Southern Theatre for the upcoming 2022-23 season. The season's programming will pay tribute to the classical music giants – with works by Beethoven, Mozart, and Mendelssohn – and will highlight a wide range of guest artists and today's living composers.
"We are thrilled to continue our momentum into our 44th season, filled with traditional favorites and featuring a diverse array of guest artists and contemporary works by today's leading composers," said ProMusica CEO Janet Chen. "In addition, after three years, we are excited to bring back a staple of ProMusica's offerings, our beloved NAKED CLASSICS with host Paul Rissmann. This season marks our commitment to strengthening our national and international reputation and reconnecting with and inviting new and longtime music lovers back into the theatre for our joyful performances."
SUBSCRIPTION SERIES:
OPENING WEEKEND: BEETHOVEN 5, Oct. 8 and 9, 2022, Southern Theatre: The season will open with one of the world's most celebrated symphonic works, Beethoven's Fifth. The concerts also welcome cellist Kian Soltani for his ProMusica debut. Hailed by The Times as a "remarkable cellist" and described by Gramophone as "sheer perfection," Soltani's recent soloist appearances include the Vienna Philharmonic, London Philharmonic, Berlin Staatskapelle, and the Boston Symphony and Chicago Symphony Orchestras. David Danzmayr conducts as Soltani, and the orchestra perform Haydn and the Ohio premiere of Reza Vali's "The Girl from Shiraz" from Persian Folk Songs for cello and orchestra. The program also includes Pulitzer Prize and Grammy-Award winning composer Aaron Jay Kernis' Musica Celestis.
HANDEL'S MESSIAH, Nov. 12 and 13, 2022, Southern Theatre: Led by David Danzmayr, and featuring Yulia Van Doren, soprano; Julie Miller, mezzo-soprano; Daniel McGrew, tenor; Kevin Deas, bass-baritone as soloists, ProMusica and LancasterChorale join forces to present one of the best-loved choral works, Handel's Messiah.
VADIM PLAYS BRAHMS, Dec. 10 and Dec. 11, 2022, Southern Theatre: It is always a season highlight when ProMusica's artistic leaders, Creative Partner Vadim Gluzman and Music Director David Danzmayr, team up. Gluzman will perform the lyrical Brahms Violin Concerto, and Danzmayr leads the orchestra performing Mendelssohn's triumphant Reformation Symphony, along with James MacMillan's 2012 composition One and Unsuk Chin's subito con forza — a brief five-minute curtain-raiser written for the 2020 Beethoven anniversary year.
CLASSICAL & KLEZMER, March 4 and 5, 2023, Southern Theatre: Concertmaster of the esteemed Berlin Philharmonic and former Concertmaster of the Pittsburgh Symphony, Noah Bendix-Balgley performs his original composition Fidl Fantazye: A Klezmer Concerto as part of ProMusica's "Composer/Performer" project. The program also includes Mozart's first and last symphonies – No. 1 and No. 41, "Jupiter" – to round out the program.
"Klezmer" is a musical tradition of the Ashkenazi Jews of Central and Eastern Europe, with elements of traditional dance tunes, ritual melodies, and virtuosic improvisation.
MOZART & GOLIJOV, April 15 and 16, 2023, Southern Theatre: Creative Partner & Principal Guest Artist Vadim Gluzman leads the orchestra for the April concerts featuring rising star Indonesian pianist Janice Carissa. The Philadelphia Inquirer noted that Carissa radiates "the multicolored highlights of a mature pianist." The program includes Mozart's Serenade No. 6, Serenata Notturna and Piano Concerto No. 23, as well as Osvaldo Golijov's The Dreams and Prayers of Isaac the Blind. Janice Carissa's appearance is made possible in partnership with the North Shore Chamber Music Festival's Arkady Fomin Scholarship Fund.
BRAHMS & SHAW, May 13 and 14, 2023, Southern Theatre: The remarkable voice of Caroline Shaw, as both a vocalist and a composer, is featured in ProMusica's season finale. The youngest composer to win a Pulitzer Prize, Shaw is a musician "who moves among roles, genres, and mediums, trying to imagine a world of sound that has never been heard before but has always existed." The program will feature three of Shaw's original compositions: Blueprint for String Quartet, Is A Rose, and Entr'acte for String Orchestra. The season will conclude with a performance of Brahms' Symphony No. 1 conducted by David Danzmayr.
NAKED CLASSICS:
NAKED CLASSICS: Mozart – Journey of a Genius, March 3, 2023: Host, presenter and educator Paul Rissmann returns to central Ohio to explore the musical genius of Wolfgang Amadeus Mozart through his first and last symphonies, No. 1 and No. 41 "Jupiter". ProMusica's NAKED CLASSICS series offers the opportunity to experience the deconstruction of live masterworks through graphics, excerpts, and interviews to reveal fascinating aspects of the piece and its composer, with the full work being performed in the second half of the concert in its entirety.
Additional events and performances will be announced at a later date, including the return of the annual fundraiser, the ProMusica Soirée.
###
SEASON TICKET SUBSCRIPTION (AND SINGLE TICKET) INFORMATION
Season subscriptions will go on sale on Sunday, May 22, 2022, and will be available online at promusicacolumbus.org or by calling ProMusica at 614.464.0066 ext. 101. Subscriptions packages for the 2022-2023 season will range from $99 to $324. Single tickets to any regular season concert will range from $18 to $64 and will go on sale in September and will be available through the ProMusica office or via Ticketmaster.
ABOUT PROMUSICA
ProMusica Chamber Orchestra delivers a world-class and unique classical music experience—through innovative chamber orchestra programming, education outreach, audience intimacy, and artistic excellence. Recognized for its commitment to performing new and contemporary repertoire, ProMusica has commissioned 68 new works and has presented more than 110 premieres.
Bringing worldwide talent to Columbus since 1978, ProMusica offers an adventurous musical experience through intimate performances on the stages of the Southern Theatre and The Fives. The orchestra, comprised of 37 musicians, showcases homegrown talents, rising stars, and guest artists of international acclaim. Beyond the concert hall, the orchestra is equally at home throughout the community, serving thousands of individuals through key education and outreach programs. Known for its dual traditions of artistic integrity and fiscal responsibility, ProMusica is now in its 44th season.
ProMusica's 2022-2023 season is supported by the Greater Columbus Arts Council, The Columbus Foundation, the Ohio Arts Council, Nationwide, the Reinberger Foundation, and the ProMusica Sustaining Board. Media support is provided by WOSU Classical 101 FM.