Grammy Award winning pianist Daniil Trifonov makes Columbus debut with ProMusica in June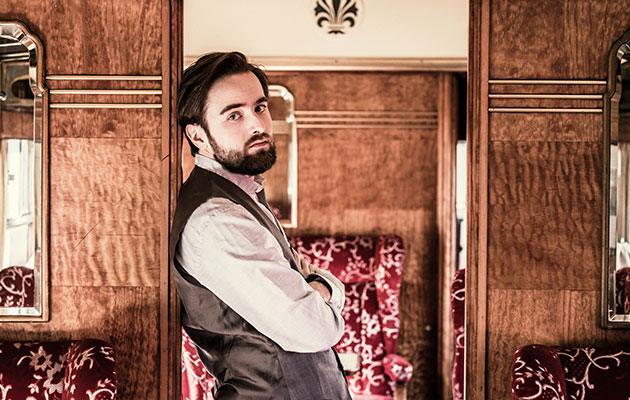 David Danzmayr leads the orchesta for this special one-night-only event 
(Columbus, OH) – Acclaimed by The Times of London as "without question the most astounding pianist of our age," and by the Globe and Mail as "arguably today's leading classical virtuoso," Russian pianist Daniil Trifonov makes his Columbus debut with the ProMusica Chamber Orchestra and Music Director David Danzmayr conducting, for a one night only concert – Friday, June 5th at 7:30 PM at the Southern Theatre.
Winner of the Grammy Award for Best Classical Instrumental Solo in 2018, Trifonov, at age 28, has already performed with virtually every significant orchestra in the world, including the Berlin Philharmonic, New York Philharmonic, Cleveland Orchestra, LA Philharmonic, Philadelphia Orchestra, London Symphony Orchestra, Royal Concertgebouw, and La Scala Orchestra. In addition to the Grammy, Trifonov was awarded two British prestigious awards: Gramophone Classical Music Awards' Artist of the Year Award and Instrumentalist Award of the Royal Philharmonic Society Music Awards. Trifonov was named winner of Musical America's 2019 Arts of the Year award and he is serving as the New York Philharmonic's Artist-in-Residence for the 2019–2020 season and previously held the same role with the Berlin Philharmonic.
The evening's program will begin with Arvo Pärt's If Bach Had Been a Beekeper, followed by Beethoven's  Piano Concerto No. 3, and will conclude with Haydn's Symphony No. 104.
"Daniil's career has exploded internationally as one of the most stunning pianists of our time. We are thrilled that Daniil will be adding ProMusica to his amazing list of renowned orchestras – it is not only a testament to our reputation on a national level, but also is an incredible opportunity for Columbus to witness Daniil's artistry," said Executive Director Janet Chen. "Being able to secure Daniil is a very big deal for ProMusica and Columbus!"
Born in Nizhny Novgorod, Russia in 1991, Trifonov began his musical training at the age of five, and went on to attend Moscow's Gnessin School of Music as a student of Tatiana Zelikman, before pursuing his piano studies with Sergei Babayan at the Cleveland Institute of Music. He is known for his consummate technique combined with a rare sensitivity and depth, and his artistry spans that as a solo artist, champion of concerto repertoire, chamber and vocal collaborator, and composer. In 2010 and 2011,,Trifonov won medals at three of the music world's most prestigious competitions, taking Third Prize in Warsaw's Chopin Competition, First Prize in Tel Aviv's Rubinstein Competition, and both First Prize and Grand Prix – an additional honor bestowed on the best overall competitor in any category – in Moscow's Tchaikovsky Competition. In 2013 he was awarded the prestigious Franco Abbiati Prize for Best Instrumental Soloist by Italy's foremost music critics, and in 2016 he was named Gramophone's Artist of the Year.
###
TICKET INFORMATION
Single tickets to this special performance range from $16 to $58. Pre-sale for ProMusica subscribers starts January 14, with tickets going on sale to the public on January 27. Tickets will be available through the ProMusica Box Office (614-464-0066 ext. 101; www.promusicacolumbus.org) or through Ticketmaster.
ABOUT PROMUSICA
ProMusica Chamber Orchestra delivers a world-class and unique classical music experience—through innovative chamber orchestra programming, education outreach, audience intimacy, and artistic excellence.  Recognized for its commitment to performing new and contemporary repertoire, ProMusica has commissioned 68 new works and has presented more than 120 premieres.
Bringing worldwide talent to Columbus since 1978, ProMusica offers an adventurous musical experience through intimate performances on the stages of the Southern Theatre and the Worthington United Methodist Church. The orchestra, comprised of 37 musicians, showcases homegrown talents, rising stars, and guest artists of international acclaim. Beyond the concert hall, the orchestra is equally at home throughout the community, serving thousands of individuals through key education and outreach programs. Known for its dual traditions of artistic integrity and fiscal responsibility, ProMusica is now in its 41th season.
ProMusica's 2019-2020 season is supported by the Greater Columbus Arts Council, The Columbus Foundation, the Ohio Arts Council, Nationwide, and the ProMusica Sustaining Board. Media support is provided by WOSU Classical 101 FM.
###