ProMusica Chamber Orchestra opens 2019-20 season with Vadim Gluzman as leader and soloist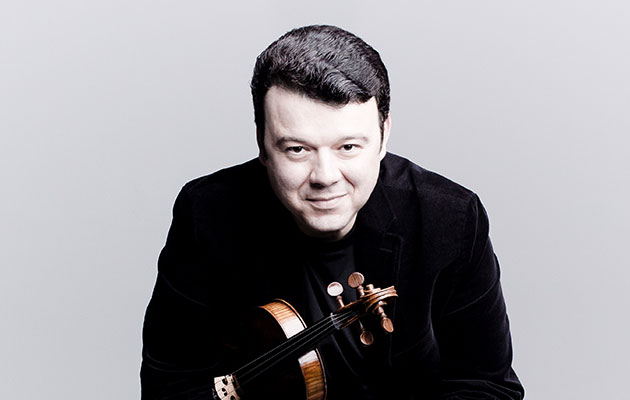 Opening concert features works by Mozart, Beethoven, and Vasks
(Columbus, OH) – ProMusica Chamber Orchestra's Creative Partner and Principal Guest Artist, violinist Vadim Gluzman, will lead the orchestra and perform as soloist as the orchestra kicks off it's 41st season with a celebration of Viennese masters – Beethoven, Mozart and Mahler – balanced by the shimmering sounds of contemporary Latvian composer Pēteris Vasks.
The Opening Night concert will take place on Sunday, Oct. 13 at 7:00 p.m. at the Southern Theatre.
Gluzman, who was named ProMusica Chamber Orchestra's Creative Partner and Principal Guest Artist in 2013, at the same time that David Danzmayr was chosen as Music Director, will lead the orchestra and perform as soloist for Mozart's Violin Concerto No. 4 in D major. Gluzman comes to Central Ohio on the heels of October performances with the MDR Leipzig Radio Symphony Orchestra in Leipzig, Germany and with the Orchestre de Paris in France.
On the program for Opening Night will be:
BEETHOVEN/arr. Mahler – String Quartet No. 11, "Serioso"
MOZART – Violin Concerto No. 4
VASKS – Musica Serena
MOZART – Symphony No. 25
"Vadim Gluzman has been a dear friend to ProMusica since he joined the creative leadership team in 2013, and even before that appearing as a guest soloist. He is a truly extraordinary performer," said ProMusica Executive Director Janet Chen. "This is the first time he will be taking the helm and leading the orchestra for Opening Night, and our patrons can be sure to look forward to an exceptional night of music."
Universally recognized among today's top performing artists, Gluzman appears regularly with major orchestras all over the world such as the Berlin Philharmonic, Boston Symphony, Cleveland Orchestra, Chicago Symphony, Philadelphia Orchestra, San Francisco Symphony, Israel Philharmonic, London Philharmonic, London Symphony, and Leipzig Gewandhaus Orchestra. He performs on the legendary 1690 'ex—Leopold Auer' Stradivari on extended loan to him through the generosity of the Stradivari Society of Chicago.
###
SEASON TICKET SUBSCRIPTION (AND SINGLE TICKET) INFORMATION
Single tickets to any regular season concert – ranging from $16 to $58 – are on sale now. Subscription packages and single tickets are available for purchase through the ProMusica office (614-464-0066 ext. 101; www.promusicacolumbus.org) or through Ticketmaster.
ABOUT PROMUSICA
ProMusica Chamber Orchestra delivers a world-class and unique classical music experience—through innovative chamber orchestra programming, education outreach, audience intimacy, and artistic excellence.  Recognized for its commitment to performing new and contemporary repertoire, ProMusica has commissioned 68 new works and has presented more than 120 premieres.
Bringing worldwide talent to Columbus since 1978, ProMusica offers an adventurous musical experience through intimate performances on the stages of the Southern Theatre and the Worthington United Methodist Church. The orchestra, comprised of 37 musicians, showcases homegrown talents, rising stars, and guest artists of international acclaim. Beyond the concert hall, the orchestra is equally at home throughout the community, serving thousands of individuals through key education and outreach programs. Known for its dual traditions of artistic integrity and fiscal responsibility, ProMusica is now in its 41st season.
ProMusica's 2019-2020 season is supported by the Greater Columbus Arts Council, The Columbus Foundation, the Ohio Arts Council, Nationwide, and the ProMusica Sustaining Board. Media support is provided by WOSU Classical 101 FM.
###
09/04/2019