November concert features world premiere of ProMusica-commissioned work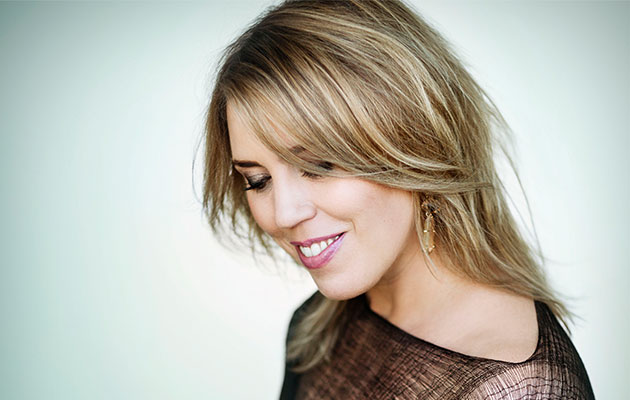 Venezuelan pianist Gabriela Montero debuts new piece
(Columbus, OH) – The 40th anniversary season continues as Music Director David Danzmayr and the ProMusica Chamber Orchestra welcome pianist and composer Gabriela Montero to the Southern Theatre stage with of her new piece, Babel. This new work is ProMusica's 66th commission, and a co-commission with the renowned Scottish Ensemble. ProMusica is committed to highlighting women in music throughout the 2018-19 season, and is proud to present this world premiere of a new work, by a female composer. Montero will also perform Mozart's Piano Concerto No. 14, with her own improvised cadenzas. The concert will begin and conclude with two Beethoven symphonies, as ProMusica's two-year Beethoven Cycle continues, notably including the rediscovered and reconstructed Symphony No. 10.
The Mozart & Montero concerts will take place on Saturday, Nov. 10 at 5:30 p.m. and Sunday, Nov. 11 at 7 p.m. at the Southern Theatre.
Known for her classical interpretations and remarkable improvisatory skills, pianist Gabriela Montero joins ProMusica as a continuation of the "Composer/Performer" project as creator and soloist. "David Danzmayr is always enthused to support composers who are both creating and performing at the highest level, and especially appreciates the opportunity to premiere new works here in Central Ohio," said Executive Director Janet Chen. "This is Gabriela Montero's second time performing with us, and we are excited to welcome her back as she joins our musicians to premiere her own composition."
The concert will begin with Beethoven's Symphony No. 10, a Romantic-era styled piece, a single movement that was somewhat recently rediscoverd. Rarely performed, this work was reconstructed and completed in 1988 by Barry Cooper working from Beethoven's sketches. Gabriela Montero will next take the stage for Mozart's Piano Concerto No. 14, K. 449 – with Montero's improvisatory enhancements – which was written in 1784. We next jump to 2018, when Montero presents her world premiere piece, Babel. The concert will conclude with the more Classical in style Beethoven with Symphony No. 8, a greatly contrasting work from the piece that began the concert, No. 10.
Composer, musician and activist Gabriela Montero returns to the stage with ProMusica, having previously appeared as the featured soloist at the annual Spring Soirée fundraiser & concert, "Rhapsody in Blue" in May 2011. Her visionary interpretations and unique improvisational gifts have won her a devoted following around the world. Born in Venezuela, Gabriela gave her first public performance at the age of five. At age eight, she made her concerto debut in her hometown of Caracas, which led to a scholarship from the government to study privately in the USA. Highlights from recent seasons include recitals at Avery Fisher Hall, Kennedy Center, Wigmore Hall, Vienna Konzerthaus, Berlin Philharmonie, Frankfurt Alte Oper, Cologne Philharmonie, Leipzig Gewandhaus, Munich Herkulessaal, Luxembourg Philharmonie, Lisbon Gulbenkian Museum, Tokyo Orchard Hall, and at the Edinburgh, Salzburg, Lucerne, Ravinia, Tanglewood, Saint-Denis, Dresden, Ruhr, Bergen, Istanbul, and Lugano festivals.
###
SEASON TICKET SUBSCRIPTION (AND SINGLE TICKET) INFORMATION
Subscription packages for the 2018-19 season—including Flex Series and Worthington Series options and ranging from $62 to $270 are available now. Single tickets to regular season concerts range from $15-$55. Subscriptions, single tickets, and more information are available through the ProMusica office (614-464-0066 ext. 101; www.promusicacolumbus.org) or through Ticketmaster.
ABOUT PROMUSICA
Under the artistic leadership of Music Director David Danzmayr and Creative Partner, renowned violinist Vadim Gluzman, ProMusica Chamber Orchestra is dedicated to raising the national profile of Columbus through world-class performances and creative approaches to community outreach and education.
Comprised of 37 musicians, ProMusica is the resident orchestra of the historic Southern Theatre in downtown Columbus. The orchestra also reaches audiences beyond the I-270 outer belt through regular performances at the Worthington United Methodist Church. ProMusica presents an annual outdoor Summer Music Series, open and free to the public in collaboration with Franklin Park Conservatory & Botanical Gardens. Special events such as NAKED CLASSICS and the annual Soirée broadens our audience by showcasing crossover artistry, with recent guests including Leslie Odom, Jr., Steep Canyon Rangers, and 14-time Grammy winner, Ricky Skaggs. Recognized for its commitment to performing new and contemporary repertoire, ProMusica has commissioned 67 new works and presented more than 110 world and regional premieres.
Beyond the concert hall, the orchestra is equally at home throughout the community, serving thousands of individuals through key education and outreach programs. In June 2017, ProMusica made its Chicago debut to perform for a sold-out crowd at the North Shore Chamber Music Festival in Chicago. Known for its dual traditions of artistic integrity and fiscal responsibility, ProMusica is now in its 40th season.
ProMusica is funded in part through the Greater Columbus Arts Council, The Columbus Foundation, the Ohio Arts Council, Nationwide, and the ProMusica Sustaining Board. Media support is provided by WOSU Classical 101 FM.
###
09/26/2018