ProMusica's November Concerts Explore Folk Music Elements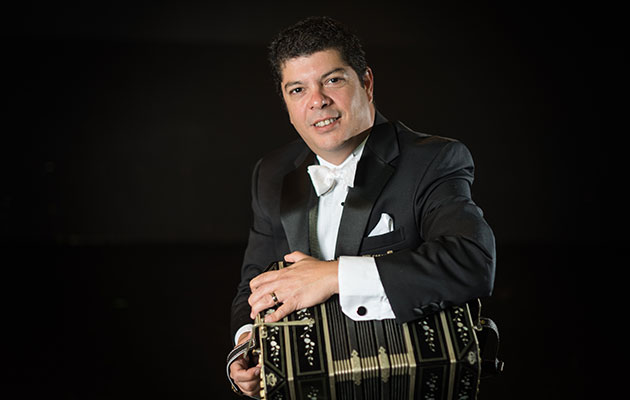 Weekend begins with first NAKED CLASSICS performance of the season
(Columbus, OH) –ProMusica Chamber Orchestra welcomes Argentinean bandeón virtuoso Richard Scofano with the continuation of the "composer/performer project," an initiative started by music director David Danzmayr. The orchestra will perform the U.S. premiere of Scofano's original piece "IBERÁ Concerto for Bandoneón & Orchestra" with Scofano as soloist, as well as Franz Schubert's folk-influenced Symphony No. 3 and Symphony No. 8 "Unfinished" in their November subscription series concerts.
ProMusica will present "Schubert & Scofano" on Saturday, November 2, at 5:30 p.m. and Sunday, November 3 at 7:00 p.m. Both shows will take place at the Southern Theatre.
A member of the concertina family of instruments, the bandeon is similar to the accordian. It is very popular in Argentina and Uruguay, and is essential to tango ensembles, but rarely featured in the orchestral setting.
"The orchestra is very much looking forward to working with bandeón virtuoso Richard Scofano," said ProMusica CEO Janet Chen."Featuring an unusual instrument like the bandeón, combined with the folk music themes that are woven throughout Schubert's symphonies, creates a really unique program and concert experience for our audience."
The program begins with Schubert's dark Symphony No. 8, known as the "Unfinished", most recently performed by ProMusica in the 2012-13 season when Danzmayr was Music Director designate, before his first official season with the orchestra. Scofano will take the stage next as the orchestra presents his IBERÁ Concerto for Bandoneón & Orchestra, followed by Schubert's relatively energetic and charming Symphony No. 3 – which is among David Danzmayr's most favorite classical pieces to perform.
The two Schubert symphonies fit together well, combining both the light and the shadow of his compositional capabilities.
"Both of these Schubert symphonies, in addition to having heavy folk-music influences, are singularly unique," said Danzmayr. "They have Schubert's distinctive voice – they couldn't have been written by anyone else – and couldn't have been written in any other country but Austria in that time period."
A superlative master of the bandoneón, Richard Scofano is also an accomplished composer (creator of the New Chamamé), arranger, producer and musical director. At the age of eighteen, he was named the first bandoneonist at the Folkloric Orchestra of Corrientes. In 2015, he wrote the score for This is Tango Now's production of Carmen de Buenos Aires, a 90-minute work inspired on the music of G. Bizet.
In conjunction with the weekend's concerts, host and presenter Paul Rissmann and ProMusica present NAKED CLASSICS, back for its 4th season.  In the first of the two-part series this season, Rissmann, Music Director David Danzmayr and the orchestra will deconstruct and explore the unsolved mysteries of Franz Schubert's Symphony No. 8, "Unfinished". Why was it left unfinished?
Through the use of digital projection, live musical excerpts from the orchestra, and interviews with the musicians on stage, Rissmann guides the audience with a presentation that not only explores the historical background and context of the music, but also investigates its construction in a way that is easy for concert-goers to digest. In the second half of the program, David Danzmayr and the orchestra will perform the work in its entirety, giving audiences new insight into the piece.
Rissmann and ProMusica will present NAKED CLASSICS: Schubert– Symphony No. 8 "Unfinished" on Friday, November 1 at 8:00 p.m. at the Southern Theatre. Tickets are $27 general admission.
Paul Rissmann was born on the Isle of Bute, Scotland and is a composer, presenter and music educator. He currently holds the position of Animateur for the London Symphony Orchestra (LSO) and is Children's Composer in Residence for Music in the Round.
As a concert presenter, Rissmann has performed with many leading orchestras in America, Australia, Europe, India, Malaysia and the Middle East. Recent engagements include concerts with the New York Philharmonic, Royal Scottish National Orchestra, City of Birmingham Symphony, Vienna Philharmonic, the Philharmonia at the South Bank, and a tour of India with Nicola Benedetti and the BBC Scottish Symphony Orchestra.
ProMusica's David Danzmayr previously worked with Rissmann at the Royal Scottish National Orchestra, where NAKED CLASSICS was met with tremendous success. Columbus is the only U.S. city to host the series.
###
SEASON TICKET SUBSCRIPTION (AND SINGLE TICKET) INFORMATION
Single tickets to any regular season concert – ranging from $16 to $58 – are on sale now. NAKED CLASSICS tickets are $27 general admission. Subscription packages and single tickets are available for purchase through the ProMusica office (614-464-0066 ext. 101; www.promusicacolumbus.org) or through Ticketmaster.
ABOUT PROMUSICA
ProMusica Chamber Orchestra delivers a world-class and unique classical music experience—through innovative chamber orchestra programming, education outreach, audience intimacy, and artistic excellence.  Recognized for its commitment to performing new and contemporary repertoire, ProMusica has commissioned 68 new works and has presented more than 120 premieres.
Bringing worldwide talent to Columbus since 1978, ProMusica offers an adventurous musical experience through intimate performances on the stages of the Southern Theatre and the Worthington United Methodist Church. The orchestra, comprised of 37 musicians, showcases homegrown talents, rising stars, and guest artists of international acclaim. Beyond the concert hall, the orchestra is equally at home throughout the community, serving thousands of individuals through key education and outreach programs. Known for its dual traditions of artistic integrity and fiscal responsibility, ProMusica is now in its 41st season.
ProMusica's 2019-2020 season is supported by the Greater Columbus Arts Council, The Columbus Foundation, the Ohio Arts Council, Nationwide, and the ProMusica Sustaining Board. Media support is provided by WOSU Classical 101 FM.
###
09/20/2019