Star Norwegian Trumpeter makes debut with ProMusica in January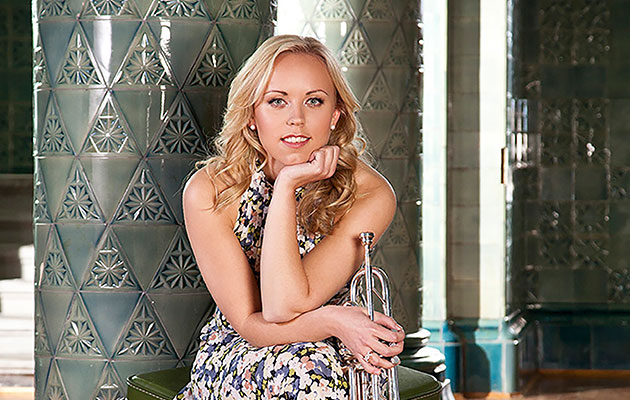 Internationally renowned soloist Tine Thing Helseth joins ProMusica with two contrasting works 
(Columbus, OH) – With Music Director David Danzmayr at the podium, ProMusica Chamber Orchestra welcomes female Norwegian trumpeter, Tine Thing Helseth – named "Superstar of Tomorrow" by BBC Music Magazine – for a pair of January 2019 concerts.. Helseth, who performs with ProMusica for the first time, specializes in classical repertoire and is rapidly establishing herself as one of the foremost trumpet soloists of our time.
The Sound the Trumpet concerts will take place on Saturday, Jan. 26 at 5:30 p.m. at the Worthington United Methodist Church, and Sunday, Jan. 27 at 7 p.m. at the Southern Theatre.
"There are less frequent opportunities to feature brass soloists with the orchestra, and and we are looking forward to welcoming one of the world's best to share the stage with us," said ProMusica Executive Director Janet Chen. "Tine Thing Helseth is a phenomenal trumpeter, and is a standout in a still primarily male-dominated field. We've made it a central theme of our season to highlight women artists and this is sure to be one of the highlights of our 40th Anniversary season."
Helseth and the orchestra will begin the concert with Joseph Haydn's Trumpet Concerto, composed in 1796 and cited as "possibly Haydn's most popular concerto." Additionally, Helseth will perform Seraph for Trumpet and String Orchestra, a more contemporary work by James MacMillan, whose deep Catholic faith is reflected in the piece and creates a powerful musical resonance.
The second half of the program will include Beethoven's Symphony No. 6, "Pastoral," in continuation of ProMusica's 2-year Beethoven Symphony Cycle. A lover of nature, the composer stated that the Sixth Symphony is "more the expression of feeling than painting." This symphony uses the idea of programmatic music — a type of art music that attempts to musically render an extra-musical narrative — depicting the joy of a visit to the countryside.
Tine Thing Helseth was born in Oslo, Norway, and began playing the trumpet at the age of seven. She has appeared with numerous orchestras across the glob including the Wiener Symphoniker, Beethoven Academie, Capella Cracoviensis, The Norwegian Chamber Orchestra, Liverpool Philharmonic Orchestra and Shanghai Symphony Orchestra. In 2012, she opened the memorial concert for the 2011 Norway attacks by playing trumpet from the roof of Oslo City Hall. In 2013 she appeared twice in the BBC Proms, performing with tenThing, an all-female brass ensemble led by Helseth, at the Cadogan Hall and also at the Royal Albert Hall.
###
SEASON TICKET SUBSCRIPTION (AND SINGLE TICKET) INFORMATION
Subscription packages for the 2018-19 season, including Flex Series and Worthington Series options ranging from $62 to $270, are still available. Single tickets to regular season concerts range from $15-$55. Subscriptions, single tickets, and more information are available through the ProMusica office (614-464-0066 ext. 101; www.promusicacolumbus.org) or through Ticketmaster.
ABOUT PROMUSICA
Under the artistic leadership of Music Director David Danzmayr and Creative Partner, renowned violinist Vadim Gluzman, ProMusica Chamber Orchestra is dedicated to raising the national profile of Columbus through world-class performances and creative approaches to community outreach and education.
Comprised of 37 musicians, ProMusica is the resident orchestra of the historic Southern Theatre in downtown Columbus. The orchestra also reaches audiences beyond the I-270 outer belt through regular performances at the Worthington United Methodist Church. ProMusica presents an annual outdoor Summer Music Series, open and free to the public in collaboration with Franklin Park Conservatory & Botanical Gardens. Special events such as NAKED CLASSICS and the annual Soirée broadens our audience by showcasing crossover artistry, with recent guests including Leslie Odom, Jr., Steep Canyon Rangers, and 14-time Grammy winner, Ricky Skaggs. Recognized for its commitment to performing new and contemporary repertoire, ProMusica has commissioned 67 new works and presented more than 110 world and regional premieres.
Beyond the concert hall, the orchestra is equally at home throughout the community, serving thousands of individuals through key education and outreach programs. In June 2017, ProMusica made its Chicago debut to perform for a sold-out crowd at the North Shore Chamber Music Festival in Chicago. Known for its dual traditions of artistic integrity and fiscal responsibility, ProMusica is now in its 40th season.
ProMusica is funded in part through the Greater Columbus Arts Council, The Columbus Foundation, the Ohio Arts Council, Nationwide, and the ProMusica Sustaining Board. Media support is provided by WOSU Classical 101 FM.
###
12/4/2018