ProMusica New "Naked Classics" Series explores classical masterpieces in an accessible way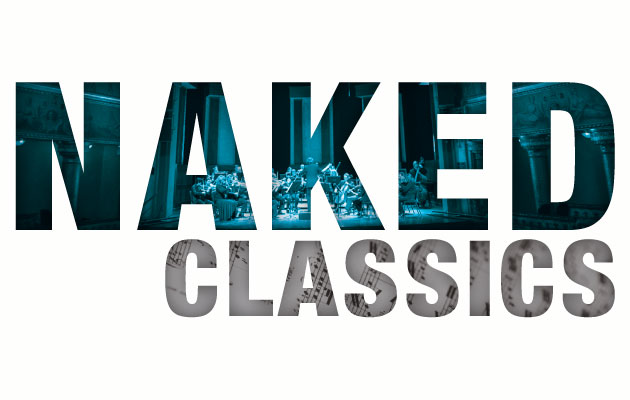 Beethoven and Schubert focus of multimedia presentations
(Columbus, OH) – ProMusica is excited to announce "Naked Classics" a brand new two-concert series, as an addition to the 2016-2017 season schedule, that explores a single classical masterwork in a fresh new format, breaking down barriers through visual and auditory demonstrations, followed by a performance of the entire work by ProMusica Chamber Orchestra led by Music Director David Danzmayr.
Naked Classics, hosted by Paul Rissmann, will take place on Friday, October 7, 2016, and Friday, April 21, 2017. Beethoven's Symphony No. 6 in F Major, "Pastoral" will be examined in the October concert, and Schubert's Symphony No. 10 is the spotlight of the April concert.
These unique concerts not only aim to break down musical concepts to promote a better understanding of the function of an orchestra and its musicians, but also dissects the story and history behind the specific piece, delving into what inspired the composer.
Renowned music educator, performer and presenter, Paul Rissmann, who resides in the U.K., will employ digital projection, live musical excerpts from the orchestra, and interviews with the performers on stage to deconstruct the composition during the first part of the program, and give the audience a truly multi-media educational experience. In the second half, the piece is performed in its entirety, with audiences now having new insight into the work. Meaningful interaction with the audience also provides a relaxed and friendly atmosphere designed to welcome listeners old and new.
The ProMusica performances will be the first iteration of Naked Classics in the United States, and the first time these programs have ever been adapted for chamber orchestra.
"We are truly excited to present 'Naked Classics,' and to give attendees an opportunity to really delve into these classics in a fun, entertaining, yet informative way," said ProMusica Chamber Orchestra's Executive Director Janet Chen. "These performances are for everyone — from the seasoned concert-goer hoping to gain a deeper appreciation, to the complete novice who wants an accessible way to gain a degree of insight into what they are listening to. 'Naked Classics' will be a new way to experience masterworks and we encourage everyone to participate."
Paul Rissmann was born on the Isle of Bute, Scotland and is a composer, presenter and music educator. He currently holds the position of Animateur for the London Symphony Orchestra (LSO) and is Children's Composer in Residence for Music in the Round.
As a concert presenter, Rissmann has performed with many leading orchestras in America, Australia, Europe, India, Malaysia and the Middle East. Recent engagements include concerts with the New York Philharmonic, Royal Scottish National Orchestra, City of Birmingham Symphony, Vienna Philharmonic, Valery Gergiev and the LSO in Trafalgar Square, Esa-Pekka Salonen and the Philharmonia at the South Bank and a tour of India with Nicola Benedetti and the BBC Scottish Symphony Orchestra.
ProMusica's David Danzmayr, who had the opportunity to work with Rissmann at the Royal Scottish National Orchestra where Naked Classics was met with tremendous success, is excited to bring this series to ProMusica and the Columbus community this season.
Naked Classics will be presented on Friday, October 7, 2016, and Friday, April 21, 2017. Both shows begin at 8 p.m. and take place at the Southern Theatre. Tickets are $25, and seating is general admission.
The Naked Classics series is supported by the Greater Columbus Arts Council and support for the April 21 concert comes from PNC Arts Alive.
###
ABOUT PROMUSICA
ProMusica Chamber Orchestra delivers a world-class and unique classical music experience—through innovative chamber orchestra programming, education outreach, audience intimacy, and artistic excellence.  Recognized for its commitment to performing new and contemporary repertoire, ProMusica has commissioned 63 new works and has presented more than 110 premieres.
Bringing worldwide talent to Columbus since 1978, ProMusica offers an adventurous musical experience through intimate performances on the stages of the Southern Theatre and the Worthington United Methodist Church. The orchestra, comprised of 37 musicians, showcases homegrown talents, rising stars, and guest artists of international acclaim. Beyond the concert hall, the orchestra is equally at home throughout the community, serving thousands of individuals through key education and outreach programs. Known for its dual traditions of artistic integrity and fiscal responsibility, ProMusica is now in its 38th season.
ProMusica is funded in part through the work of the Greater Columbus Arts Council, The Columbus Foundation, The Reinberger Foundation, the Ohio Arts Council, and the ProMusica Sustaining Board. Media support is provided by WOSU Classical 101 FM.
08/04/2017