ProMusica to perform Mozart's "Requiem" on Nov. 4-5 at the Southern Theatre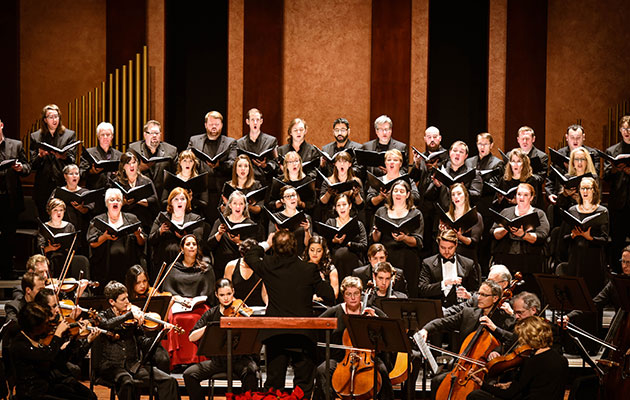 Concert spotlights the voice with LancasterChorale and other soloists joining the orchestra
(Columbus, OH) –  Music Director David Danzmayr and the ProMusica Chamber Orchestra will join forces with LancasterChorale and guest vocalists — including soprano Kathrin Danzmayr — to present Wolfgang Amadeus Mozart's Requiem. Additionally, the orchestra will continue its season-long celebration of American immigrant composers with a performance of Argentina native Osvaldo Golijov's "Three Songs." "Requiem"
The Mozart's Requiem concert will take place on Saturday, Nov. 4 at 5:30 p.m. and Sunday, Nov. 5 at 7 p.m. at the Southern Theatre.
The evening will begin with Kathrin Danzmayr as featured soloist performing contemporary composer Osvaldo Golijov's Three Songs For Soprano and String Orchestra — "Night of the Flying Horses (Lullaby, Doina and Gallop)," "Lúa Descolorida" and "How Slow the Wind."
Kathrin will be joined by mezzo-soprano Abigail Nims, tenor Lawrence Wiliford, baritone Aaron Wardell, and LancasterChorale for one of the most moving works in the choral repertoire, Mozart's Requiem' in D minor, K. 626 — a masterwork left unfinished upon his death in 1791, with a variety of stories and speculation surrounding the provenance of its original completion. LancasterChorale has a long association with ProMusica, having performed with the orchestra several times over the years including performances of Mozart's Mass, Handel's Messiah, and Saint-Saëns' Christmas Oratorio last season. Vocalists Abigail Nims and Aaron Wardell have also previously appeared with ProMusica. The wife of music director David Danzmayr, Kathrin Danzmayr will be making her third appearance with ProMusica.
"The history of Mozart's 'Requiem' is fascinating, with several different composers claiming a piece of it," said Executive Director Janet Chen. "That said, it is a monumental composition, both heartbreaking and intimate, and full of fire and brimstone. We are looking forward to presenting it for the first time in ProMusica's 39-year-history."
ProMusica also invites the attendees to stay for the Coda: Post-Concert Conversation – an opportunity to meet David Danzmayr and the soloists, and learn more about the evening's program with a discussion led by WOSU Classical 101 host Boyce Lancaster, with treats provided by Cornucopia Comestibles.
Additional information on the soloists is available at ProMusica's web site, https://promusicacolumbus.org//event/mozarts-requiem/.
###
SEASON TICKET SUBSCRIPTION (AND SINGLE TICKET) INFORMATION
Subscriptions packages, ranging from $62 to $270, are available for the 2017-18 concert season, including a Flex Series option and a Worthington Series. Single tickets to any regular season concert cost $12 to $50, are on sale now. Subscriptions and single tickets will be available through the ProMusica office (614-464-0066; www.promusicacolumbus.org) or through Ticketmaster.
ABOUT PROMUSICA
ProMusica Chamber Orchestra delivers a world-class and unique classical music experience—through innovative chamber orchestra programming, education outreach, audience intimacy, and artistic excellence.  Recognized for its commitment to performing new and contemporary repertoire, ProMusica has commissioned 65 new works and has presented more than 110 premieres.
Bringing worldwide talent to Columbus since 1978, ProMusica offers an adventurous musical experience through intimate performances on the stages of the Southern Theatre and the Worthington United Methodist Church. The orchestra, comprised of 37 musicians, showcases homegrown talents, rising stars, and guest artists of international acclaim. Beyond the concert hall, the orchestra is equally at home throughout the community, serving thousands of individuals through key education and outreach programs. Known for its dual traditions of artistic integrity and fiscal responsibility, ProMusica is now in its 39th season.
ProMusica is funded in part through the work of the Greater Columbus Arts Council, The Columbus Foundation, The Reinberger Foundation, the Ohio Arts Council, and the ProMusica Sustaining Board. Media support is provided by WOSU Classical 101 FM.
###
09/18/2017