ProMusica mixes the modern and the traditional in December concerts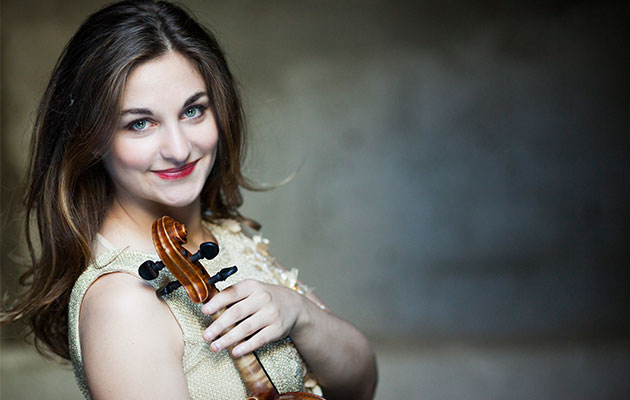 Violinist Alexandra Soumm takes Vivaldi's classic "Four Seasons" in a new direction
(Columbus, OH) – ProMusica Chamber Orchestra's December concerts exemplify its range from traditional to contemporary in two unique performances featuring violinist Alexandra Soumm and the annual Messiah Side-by-Side Sing-Along, Dec. 7-9, 2018.
The Ohio State University's Director of Choral Studies, Robert J. Ward, leads the orchestra, community choirs and the audience itself in the beloved Messiah Side-By-Side Sing-Along on Friday, Dec. 7, beginning at 7:30 p.m. at the Southern Theatre. Local orchestra students, as well as area music directors will join ProMusica musicians on stage for this joyful family-friendly event.
For the December subscription series concerts, Music Director David Danzmayr and ProMusica welcome violinist, and longtime friend of Danzmayr's, Alexandra Soumm, to Central Ohio for her debut with the orchestra. Following ProMusica's traditional mix of old and new, the orchestra takes a distinctly neo-classical turn with Max Richter's "The Four Seasons Recomposed" — a completely post-modern reimagining of Vivaldi's classic piece on Saturday, Dec. 8 at 5:30 pm at the Worthington United Methodist Church and Sunday, Dec. 9 at 7 p.m. at the Southern Theatre. This performance will be paired with Beethoven's Fourth Symphony, a wild, manic ride in and of itself.
Recomposed by Max Richter: Vivaldi – The Four Seasons is the 2012 remix by neo-classical composer Max Richter. The work is a complete re-interpretation of Vivaldi's The Four Seasons. Seventy-five percent of Vivaldi's original material has been discarded, and the parts and fragments that are incorporated are phased and looped, emphasizing the (re)composer's grounding in postmodern and minimalist music. The piece comes from the suggestion of the guest artist, Alexandra Soumm.
ProMusica continues its two-year Beethoven Symphony Cycle as the concert concludes with the spirited Symphony No. 4, cited as "the least known and least appreciated" of Beethoven's nine symphonies. Danzmayr looks forward to performing this work — it is a big departure, stylistically, from the well-known Symphony No. 4 and 9, and shows the breadth of Beethoven's artistic and musical imagination. The piece is manic and cheerful, the opposite from the ponderous Symphony No. 5 that followed.
December's guest artist, violinist Alexandra Soumm, is a multi-faceted artist who is equally at home in concerto and chamber repertoire. Highlights of her 2017-2018 season included debuts with Vancouver Symphony Orchestra, Orchestre Français des Jeunes, and Bruckner Orchester Linz, and returns to the BBC Scottish Symphony, Orquesta Sinfonica de Galicia, BBC Symphony Orchestra, and Bournemouth Symphony Orchestra. Born in Moscow, Alexandra started to learn the violin with her father at the age of five and gave her first concert two years later. She later moved to Vienna to study with renowned pedagogue Boris Kuschnir and won the Eurovision Competition in 2004, and currently resides in Paris
A musician with a strong humanitarian passion, Soumm has performed at countless charity events, and co-founded the non-profit organization Esperanz'Arts in 2012 which serves as a collaborative of more than 70 artists performing in schools, homeless shelters, prisons and hospitals.
"ProMusica has always made it a priority to present classic masterworks, performed at the highest level, as well as bringing to life newer works of orchestral music. "The Four Seasons Recomposed," while it is a new take on a classic, is an excellent example of the great music that is continually being created into the 21st century," said Executive Director Janet Chen. "Between our subscription series concerts and our Messiah Side-By-Side Sing-Along, there is something for everyone this weekend!"
In addition to bringing music to the Columbus community, the orchestra gives back each year during the December concert weekend. This December 7-9, ProMusica is partnering with the YWCA Columbus to host a Diaper Drive to collect diapers to benefit local families in need. Patrons are encouraged to bring a package of diapers to any of the three concerts to be given to children at the YWCA Family Center. Sizes 4, 5, 6, and pull-ups are needed most. Baby wipes, bottles, and sippy cups are also needed. The Diaper Drive, which began in 2011, has collected thousands of diapers for the YWCA Family Center.
###
SEASON TICKET SUBSCRIPTION (AND SINGLE TICKET) INFORMATION
Subscription packages for the 2018-19 season—including Flex Series and Worthington Series options and ranging from $62 to $270 are available now. Single tickets to regular season concerts range from $15-$55. Tickets for the Messiah Side-By-Side Sing-Along are $23 general admission. Subscriptions, single tickets, and more information are available through the ProMusica office (614-464-0066 ext. 101; www.promusicacolumbus.org) or through Ticketmaster.
ABOUT PROMUSICA
Under the artistic leadership of Music Director David Danzmayr and Creative Partner, renowned violinist Vadim Gluzman, ProMusica Chamber Orchestra is dedicated to raising the national profile of Columbus through world-class performances and creative approaches to community outreach and education.
Comprised of 37 musicians, ProMusica is the resident orchestra of the historic Southern Theatre in downtown Columbus. The orchestra also reaches audiences beyond the I-270 outer belt through regular performances at the Worthington United Methodist Church. ProMusica presents an annual outdoor Summer Music Series, open and free to the public in collaboration with Franklin Park Conservatory & Botanical Gardens. Special events such as NAKED CLASSICS and the annual Soirée broadens our audience by showcasing crossover artistry, with recent guests including Leslie Odom, Jr., Steep Canyon Rangers, and 14-time Grammy winner, Ricky Skaggs. Recognized for its commitment to performing new and contemporary repertoire, ProMusica has commissioned 67 new works and presented more than 110 world and regional premieres.
Beyond the concert hall, the orchestra is equally at home throughout the community, serving thousands of individuals through key education and outreach programs. In June 2017, ProMusica made its Chicago debut to perform for a sold-out crowd at the North Shore Chamber Music Festival in Chicago. Known for its dual traditions of artistic integrity and fiscal responsibility, ProMusica is now in its 40th season.
ProMusica is funded in part through the Greater Columbus Arts Council, The Columbus Foundation, the Ohio Arts Council, Nationwide, and the ProMusica Sustaining Board. Media support is provided by WOSU Classical 101 FM.
###
10/23/2018