ProMusica Chamber Orchestra receives largest gift in its history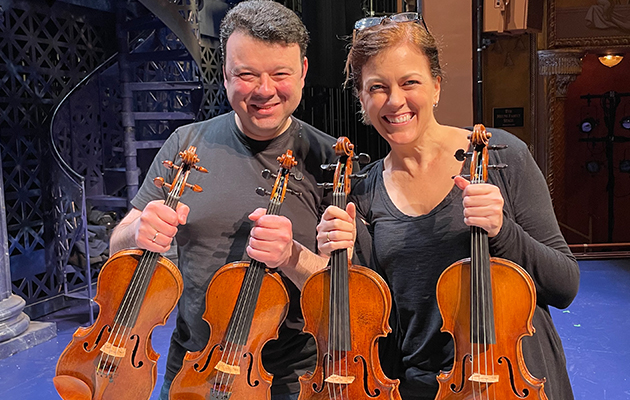 Anonymous donor grants $1M to Orchestra 
(Columbus) – Janet Chen, CEO of ProMusica Chamber Orchestra, announced today that the Orchestra has received the largest contribution in its 44-year history: a transformational gift of $1 million from an anonymous donor.
A large portion of the gift is dedicated to the search and purchase of a rare and significant violin, to be played by ProMusica's Concertmaster, Katherine McLin.
Katherine "Katie" McLin currently performs on a 1734 Sanctus Seraphin violin, on loan from an anonymous foundation. With the loan soon expiring at the end of December 2023, hearing of the news from this unexpected donation was timely and life-changing. Together with the guidance of ProMusica's Creative Partner, world-renowned violinist Vadim Gluzman – McLin and the orchestra will embark on this exciting journey to find the instrument that will carry her through her illustrious career with ProMusica, and secure this valuable asset for the organization.
"The quality and tone of any string instrument – especially as played by an artist as talented as Katie – truly elevates the performance, sound, and personality of the orchestra as a whole," said Gluzman. "It's a rare treat for an orchestra to have the opportunity to own such an instrument, and I'm looking forward to guiding the search."
The violin's condition, "bloodline" and heritage are all incredibly important. Unlike most antique treasures – which can be fragile and are best left sitting on a shelf untouched – a violin requires regular playing to maintain, and often enhance its condition. The instrument will be owned by ProMusica, and will be played by McLin for the duration of her career as ProMusica's Concertmaster.
"I am humbled to be part of this incredible journey to help find the best instrument, to learn about it's provenance and to bring that history back to Columbus," said McLin. "It will be an honor to both play this instrument and play a part in this once-in-a-lifetime opportunity to find a violin that will be a valuable part of ProMusica's life and history."
The transformational gift will also support the newly established "ProMusica Artistry Fund" – to support the visions, initiatives, and aspirational projects and needs that will continue to elevate the orchestra on a local, national, and global level.
"As ProMusica very soon approaches its fifth decade, we are inspired by this incredible recognition of our work to help set us on a path to achieve our artistic goals. This gift demonstrates the tremendous confidence and trust of our musicians, and our board and staff, and our loyal supporters have in ProMusica," said ProMusica's Music Director David Danzmayr.
"Emerging from the challenges of the past two years, this profoundly meaningful gift enables us to continue our momentum in pursuing our artistic aspirations – while also securing a rare instrument that will be available to Katie and for generations to come," said ProMusica's CEO Janet Chen. "We are eternally grateful to our Anonymous donor for their extraordinary generosity, and hope that other donors, large and small, will be encouraged in their giving by this model of philanthropy."
For more information, visit www.promusicacolumbus.org.
###
ABOUT PROMUSICA
ProMusica Chamber Orchestra delivers a world-class and unique classical music experience—through innovative chamber orchestra programming, education outreach, audience intimacy, and artistic excellence. Recognized for its commitment to performing new and contemporary repertoire, ProMusica has commissioned 68 new works and has presented more than 110 premieres.
Bringing worldwide talent to Columbus since 1978, ProMusica offers an adventurous musical experience through intimate performances on the stages of the Southern Theatre and The Fives. The orchestra, comprised of 37 musicians, showcases homegrown talents, rising stars, and guest artists of international acclaim. Beyond the concert hall, the orchestra is equally at home throughout the community, serving thousands of individuals through key education and outreach programs. Known for its dual traditions of artistic integrity and fiscal responsibility, ProMusica is now in its 44th season.
ProMusica's 2022-2023 season is supported by the Greater Columbus Arts Council, The Columbus Foundation, the Ohio Arts Council, Nationwide, the Reinberger Foundation, and the ProMusica Sustaining Board. Media support is provided by WOSU Classical 101 FM.