ProMusica kicks off 40th season with David, Vadim, & friends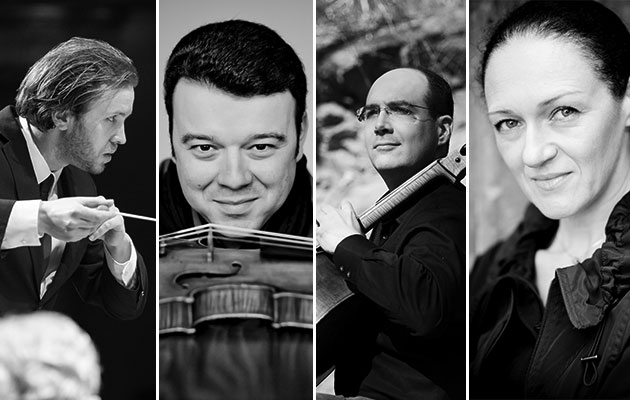 Weekend begins with the return of NAKED CLASSICS
(Columbus, OH) – Music Director David Danzmayr and the ProMusica Chamber Orchestra are joined by Creative Partner and Principal Guest Artist Vadim Gluzman, in addition to cellist Mark Kosower and pianist Angela Yoffe, for an exciting opening weekend incorporating works by Beethoven and Ives and — back for the third season — another edition of NAKED CLASSICS.
Danzmayr, the orchestra and special guests will begin the season with two essential Beethoven compositions, continuing ProMusica's two-year Beethoven Symphony Cycle. The concert will begin with a favored piece of Danzmayr's, the new American classic, Three Places in New England by Charles Ives.
The Opening Night concert will take place on Sunday, Oct. 14 at 7 p.m. at the Southern Theatre.
The popular and accessible NAKED CLASSICS series will explore and deconstruct three diverse and contrasting works, including Ives' Three Places in New England, Béla Bartók's Romanian Folk Dances, and Ralph Vaughan William's The Lark Ascending. Host Paul Rissmann utilizes his NAKED CLASSICS program to explore classical masterworks in a fresh new format, breaking down barriers through visual and auditory demonstrations, followed by a performance of the entire work.
NAKED CLASSICS: HOMELAND— Bartók, Ives, Vaughan Williams will be presented on Friday, October 12 at 8 p.m. at the Southern Theatre.
The season's Opening Night concert will kick off with Ives' Three Places in New England, a piece which Danzmayr conducted at the start of his very first concert at the helm of ProMusica Chamber Orchestra in 2013. "It is an absolutely defining piece of music in the American classical repertoire, and deserves to be played and heard more widely," said Danzmayr. "It is one of my favorite pieces to perform."
The two-year Beethoven Symphony Cycle will continue with his Symphony No. 2, and as an added bonus, the orchestra will perform Beethoven's Concerto for Violin, Cello, Piano and Orchestra, Op. 56 (Triple Concerto)with Vadim Gluzman, joined by two masterful guest soloists, cellist Mark Kosower and pianist Angela Yoffe. These three extraordinary musicians have played together on multiple occasions and bring their comradery and artistic excellence to the stage of the Southern Theatre. The concert will conclude with Beethoven's Second Symphony, a joyous, massive piece which, according to Danzmayr, "is a huge leap in form and technique from Beethoven's First, and does not get the attention it deserves."
Mark Kosower is principal cellist of the Cleveland Orchestra and is on the faculty at the Cleveland Institute of Music. He was solo cellist of the Bamberg Symphony Orchestra in Germany from 2006 to 2010 and was Professor of Cello and Chamber Music at the San Francisco Conservatory of Music from 2005 to 2007. Kosower has appeared as soloist with the symphony orchestras of Detroit, Florida, Houston, Indianapolis, and Milwaukee, and international appearances include the Hong Kong Philharmonic, the China National Symphony Orchestra, the National Symphony Orchestra of Taiwan, the Kansai Philharmonic, the Orchestre de Paris, the KwaZulu-Natal Philharmonic Orchestra, and the Brazilian Symphony Orchestra.
Angela Yoffe is a pianist and wife of Gluzman. She created Chicago's annual North Shore Chamber Music Festival in 2010 and is founder of the Collaborative Piano Class at the Chicago College of Performing Arts at Roosevelt University and the Creative Learning Program of the Betty Haag Academy of Music. Yoffe has performed as a chamber musician and recitalist in New York, Washington, Chicago, San Francisco, London, Berlin, Paris, Tel Aviv, Geneva, Rome and Tokyo. She has appeared as guest soloist with the Seattle Symphony, the Omaha Symphony, SWR Stuttgart Radio Orchestra, the Hamburg Symphony and with New York's Jupiter Symphony.
Classical music lovers and new-comers alike will get a musical "behind-the-scenes" look at three more contemporary classics (each were composed in the early 1900's) as ProMusica NAKED CLASSICS: Homeland which will explore composers who have been influenced by folk music traditions. In the first of the two NAKED CLASSICS performances this season, Music Director David Danzmayr, host Paul Rissmann, will deconstruct and offer insight into Ives' Three Places in New England, Bartók's Romanian Folk Dances, and Vaughan William's The Lark Ascending, which will feature ProMusica's concertmaster Katherine McLin as the violin soloist.
NAKED CLASSICS host, the renowned music educator, performer and composer, Paul Rissmann, will present the first half of the two-part program. Through the use of digital projection, live musical excerpts from the orchestra, and interviews with the musicians on stage, Rissmann guides the audience with a presentation that not only explores the historical background of the music, but also investigates its construction in a way that is easy for concert-goers to understand and relate to. Rissmann delves into the music, uncovering secrets in the scores and dissecting the compositions.
In the second half of the program, Danzmayr and the orchestra will perform the three pieces in their entirety, giving audiences new insight into the works.
In 2007, Rissmann created NAKED CLASSICS and first performed it with the Royal Scottish National Orchestra. NAKED CLASSICS was devised to take some of the greatest works in the orchestra's repertoire and transform them into a highly approachable, yet sophisticated concert experience. Since then, Rissmann has performed music-discovery concerts for adults with orchestras throughout the UK, including with the London Symphony Orchestra, Philharmonia Orchestra, City of Birmingham Symphony Orchestra and Scottish Chamber Orchestra. In addition to David Danzmayr, he has worked with conductors such as Stéphane Denève, Edward Gardner, Valery Gergiev, Andris Nelsons, Esa-Pekka Salonen and Thømas Sondergård.
NAKED CLASSICS: HOMELAND— Bartók, Ives, Vaughan Williams is supported by the Lee Shackelford Family Fund.
###
SEASON TICKET SUBSCRIPTION (AND SINGLE TICKET) INFORMATION
Tickets for Opening Night range from $15 to $55, and tickets for NAKED CLASSICS: HOMELAND — Bartók, Ives, Vaughan Williams are $25 for general admission seating. Single tickets are on sale as of August 30, 2018.
Subscription and Series packages for the 2018-19 season – including Flex Series and Worthington Series options – ranging from $62 to $270 are available now. Subscriptions, single tickets (priced from $12-$50, going on sale on Aug. 30) and more information are available through the ProMusica office (614-464-0066 ext. 101; www.promusicacolumbus.org) or through Ticketmaster.
ABOUT PROMUSICA
Under the artistic leadership of Music Director David Danzmayr and Creative Partner, renowned violinist Vadim Gluzman, ProMusica Chamber Orchestra is dedicated to raising the national profile of Columbus through world-class performances and creative approaches to community outreach and education.
Comprised of 37 musicians, ProMusica is the resident orchestra of the historic Southern Theatre in downtown Columbus. The orchestra also reaches audiences beyond the I-270 outerbelt through regular performances at the Worthington United Methodist Church. ProMusica presents an annual outdoor Summer Music Series, open and free to the public in collaboration with Franklin Park Conservatory & Botanical Gardens. Special events such as NAKED CLASSICS and the annual Soirée broadens our audience by showcasing crossover artistry, with recent guests including Leslie Odom, Jr., Steep Canyon Rangers, and 14-time Grammy winner, Ricky Skaggs. Recognized for its commitment to performing new and contemporary repertoire, ProMusica has commissioned 67 new works and presented more than 110 world and regional premieres.
Beyond the concert hall, the orchestra is equally at home throughout the community, serving thousands of individuals through key education and outreach programs. In June 2017, ProMusica made its Chicago debut to perform for a sold-out crowd at the North Shore Chamber Music Festival in Chicago. Known for its dual traditions of artistic integrity and fiscal responsibility, ProMusica is now in its 40th season.
ProMusica is funded in part through the Greater Columbus Arts Council, The Columbus Foundation, the Ohio Arts Council, Nationwide, and the ProMusica Sustaining Board. Media support is provided by WOSU Classical 101 FM.
###
08/20/2018