ProMusica presents two intimate evenings of chamber music in Worthington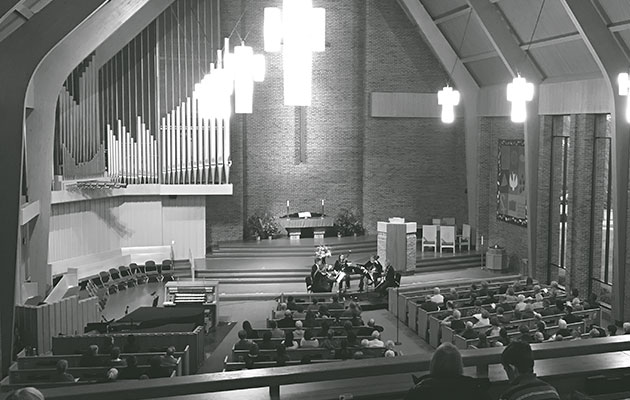 Small ensemble programs this season highlight a range of styles from the Baroque to Brahms in March and April
(Columbus, OH) – ProMusica Chamber Orchestra showcases its own musicians in small chamber ensemble concerts this Spring in the intimate setting of the Worthington United Methodist Church. Each program will highlight select ProMusica musicians with works for various small groupings of players.
ProMusica will present Brahms & Friends on Saturday, March 3 at 5:30 p.m., and Baroque & Beyond on Saturday, April 21 at 5:30 p.m. Both performances will be at the Worthington United Methodist Church, located 600 High Street in Worthington.
"These small ensemble concerts have a wonderfully personal feel to them, giving our own musicians a chance to develop their own meaningful programs," said ProMusica Executive Director Janet Chen. "These opportunities for our musicians to make true chamber music with each other really give our fantastic musicians a chance to shine, and the intimacy of the Worthington United Methodist Church is a perfect setting."
Brahms & Friends
The March 3rd program, Brahms & Friends, will feature strings only, joined by guest pianist Andrew Campbell. Concertmaster Katherine McLin, violinist Heather Kufchak, principal violist Mary Harris, and principal cellist Marc Moskovitz round out the quintet.
The program will begin with the Allegro from Franz Schubert's String Trio in B-flat, D. 471; followed by Aaron Copland's Sonata for Violin and Piano and Ernst Von Dohnányi's Serenade for String Trio in C Major, Op. 10. The program concludes with Johannes Brahms' Piano Quintet in F Minor, Op. 34—a work that draws on the sustaining power and emotional depth that a family of strings delivers while incorporating the full power of the modern piano, which has become a standard of piano quintet repertoire.
Andrew Campbell, a returning guest artist with ProMusica, has established himself as one of the most versatile collaborative pianists in the United States with a performing career that has taken him around the world. Recent appearances include a recital at the Johannesburg International Mozart Festival, a performance of the Bach D minor keyboard concerto with the Chintimini Festival Chamber Orchestra in Corvallis, Oregon, and a performance of the Stravinsky Concerto for Piano and Winds with the Arizona State University Wind Symphony. He served as opera rehearsal pianist for distinguished conductors André Previn, Plácido Domingo and Heinz Fricke, and worked closely with the composer Carlisle Floyd on several productions of his operas. His partnership with violinist Katherine McLin (concertmaster of
ProMusica) in the McLin/Campbell Duo has led to performances on numerous recital series throughout the United States and Europe. He has recorded several CDs on the Summit and Centaur labels. Campbell appeared with ProMusica last season for the April 2017 performance of Schubert's "Trout" Quintet.
Baroque & Beyond
In the April 21st concert, Baroque & Beyond, ProMusica's principal double reed players take center stage with a program of works by favorite composers of the Baroque era. Donna Conaty, oboe and Ellen Connors, bassoon will be featured, along with violinist Victoria Moreira, principal bassist John Pellegrino and harpsichordist Aya Hamada, completing the ensemble.
The Baroque-based program – the era in which instrumental music truly came into its own – will feature: Arcangelo Corelli, Sonate da Chiesa in D Minor, Op. 1 No. 11; Joseph Bodin de Boismortier, Sonata in C Minor, Op. 50 No. 5;  Johann Friedrich Fasch, Quartet in F Major; Johann Sebastian Bach, Toccata in D Major;  and concludes with Jan Dismas Zelenka, Trio Sonata 3 in B-flat Major.
###
SINGLE TICKET AND SEASON SUBSCRIPTION INFORMATION
Tickets for the Brahms & Friends and Baroque & Beyond concerts are each $37 for general admission seating. Limited subscription packages are still available for the 2017-18 concert season, including a Flex Series option and the Worthington 2-Concert package. Subscriptions and single tickets are available through the ProMusica office at 614-464-0066 ext. 101 or online at www.promusicacolumbus.org).
ABOUT PROMUSICA
ProMusica Chamber Orchestra delivers a world-class and unique classical music experience—through innovative chamber orchestra programming, education outreach, audience intimacy, and artistic excellence.  Recognized for its commitment to performing new and contemporary repertoire, ProMusica has commissioned 65 new works and has presented more than 110 premieres.
Bringing worldwide talent to Columbus since 1978, ProMusica offers an adventurous musical experience through intimate performances on the stages of the Southern Theatre and the Worthington United Methodist Church. The orchestra, comprised of 37 musicians, showcases homegrown talents, rising stars, and guest artists of international acclaim. Beyond the concert hall, the orchestra is equally at home throughout the community, serving thousands of individuals through key education and outreach programs. Known for its dual traditions of artistic integrity and fiscal responsibility, ProMusica is now in its 39th season.
ProMusica is funded in part through the work of the Greater Columbus Arts Council, The Columbus Foundation, The Reinberger Foundation, the Ohio Arts Council, and the ProMusica Sustaining Board. Media support is provided by WOSU Classical 101 FM.
###
01/31/2018