ProMusica Chamber Orchestra to headline acclaimed North Shore Chamber Music Festival on Saturday, June 10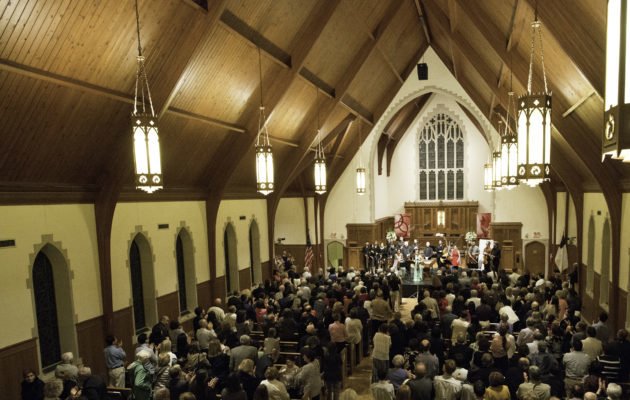 ProMusica invited by NSCMF to make its debut in Chicago
(Northbrook, IL) – ProMusica Chamber Orchestra will be featured in Chicago's 7th annual North Shore Chamber Music Festival (NSCMF), which will be held on June 7, 9, and 10, 2017.
"The invitation to perform at the North Shore Chamber Music Festival is a great honor –– for our musicians, ProMusica as an organization, and the city of Columbus," said ProMusica Executive Director Janet Chen. "We are dedicated to raising the national profile of Columbus through our world-class performances, and our debut in Chicago is a first step to achieving our goal."
The North Shore Chamber Music Festival has been called an "inspired summer event not to be missed" (Chicago Classical Review) for Chicagoans and travelers alike. The Chicago Tribune calls NSCMF a "Chicago classical operation that thinks big. Very big. Internationally big." Created in 2010 by internationally renowned violinist and ProMusica's Creative Partner and Principal Guest Artist Vadim Gluzman, and his wife, concert pianist Angela Yoffe, the annual event boasts a prestigious roster of classical music's top performers who come together for three sensational days of music-making. The festival has grown to be one of the highlights of the Chicago summer music scene and presents musical experiences of the same level of excellence as those found in the great halls of the world, but within a very intimate and welcoming setting.
ProMusica's NSCMF Chicago debut will be performed under the baton of its Music Director David Danzmayr. Recognized among the leading chamber orchestras in North America, ProMusica brings attention to Columbus' rising arts scene through presenting performances of the highest artistic quality and creative approaches to community outreach and education. Danzmayr is widely regarded as one of the most exciting European conductors of his generation. He was also recently appointed Chief Conductor of the Zagreb Philharmonic Orchestra in Croatia and has guest conducted major orchestras around the globe, such as the San Diego, Milwaukee, Indianapolis, and Detroit Symphony Orchestras as well as the Stuttgart Radio Symphony, Vienna Radio Symphony, City of Birmingham Symphony Orchestra, and Royal Scottish National Orchestra.
ProMusica will join a stellar roster of other guest artists featured in the festival, including principal musicians from the Chicago Symphony Orchestra and Cleveland Orchestra, as well as members of the esteemed Canadian Brass and artists of New York's Lincoln Center Chamber Music Society.
ProMusica's performance at NSCMF will feature Mozart's Rondo for Violin and Orchestra in C major featuring the Arkady Fomin Scholarship Fund Recipient, Joshua Brown; Mozart's Symphony No. 29 in A major; Tausky's Coventry: A Meditation for Strings; and Mozart's Sinfonia Concertante in E-flat major with violinist Vadim Gluzman and violist Paul Neubauer.
Additionally, Executive Director Janet Chen will be featured on an exclusive festival panel discussion titled "The World of Music – Then and Now." Panelists will also include Henry Fogel, former President and CEO of the Chicago Symphony Orchestra; Michael Volpert, Director of Artistic Planning for Orpheus Chamber Orchestra, and Vadim Gluzman, NSCMF's Artistic Director.
The 3-day event is held at the Village Presbyterian Church in Northbrook. Prelude Concerts at 6:00pm are free with the purchase of a ticket to the 7:30pm concerts. ProMusica's performance closes the festival on the Saturday, June 10th concert. A detailed schedule can be found at www.nscmf.org.
Single concert tickets are Section A $50, Section B $40, and Section C $30, with specially priced student tickets at $15. Seniors enjoy 20% off every concert. Tickets and more information can be obtained online at www.nscmf.org or by calling (847) 370-3984.
ABOUT PROMUSICA
ProMusica Chamber Orchestra delivers a world-class and unique classical music experience—through innovative chamber orchestra programming, education outreach, audience intimacy, and artistic excellence.  Acclaimed as a national leader in performing new and contemporary repertoire, ProMusica has commissioned 64 new works and has presented more than 110 world and regional premieres.
Comprised of 37 musicians, ProMusica is the resident orchestra of the historic Southern Theatre in downtown Columbus. The orchestra also reaches audiences beyond the I-270 outerbelt through regular performances at other notable venues including the St. Turibius Chapel of the Pontifical College Josephinum and the Worthington United Methodist Church. Additionally, ProMusica presents an annual outdoor Summer Music Series festival, open and free to the public in collaboration with the Franklin Park Conservatory & Botanical Gardens and the Columbus Topiary Park. Today, ProMusica reaches more than 28,000 audience members annually.
Beyond the concert hall, the orchestra is equally at home throughout the community, serving approximately 16,800 lives each season through key education and outreach programs. Known for its dual traditions of artistic integrity and fiscal responsibility, ProMusica is now in its 38th season.
ProMusica is funded in part through the work of the Greater Columbus Arts Council, The Columbus Foundation, The Reinberger Foundation, the Ohio Arts Council, and the ProMusica Sustaining Board. Media support is provided by WOSU Classical 101 FM.
ABOUT NSCMF
Founded in 2010 by violinist Vadim Gluzman and pianist Angela Yoffe, the North Shore Chamber Music Festival provides Chicago's North Shore with musical experiences of the same level of excellence as those found in the great halls of the world, but within a very intimate and welcoming environment. During its first six seasons, more than 7,600 concertgoers from metropolitan Chicago and 140 towns throughout its North Shore attended festival concerts, which were broadcast live each year to 350,000 households locally on 98.7 WFMT, Chicago's premiere classical radio station. Through the summer festival and robust year-round Creative Learning programs, the organization strives to provide a substantial and deeply meaningful arts experience that is all at once entertaining, life affirming, inspirational, and approachable.
####
03/29/2017