ProMusica Creative Partner Vadim Gluzman to lead and solo in January concerts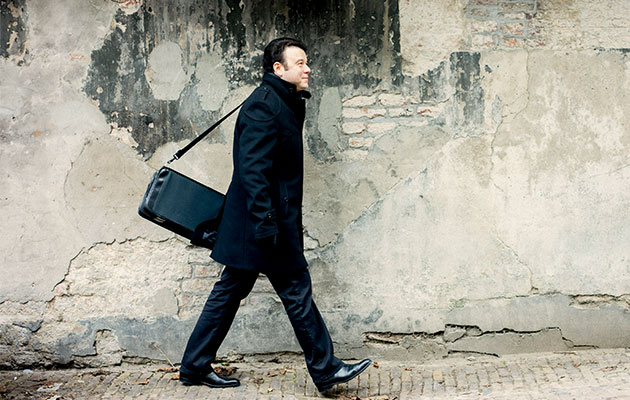 Northern Lights celebrates the quiet majesty of winter
(Columbus, OH) – ProMusica's Creative Partner and Principal Guest Artist Vadim Gluzman will lead the orchestra through a program of time-honored favorites from Bach to Nielsen. ProMusica will be joined by flutist Anthony Trionfo and harpsichordist David Schrader to perform pieces by Johann Sebastian Bach, Lera Auerbach and Carl Nielsen. Gluzman – leading the orchestra from the first violin position – will also take the spotlight as soloist with Pēteris Vasks' moody and evocative Distant Light.
Northern Lights, the string-dominated concert showcasing winter themes, will be presented on Saturday, Jan. 20 at 5:30 p.m. at the Worthington United Methodist Church and Sunday, Jan. 21 at 7 p.m. at the Southern Theatre.
"It's always a special event when Vadim Gluzman leads and performs with the orchestra," said ProMusica Executive Director Janet Chen. "And this thoughtful program – selected works primarily arranged for our string section that are perfect for a chilly January evening – plays right to his strengths, highlighting his stunning artistry."
Born in the former Soviet Union in 1973, Gluzman began violin studies at age 7. He studied with Roman Sne in Latvia and Zakhar Bron in Russia before moving to Israel in 1990, where he became a student of Yair Kless. In the United States, he studied with Arkady Fomin in Dallas and at The Juilliard School with Dorothy DeLay and Masao Kawasaki. He appears regularly with major orchestras all over the world such as the Berlin Philharmonic, Boston Symphony, Cleveland Orchestra, Chicago Symphony, Philadelphia Orchestra, San Francisco Symphony, Israel Philharmonic, London Philharmonic, London Symphony, and Leipzig Gewandhaus Orchestra. Gluzman joined the ProMusica artistic leadership team as Creative Partner and Principal Guest Artist in 2013.
Northern Lights will begin with Lera Auerbach's T'filah. Auerbach, originally from Russia, is featured as this concert's American immigrant composer (a re-occuring theme throughout this season), and has appeared several times with ProMusica including this past April. Carl Nielsen's 1888 composition Suite for Strings, Op.1 "Petite Suite" continues the program, followed by a pair from Bach: Brandenburg Concerto No. 5, which will feature guest soloists flutist Anthony Trionfo and harpsichordist David Schrader, and Adagio from Violin Sonata No. 1 in G minor. Vasks' Distant Light, a more contemporary work from 1999, will close the evening featuring Gluzman as violin soloist.
-more-
Flutist Anthony Trionfo appears by arrangement with Young Concert Artists, Inc. Praised for his "spellbinding" performances with "authoritative intellect" by the Santa Barbara Voice, he will make his recital debuts this spring at the Kennedy Center as well as in New York City's Merkin Concert Hall. Trionfo has performed concertos with the Interlochen Symphony Orchestra, the Colburn Symphony Orchestra, Mr. Obama's "President's Own" Marine Band, and the Las Vegas Philharmonic. Recipient of the Jack Kent Cooke Young Artist Award in 2012, Mr. Trionfo appeared on From the Top as a Featured Alumni Performer. In 2013, Anthony was a first prize winner of the Alexander & Buono International Flute Competition and a winner of the National Young Arts Foundation Competition.
David Schrader is "truly an extraordinary musician … (who) brings not only the unfailing right technical approach to each of these different [keyboard] instruments, but always an imaginative, fascinating musicality to all of them" (Norman Pelligrini, WFMT, Chicago). Mr. Schrader has performed with the Chicago Symphony Orchestra, the Dallas Symphony Orchestra, the San Francisco Symphony Orchestra, and the Colorado Symphony Orchestra, among others. In April of 2002, Mr. Schrader appeared at the Brooklyn Academy of Music with Chicago Opera Theater's highly acclaimed production of Orfeo. Mr. Schrader is a faculty member of Roosevelt University and for 35 years, he was the organist of the Church of the Ascension in Chicago.
###
SEASON TICKET SUBSCRIPTION (AND SINGLE TICKET) INFORMATION
Subscriptions packages, ranging from $62 to $270, are still available for the 2017-18 concert season, including a Flex Series option and a Worthington Series. Single tickets to any regular season concert cost $12 to $50, and are currently on sale. Subscriptions and single tickets are available through the ProMusica office (614-464-0066; www.promusicacolumbus.org) or through Ticketmaster.
ABOUT PROMUSICA
ProMusica Chamber Orchestra delivers a world-class and unique classical music experience—through innovative chamber orchestra programming, education outreach, audience intimacy, and artistic excellence.  Recognized for its commitment to performing new and contemporary repertoire, ProMusica has commissioned 65 new works and has presented more than 110 premieres.
Bringing worldwide talent to Columbus since 1978, ProMusica offers an adventurous musical experience through intimate performances on the stages of the Southern Theatre and the Worthington United Methodist Church. The orchestra, comprised of 37 musicians, showcases homegrown talents, rising stars, and guest artists of international acclaim. Beyond the concert hall, the orchestra is equally at home throughout the community, serving thousands of individuals through key education and outreach programs. Known for its dual traditions of artistic integrity and fiscal responsibility, ProMusica is now in its 39th season.
ProMusica is funded in part through the work of the Greater Columbus Arts Council, The Columbus Foundation, The Reinberger Foundation, the Ohio Arts Council, and the ProMusica Sustaining Board. Media support is provided by WOSU Classical 101 FM.
###
12/01/2017