Vadim Gluzman and Joshua Roman collaborate with ProMusica for a world premiere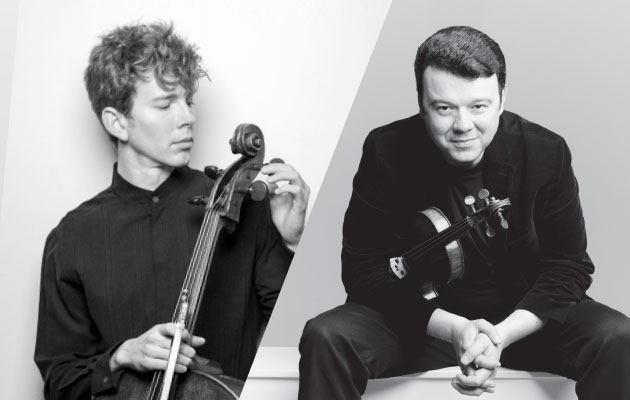 Weekend kicks off with an entertaining and enlightening NAKED CLASSICS performance focused on Mozart
(Columbus, OH) – Cellist Joshua Roman and violinist Vadim Gluzman, ProMusica's creative partner, perform the world premiere of Roman's latest work titled, Confluence, a double concerto for violin, cello, and orchestra. ProMusica's 68th commissioned work will be featured on the Mozart & the Masters program which also features music by Mozart and Mendelssohn on Saturday, April 4 at 5:30 p.m. at the Worthington United Methodist Church; and on Sunday, April 5 at 7 p.m. at the Southern Theatre.
Music Director David Danzmayr and the orchestra will demonstrate the breadth of music genius of Wolfgang Amadeus Mozart's symphonic compositions and musical maturation by performing his first and last symphonies, No. 1 and No. 41, "Jupiter". This musical evolution will also be explored in-depth on Friday, April 3 when host and presenter Paul Rissmann, David Danzmayr and the orchestra present NAKED CLASSICS: Mozart—Journey of a Genius.
Joshua Roman last appeared with ProMusica in January 2016, when he premiered his cello concerto, Awakening, a ProMusica co-commission with the Illinois Philharmonic Orchestra. Roman's commission and world premiere is made possible through the generous support of Marilyn and Marty Campbell, and his appearance is supported by the Marzella Family.
In addition to the two Mozart symphonies and Roman's world premiere, ProMusica will also feature the virtuosity of Vadim Gluzman with Felix Mendelssohn's 1844 Violin Concerto in E Minor, one of the most lyrical and flowing works of its type and ideal in a chamber orchestra setting.
"David Danzmayr, with his Austrian roots, has a great affinity for Mozart's works and looks forward to showcasing the full range of the composer's symphonies – both in the traditional concert setting and with further examination through the multimedia NAKED CLASSICS presentation," said ProMusica CEO Janet Chen. "In addition, we are thrilled to have our friends Vadim Gluzman and Joshua Roman back to perform Joshua's new piece with the orchestra."
A graduate of the Cleveland Institute of Music, cellist Joshua Roman is an accomplished composer and curator whose performances embrace musical styles from Bach to Radiohead. Before setting off on his unique path as a soloist, Roman was the Seattle Symphony's principal cellist – a job he began at just 22 years of age and left only two years later to pursue a solo career. He has performed all over the world—from refugee camps and HIV clinics in Africa to the YouTube Symphony Orchestra and the U.S. State Department (with Yo-Yo Ma for national and international leaders). He plays an 1899 cello, lent to him by Giulio Degani of Venice.
In conjunction with Saturday and Sunday's Mozart-based concerts, host Paul Rissmann and ProMusica present NAKED CLASSICS, the second performance of this series this season, which has become a staple of the orchestra's seasons since 2016. In this musical exploration, Rissmann, Danzmayr and musicians together will track Mozart's maturation as a composer, highlighting his first Symphony No. 1, and comparing and contrasting that work with his last, Symphony No. 41, "Jupiter".
Through the use of digital projection, live musical excerpts from the orchestra, and interviews with the musicians on stage, Rissmann guides the audience with a presentation that not only explores the historical background of these renowned pieces of music, but also investigates their construction in a way that is easy for concert-goers to understand and relate to. In the second half of the program, David Danzmayr and the orchestra will perform the two pieces in their entirety, giving audiences new insight into the work.
Rissmann and ProMusica will present NAKED CLASSICS: Mozart—Journey of a Genius on Friday, April 3 at 8:00 p.m. at the Southern Theatre.
Paul Rissmann was born on the Isle of Bute, Scotland and is a composer, presenter and music educator. He currently holds the position of Animateur for the London Symphony Orchestra (LSO) and is Children's Composer in Residence for Music in the Round.
As a concert presenter, Rissmann has performed with many leading orchestras in America, Australia, Europe, India, Malaysia and the Middle East. Recent engagements include concerts with the New York Philharmonic, Royal Scottish National Orchestra, City of Birmingham Symphony, Vienna Philharmonic, the Philharmonia at the South Bank, and a tour of India with Nicola Benedetti and the BBC Scottish Symphony Orchestra.
###
TICKET INFORMATION
Tickets for Mozart & the Masters range from $16 to $58. Tickets for NAKED CLASSICS: Mozart – Journey of a Genius are $27 each for general admission. Tickets and more information are available through the ProMusica Box Office (614-464-0066 ext. 101; www.promusicacolumbus.org) or through Ticketmaster.
ABOUT PROMUSICA
ProMusica Chamber Orchestra delivers a world-class and unique classical music experience—through innovative chamber orchestra programming, education outreach, audience intimacy, and artistic excellence.  Recognized for its commitment to performing new and contemporary repertoire, ProMusica has commissioned 68 new works and has presented more than 120 premieres.
Bringing worldwide talent to Columbus since 1978, ProMusica offers an adventurous musical experience through intimate performances on the stages of the Southern Theatre and the Worthington United Methodist Church. The orchestra, comprised of 37 musicians, showcases homegrown talents, rising stars, and guest artists of international acclaim. Beyond the concert hall, the orchestra is equally at home throughout the community, serving thousands of individuals through key education and outreach programs. Known for its dual traditions of artistic integrity and fiscal responsibility, ProMusica is now in its 41st season.
ProMusica's 2019-2020 season is supported by the Greater Columbus Arts Council, The Columbus Foundation, the Ohio Arts Council, Nationwide, The Reinberger Foundation, and the ProMusica Sustaining Board. Media support is provided by WOSU Classical 101 FM.
###