Vadim Gluzman Returns with ProMusica for Concerts on Nov. 6 and 7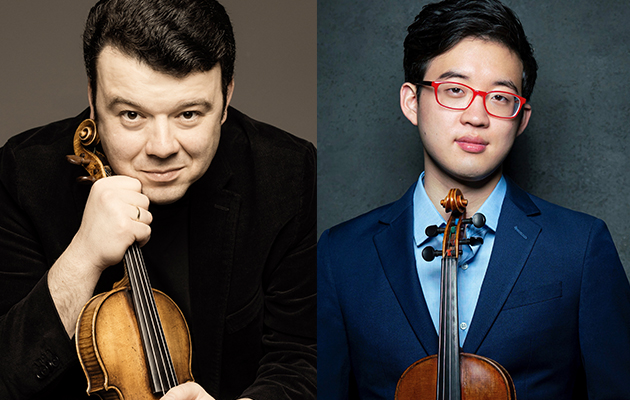 Rising Star Violinist Julian Rhee makes his Columbus debut
(Columbus) – Creative Partner and renowned violinist Vadim Gluzman returns to ProMusica Chamber Orchestra to play and lead a program of virtuosic works by Beethoven and 20th century Russian composer Alfred Schnittke. Gluzman and ProMusica also welcome to the Southern Theatre stage, rising star violinist Julian Rhee – featured as part of a partnership with the North Shore Chamber Music Festival's "Stars of Tomorrow!" program, which awards scholarships from the Arkady Fomin Scholarship Fund to talented young artists from around the world.
The Vadim & Friends concert will take place on Saturday, Nov. 6 at 5:30 p.m. and Sunday, Nov. 7 at 7:00 p.m. at the Southern Theatre.
On the first half of the program, Gluzman and six other ProMusica principal musicians, will showcase one of Beethoven's most popular chamber works, the lyrical and elegant Septet, with its mix of wind and string sonorities. The second half of the program consists of Schnittke's Concerto Grosso No.1, which will feature both Rhee and Gluzman as soloists.
"It is always a joy to work with Vadim, and every year when he returns to Columbus it is like making music with a longtime friend," said ProMusica CEO Janet Chen. "We are so fortunate to have his artistry to perform different types of repertoire that allow the orchestra to get deeply intimate in size, as well as works that really aren't performed that frequently, such as the Schnittke. I have no doubt this concert will take you on an emotional journey from the sentimental to the energetic!"
Praised for his "sophisticated, assured tone, superb intonation, and the kind of poise and showmanship that thrills audiences," 20-year-old Julian Rhee – one of the North Shore Chamber Music Festival's "Stars of Tomorrow!" –  was first prize winner of the 2020 Elmar Oliveira International Violin Competition. He is fast gaining recognition as an outstanding musician and performer in the United States, performing with orchestras throughout the country. Rhee made his debut with the Milwaukee Symphony Orchestra at the age of 8, and and has gone on to perform with orchestras such as the Pittsburgh Symphony Orchestra, Eugene Symphony Orchestra, San Jose Chamber Orchestra, the Madison Symphony Orchestra, the Avanti Symphony Orchestra, West Suburban Symphony Orchestra, and the San Diego Symphony.
Violinist Vadim Gluzman is in his ninth season as Creative Partner and Principal Guest Artist with ProMusica. His wide repertoire embraces new music and his performances are heard around the world through live broadcasts and a striking catalogue of award-winning recordings exclusively for the BIS label. He is universally recognized among today's top performing artists and appears regularly with major orchestras all over the world including the Berlin Philharmonic, Boston Symphony, Cleveland Orchestra, Chicago Symphony, Philadelphia Orchestra, San Francisco Symphony, Israel Philharmonic, London Philharmonic, London Symphony, and Leipzig Gewandhaus Orchestra. He performs on the legendary 1690 'ex—Leopold Auer' Stradivari on extended loan to him through the generosity of the Stradivari Society of Chicago.
Tickets for the November concerts range from $16 to $58 and are be available through the ProMusica office (online at promusicacolumbus.org, and by phone at 614.464.0066 ext. 111) or via Ticketmaster.
Only single tickets will be sold for ProMusica's fall concerts to ensure flexibility and safety for all audiences. A section for social distanced seating will also be available upon request, through the ProMusica office, and Southern Theatre capacity will be limited. CAPA requires all patrons, staff, and volunteers to wear masks at all times while inside the Southern Theatre, in addition to showing proof of vaccination.
###
ABOUT PROMUSICA
ProMusica Chamber Orchestra delivers a world-class and unique classical music experience—through innovative chamber orchestra programming, education outreach, audience intimacy, and artistic excellence. Recognized for its commitment to performing new and contemporary repertoire, ProMusica has commissioned 69 new works and has presented more than 110 premieres.
Bringing worldwide talent to Columbus since 1978, ProMusica offers an adventurous musical experience through intimate performances on the stages of the Southern Theatre and The Fives. The orchestra, comprised of 37 musicians, showcases homegrown talents, rising stars, and guest artists of international acclaim. Beyond the concert hall, the orchestra is equally at home throughout the community, serving thousands of individuals through key education and outreach programs. Known for its dual traditions of artistic integrity and fiscal responsibility, ProMusica is now in its 43rd season.
ProMusica's 2021-2022 season is supported by the Greater Columbus Arts Council, The Columbus Foundation, the Ohio Arts Council, Nationwide, the Reinberger Foundation, and the ProMusica Sustaining Board. Media support is provided by WOSU Classical 101 FM.