ProMusica finishes 2016 fiscal year in the black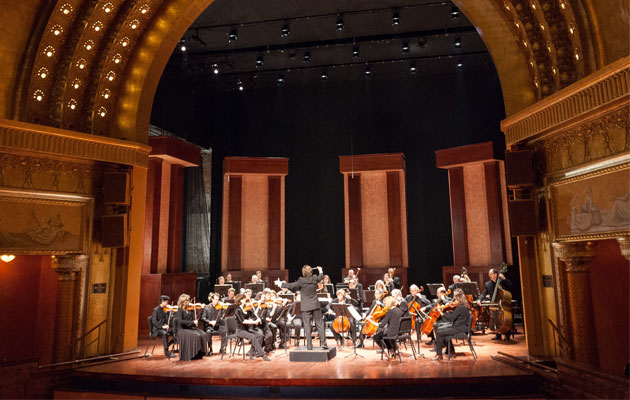 Contract extensions signed by Music Director David Danzmayr and Creative Partner Vadim Gluzman
(Columbus, OH) – ProMusica Chamber Orchestra of Columbus, Ohio announces that the organization has finished its 2016 fiscal year (lasting from July 1, 2015 through June 30, 2016) with a budget surplus for the seventh consecutive year. A remarkable surge in subscription and single ticket sales, combined with a continued broadening of philanthropic dollars, helped the organization to finish 2016 on solid financial footing.
ProMusica reported an impressive 25 percent increase in subscriptions — an important fiscal benchmark for any arts organization — throughout the 2015-2016 season. This figure represents a 6 percent increase over the budgeted target. In addition, single-ticket sales exceeded budget goals by 32 percent over the previous fiscal year's numbers.
"We remain focused and committed to taking artistic risks, while bringing to Columbus some of the most renowned international guest artists and musicians. Combined with that, though, is our constant attention to the bottom line," said Executive Director Janet Chen. "We are sincerely grateful to our friends and supporters in Central Ohio for their investment of time and financial resources. Together we can provide world-class experiences and opportunities to the Columbus community, of all ages and all walks of life."
ProMusica has also announced that contract extensions have been given to the two artistic leaders who have been instrumental in guiding the chamber orchestra to its current level of success. Music Director David Danzmayr has accepted a 5-year contract extension through the 2020-2021 season, and Principal Guest Artist and Creative Partner violinist Vadim Gluzman will continue his position with ProMusica through 2019.
David Danzmayr is only the second Music Director in ProMusica's 38-year history, taking the reins from Dr. Timothy Russell in the 2013-2014 season. Regarded as one of the most talented and exciting conductors of his generation, Danzmayr this year also assumed the role of Chief Conductor of the Zagreb Philharmonic Orchestra in Croatia. As Chief Conductor he will lead numerous concerts with the ZPO, including a tour of Italy. David recently concluded his four-year tenure with the Illinois Philharmonic Orchestra and is currently serving as Artistic Advisor of the Breckenridge Music Festival.
Danzmayr formerly served as Assistant Conductor of the Royal Scottish National Orchestra, and has become a sought-after guest conductor for renowned orchestras around the globe. He has worked with the City of Birmingham Symphony Orchestra, Detroit Symphony, San Diego Symphony, Tucson Symphony, New Jersey Symphony Orchestra, Sinfonieorchester Basel, and Bamberg Orchestra, to name a few.  His 2016-2017 season includes engagements with the Louisiana Philharmonic, Iceland Symphony Orchestra, River Oaks Chamber Orchestra, Fort Worth Symphony Orchestra, and Indianapolis Symphony, among others.
With the contract extension, Danzmayr and his wife Kathrin – a soprano who recently performed on stage with ProMusica – and their two children have moved from the Chicago area to Columbus, making Central Ohio their home.
Cited as the "next Itzhak Perlman" and one of the most influential violinists in the world, Principal Guest Artist and Creative Partner Vadim Gluzman also began collaborating in this official role with ProMusica in 2013. Highlights of the Israeli violinist's 2016-17 season include appearances in London at The Proms with the BBC Symphony, with the Chicago Symphony, the NDR Elbphilharmonie Orchestra Hamburg, the Deutsches Symphonie-Orchester Berlin, and with the Orchestre de Paris. He appeared recently with the Philadelphia Orchestra, Cleveland Orchestra, and the Berlin Philharmonic and will tour the United States with the Orpheus Chamber Orchestra, including an engagement in New York at Carnegie Hall.
"We are very pleased that David and Vadim have accepted contract extensions, and will continue their roles in establishing ProMusica as one of the premier chamber orchestras in the country," said Board President Steve Keyes. "They are world-renowned artistic visionaries, and have profoundly enhanced the organization's overall musicianship and reputation."
###
SEASON TICKET SUBSCRIPTION (AND SINGLE TICKET) INFORMATION
Single tickets are available now for $12 to $50. Subscriptions packages, ranging from $62 to $270, are available for the 2016-17 concert season, including a Flex Series option and the Worthington Series. Subscriptions and single tickets are on sale through the ProMusica office (614-464-0066; www.promusicacolumbus.org) or Ticketmaster.
ABOUT PROMUSICA
ProMusica Chamber Orchestra delivers a world-class and unique classical music experience—through innovative chamber orchestra programming, education outreach, audience intimacy, and artistic excellence.  Recognized for its commitment to performing new and contemporary repertoire, ProMusica has commissioned 64 new works and has presented more than 110 premieres.
Bringing worldwide talent to Columbus since 1978, ProMusica offers an adventurous musical experience through intimate performances on the stages of the Southern Theatre and the Worthington United Methodist Church. The orchestra, comprised of 37 musicians, showcases homegrown talents, rising stars, and guest artists of international acclaim. Beyond the concert hall, the orchestra is equally at home throughout the community, serving thousands of individuals through key education and outreach programs. Known for its dual traditions of artistic integrity and fiscal responsibility, ProMusica is now in its 38th season.
ProMusica is funded in part through the work of the Greater Columbus Arts Council, The Columbus Foundation, The Reinberger Foundation, the Ohio Arts Council, and the ProMusica Sustaining Board. Media support is provided by WOSU Classical 101 FM.
####
01/10/2017