ProMusica ends 40th season with a chorale celebration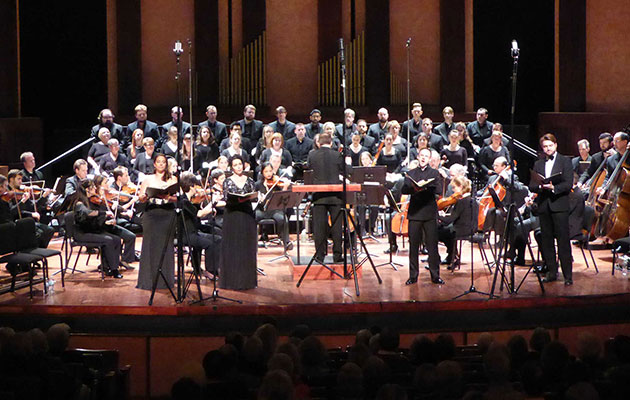 Beethoven's Ninth concludes season on high note
(Columbus, OH) – Music Director David Danzmayr and ProMusica Chamber Orchestra will conclude its 40th anniversary season with Beethoven's Ninth, on Saturday, May 11 at 5:30 p.m. and Sunday, May 12 at 7 p.m. at the Southern Theatre. The program pays tribute to the Viennese masters—beginning with Allegri's choral work, transcribed by Mozart, Miserere mei, Deus, and continuing with eloquently orchestrated songs by Schubert. The concert finishes with Beethoven's monumental Symphony No. 9, leading listeners through an emotional journey from grief into fury, before emerging into pure joy and celebration.
Guest vocalists soprano Kathrin Danzmayr, alto Abigail Nims, tenor Lawrence Wiliford, and  baritone Aaron Wardell, along with LancasterChorale, will join ProMusica for this grand season finale.
"The vocalists who will be joining us are all dear friends of ProMusica, having performed with us in the past—most recently for Mozart's Requiem last season.We are thrilled to be joining forces again," said Executive Director Janet Chen.
In addition to the featured soloists and choir, a number of supporting musicians will be added to ProMusica's core of 37 musicians, to fill out the instrumentation of the symphony as Beethoven had written it.
"This will be the first time in ProMusica's history that we will perform Beethoven's Symphony No. 9 and this large production will sure to be a rousing musical celebration to end the year," said Chen.
The first half of the concert will feature LancasterChorale with one of the great classical a cappella classics of all time, Gregorio Allegri's Miserere mei, Deus, as transcribed by Wolfgang Amadeus Mozart. A 14-year old Mozart was so moved by hearing this piece, performed in the Sistine Chapel, that he transcribed it by memory. Initially composed in 1638, Mozart's version of Miserere was published in 1771.
The four guest vocalists will each take the spotlight performing four songs by Franz Schubert: Gretchen at the Spinning Wheel, Night and Dreams, Ganymed and Serenade. Music Director Danzmayr returns to Schubert, one of his favorites, after the orchestra completed a Schubert Symphony Cycle last season.
Finally, ProMusica will be completing its two-year Beethoven Symphony Cycle with the massive Symphony No. 9—regarded by many critics and musicologists as one of Beethoven's greatest works and one of the supreme achievements in the history of western music.
###
TICKET INFORMATION
Tickets for Beethoven's Ninth are $15-55.  To purchase tickets and for more information, please call the ProMusica office (614-464-0066 ext. 101; www.promusicacolumbus.org). Tickets are also available through Ticketmaster.
ABOUT PROMUSICA
Under the artistic leadership of Music Director David Danzmayr and Creative Partner, renowned violinist Vadim Gluzman, ProMusica Chamber Orchestra is dedicated to raising the national profile of Columbus through world-class performances and creative approaches to community outreach and education.
Comprised of 37 musicians, ProMusica is the resident orchestra of the historic Southern Theatre in downtown Columbus. The orchestra also reaches audiences beyond the I-270 outer belt through regular performances at the Worthington United Methodist Church. ProMusica presents an annual outdoor Summer Music Series, open and free to the public in collaboration with Franklin Park Conservatory & Botanical Gardens. Special events such as NAKED CLASSICS and the annual Soirée broadens our audience by showcasing crossover artistry, with recent guests including Leslie Odom, Jr., Steep Canyon Rangers, and 14-time Grammy winner, Ricky Skaggs. Recognized for its commitment to performing new and contemporary repertoire, ProMusica has commissioned 67 new works and presented more than 110 world and regional premieres.
Beyond the concert hall, the orchestra is equally at home throughout the community, serving thousands of individuals through key education and outreach programs. In June 2017, ProMusica made its Chicago debut to perform for a sold-out crowd at the North Shore Chamber Music Festival in Chicago. Known for its dual traditions of artistic integrity and fiscal responsibility, ProMusica is now in its 40th season.
ProMusica is funded in part through the Greater Columbus Arts Council, The Columbus Foundation, the Ohio Arts Council, Nationwide, and the ProMusica Sustaining Board. Media support is provided by WOSU Classical 101 FM.
###
03/22/2019