ProMusica Completes 2017 on Solid Financial Footing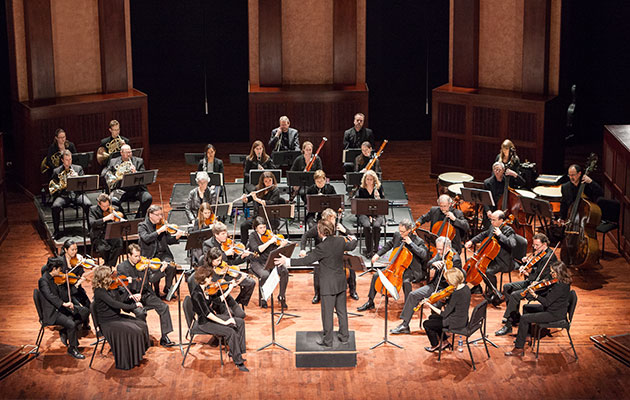 Management and its orchestra musicians ratify new, three-year contract 
(Columbus, OH) – ProMusica Chamber Orchestra reports positive news that the company has exceeded expectations and will complete fiscal year 2017 with a budget surplus – the eighth consecutive year they have finished in the black.
The budget surplus and consistent fiscal management is notable, considering the orchestra's overall growth over the last few seasons. The orchestra's annual operating budget has increased from $1.35 million in fiscal year 2016 to $1.54 million in 2017, in support of growing programs including touring, access to outreach and education, and new initiatives such as its "Naked Classics" series.
"Our continued growth and success this past year is achieved due to the collective dedication and passion of our board, administrative team and musicians," said ProMusica's Executive Director Janet Chen. "Together with our patrons and partners, we are making a tremendous impact on our community and beyond – and garnering attention on a national level."
Subscription revenues last year continued to climb and similarly, the annual "Soiree" benefit netted more than 20 percent over its fundraising goal. The generosity of individuals exceeded contributed revenue goals by 38 percent –– all were instrumental in the organization beating its established goals for 2017.
Additionally, the orchestra recently ratified a new three-year contract (backdated to September 1) with its musicians effective until 2020.
"Our musicians are our most important asset. We are grateful to the members of the orchestra committee, to our musicians, and to the Local 103 for working with us to ensure that we maintain the incredible momentum of the last few years.," said Todd Swatsler, ProMusica Board Member who led the contract negotiations.
This new contract, combined with extended contracts for Music Director David Danzmayr and Principal Guest Artist and Creative Partner Vadim Gluzman puts the orchestra on solid footing to support its artistic aspirations and goals. Additionally, three new administrative staff positions were created to continue this extraordinary growth.
"ProMusica is unique because all aspects of the institution, whether artistic, administrative, or board, have created and continue to embrace a genuine collaborative culture.  I think that's reflected in the fact that we continue to generate excitement year after year," said Donna Conaty, principal oboe since 1991 and chair of the Orchestra committee. "With this agreement in place, musicians are looking forward to further working with David, Janet, and the board leadership to continually move ProMusica forward on its upward trajectory in the orchestral world."
###
SEASON TICKET SUBSCRIPTION (AND SINGLE TICKET) INFORMATION
Subscriptions packages, ranging from $62 to $270, are still available for the 2017-18 concert season, including a Flex Series option and a Worthington Series. Single tickets to any regular season concert cost $12 to $50, and are now on sale. Subscriptions and single tickets will be available through the ProMusica office (614-464-0066; www.promusicacolumbus.org) or through Ticketmaster.
ABOUT PROMUSICA
ProMusica Chamber Orchestra delivers a world-class and unique classical music experience—through innovative chamber orchestra programming, education outreach, audience intimacy, and artistic excellence. Recognized for its commitment to performing new and contemporary repertoire, ProMusica has commissioned 65 new works and has presented more than 110 premieres.
Bringing worldwide talent to Columbus since 1978, ProMusica offers an adventurous musical experience through intimate performances on the stages of the Southern Theatre and the Worthington United Methodist Church. The orchestra, comprised of 37 musicians, showcases homegrown talents, rising stars, and guest artists of international acclaim. Beyond the concert hall, the orchestra is equally at home throughout the community, serving thousands of individuals through key education and outreach programs. Known for its dual traditions of artistic integrity and fiscal responsibility, ProMusica is now in its 39th season.
ProMusica is funded in part through the work of the Greater Columbus Arts Council, The Columbus Foundation, The Reinberger Foundation, the Ohio Arts Council, and the ProMusica Sustaining Board. Media support is provided by WOSU Classical 101 FM.
###
10/30/2017