Classical guitar takes center stage in ProMusica's Opening Night on Oct. 9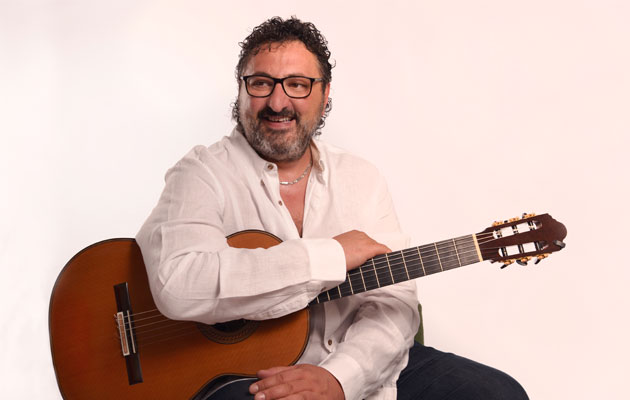 Italian guitar virtuoso Aniello Desiderio featured in kickoff to ProMusica's 38th season
(Columbus, OH) – Music Director David Danzmayr and the ProMusica Chamber Orchestra welcome classical guitar virtuoso Aniello Desiderio to kick off ProMusica's 2016-2017 season with a Latin flair on Sunday, Oct. 9 at 7 p.m. at the Southern Theatre.
In his ProMusica debut performance, Desiderio will be featured as soloist on two contrasting pieces. The first is Leo Brouwer's Tres Danzas Concertantes, a modern less traditional composition for guitar, and then he will perform Joachín Rodrigo's Concierto de Aranjuez, one of the most well-known works in the classical guitar repertoire.
"One of the threads that David Danzmayr has woven through our entire season is to include a form of 'dance' on each program," said ProMusica's Executive Director Janet Chen. "We are looking forward to kicking the season off with Tres Danzas Concertantes being performed by one of Europe's most well-known guitarists."
The second half of the concert will include Ludwig Von Beethoven's homage to nature, his masterwork "Symphony No. 6 in F Major, Pastoral."
Acclaimed guitarist Aniello Desiderio is a renowned musician throughout Europe, and was labeled a prodigy when he began performing publicly in Italy at the age of eight. He has won 18 first International Awards in both national and international competitions, including 1st Prize and Special Prize for the best interpretation of South American music at the International Guitar Competition in Havana, Cuba. He performs as a recitalist and soloist with orchestras in North and South Americas, Europe, Asia, and Africa; regularly in the most important theaters of the world including Carnegie Hall, Munich Philarmonie, Alte Opera, Tonhalle, Teatro delle Palme, Radio France, Die Gloke, Istanbul Philarmonie, Berlin Philarmonie, and Opera House Wien.
"The orchestra is excited to work with Aniello, and we are proud to have yet another internationally acclaimed artist joining ProMusica on stage at the Southern," said Chen. "We have worked hard to curate a dynamic and eclectic season and are delighted to share this exciting Opening Night program with our patrons."
###
SEASON TICKET SUBSCRIPTION (AND SINGLE TICKET) INFORMATION
Subscriptions packages, ranging from $62 to $270, are available for the 2016-2017 concert season, including a "Flex" series option and the Worthington series. Single tickets to any regular season concert cost $12 to $50. Subscriptions and single tickets are on sale now through the ProMusica office (614-464-0066; www.promusicacolumbus.org) or through Ticketmaster.
ABOUT PROMUSICA
ProMusica Chamber Orchestra delivers a world-class and unique classical music experience—through innovative chamber orchestra programming, education outreach, audience intimacy, and artistic excellence.  Recognized for its commitment to performing new and contemporary repertoire, ProMusica has commissioned 64 new works and has presented more than 110 premieres.
Bringing worldwide talent to Columbus since 1978, ProMusica offers an adventurous musical experience through intimate performances on the stages of the Southern Theatre and the Worthington United Methodist Church. The orchestra, comprised of 37 musicians, showcases homegrown talents, rising stars, and guest artists of international acclaim. Beyond the concert hall, the orchestra is equally at home throughout the community, serving thousands of individuals through key education and outreach programs. Known for its dual traditions of artistic integrity and fiscal responsibility, ProMusica is now in its 38th season.
ProMusica is funded in part through the work of the Greater Columbus Arts Council, The Columbus Foundation, The Reinberger Foundation, the Ohio Arts Council, and the ProMusica Sustaining Board. Media support is provided by WOSU Classical 101 FM.
09/01/2017