ProMusica introduces Chamber Music Series at The Fives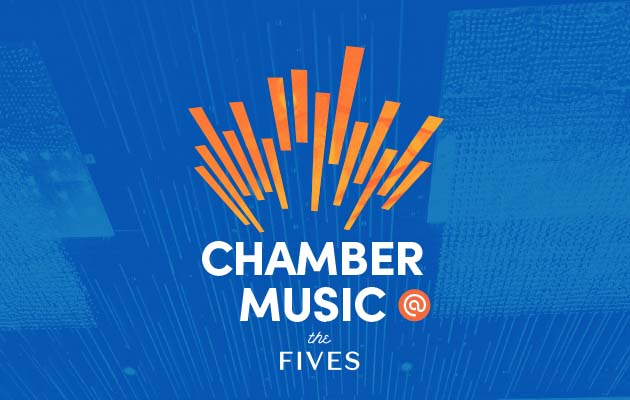 Three-concert musician-curated series to launch in flexible, intimate venue
(Columbus) – In 2022, ProMusica Chamber Orchestra introduces a new chamber music series at Together & Company's exclusive venue at The Fives. The three-concert series will showcase small chamber ensembles featuring ProMusica musicians curating their own programs.
"The Fives was our musical home during COVID and audiences loved the flexibility and the different, more informal concert experience," said Janet Chen, CEO of ProMusica Chamber Orchestra. "So we decided to reimagine our chamber concert series here. The space has a beautiful view overlooking downtown Columbus and a warmth and intimacy that complements our Southern Theatre concerts. It's also perfect for anyone who is new to ProMusica! We are pleased to feature our own musicians in small ensemble combinations to fill this stunning venue with live music."
The series kicks off on Friday, Feb. 18 at 7:30 p.m. with A Night of Folk Songs & Dances. Violinist Victoria Moreira, cellist Joel Becktell and percussionist Renee Keller join forces for a dynamic program inspired by folk songs, flavorful melodies, and rhythmic dances. The evening opens and closes with highlighted works by legendary Argentinian composer Astor Piazzolla for his centennial celebration. The full program will include lively, upbeat compositions from Elbio Barilara, Zoltán Kodály, Ezequiel Diz, Enrique Granados, and Béla Bartók.
Next up, the Four Strings concert will take place on Friday, March 4 at 7:30 p.m. featuring violinist Katherine McLin, violist Mary Harris, cellist Marc Moskovitz and double-bassist John Pellegrino. The evening's combinations of duo, trio and quartet reveals the virtuosic and musical potential of the string family. Join ProMusica's principal string musicians as they crisscross the European musical continent, from Italy and Austria to England and Russia, in a varied program of unusual music for strings. The program will feature works from Wolfgang Amadeus Mozart, Errollyn Wallen, Gioachino Rossini and Anton Arensky.
The final concert in this series, Winds & Piano, will take place on Friday, March 11 and will feature guest pianist Scott Cuellar joining ProMusica's principal winds including flutist Nadine Hur, oboist Donna Conaty, clarinetist Ilya Shterenberg, bassoonist Ellen Connors, and French horn player Stephanie Blaha. This lively, vibrant program will highlight  Wolfgang Amadeus Mozart, Joseph Haydn, and Austrian composer Ludwig Thuille. "Back in Time" by three-time Grammy nominated American composer Miguel Del Aguila evokes reflection and peace as we approach two years since the pandemic changed everything.
All concerts will take place at Together & Company's exclusive venue at The Fives located at The Reach on Goodale, 550 Reach Blvd. Tickets for the Chamber Music at The Fives concerts are $48 each for general admission, or $108 for the full three-concert series, and will be available through the ProMusica office (online at www.promusicacolumbus.org, and by phone at 614.464.0066 ext. 101).
Health & Safety:
ProMusica requires that all guests must provide proof of full vaccination for COVID-19 or a negative COVID-19 PCR test to enter the venue. Guests are also required to wear a mask, worn properly over the nose and mouth, at all times until further notice.
Sponsor & Partner Details:
The Chamber Series at The Fives is underwritten by an anonymous donor with additional support from Cardinal Health. The Fives is recognized as a Series Partner.
###
ABOUT PROMUSICA
ProMusica Chamber Orchestra delivers a world-class and unique classical music experience—through innovative chamber orchestra programming, education outreach, audience intimacy, and artistic excellence. Recognized for its commitment to performing new and contemporary repertoire, ProMusica has commissioned 68 new works and has presented more than 110 premieres.
Bringing worldwide talent to Columbus since 1978, ProMusica offers an adventurous musical experience through intimate performances on the stages of the Southern Theatre and The Fives. The orchestra, comprised of 37 musicians, showcases homegrown talents, rising stars, and guest artists of international acclaim. Beyond the concert hall, the orchestra is equally at home throughout the community, serving thousands of individuals through key education and outreach programs. Known for its dual traditions of artistic integrity and fiscal responsibility, ProMusica is now in its 43rd season.
ProMusica's 2021-2022 season is supported by the Greater Columbus Arts Council, The Columbus Foundation, the Ohio Arts Council, Nationwide, the Reinberger Foundation, and the ProMusica Sustaining Board. Media support is provided by WOSU Classical 101 FM.