Beethoven's 5th is explored, deconstructed and reconstructed as ProMusica presents its 39th season opening weekend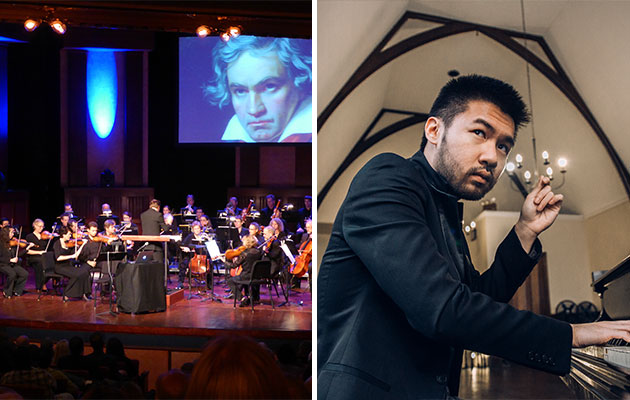 Acclaimed composer/pianist Conrad Tao returns with third commissioned piece
(Columbus, OH) – Music Director David Danzmayr and the ProMusica Chamber Orchestra begin the 2017-2018 season with the return of the popular and accessible NAKED CLASSICS series that will explore Beethoven's Symphony No. 5, launching orchestra's two-year Beethoven Cycle. ProMusica is also proud to welcome back Avery Fisher Career Grant recipient, composer and pianist Conrad Tao for an exciting start to a new season of classical masterworks and new favorites. The orchestra will present the world premiere of a newly commissioned work by Tao — ProMusica's 65th commission — and Conrad Tao's third piece for the orchestra.
The Opening Night concert will take place on Sunday, Oct. 8 at 7 p.m. at the Southern Theatre.
Opening Night marks virtuoso pianist Conrad Tao's third appearance as soloist with the orchestra, this time as part of ProMusica's ongoing "Composer/Performer" project. The orchestra first commissioned Conrad Tao — just 13 years old at the time — in October 2007, when he premiered his own piano concerto with the orchestra, titled Four Elements for Piano and Orchestra. A year later, ProMusica again commissioned Tao to compose music to celebrate its 30th anniversary. The piece was titled Fanfare ProMusica. He returns to the Southern Theatre stage as his career profile continues to swiftly rise.
The evening begins with the World Premiere of Conrad Tao's newest work for chamber orchestra titled "Over." Then Tao performs Joseph Haydn's Piano Concerto in D Major. The orchestra will close out the opening night celebration with Ludwig von Beethoven's Symphony No. 5 – cited by a music critic in the early 1800s as "one of the most important works of the time."
At only 23, the Illinois native, Conrad Tao, has won eight consecutive ASCAP Morton Gould Young Composer Awards and is considered one of the most accomplished and prolific composers and musicians working today. Among other honors, Tao is a U.S. Presidential Scholar in the Arts, a Davidson Fellow Laureate, and a Gilmore Foundation Young Artist. He was the only classical artist named by Forbes magazine in 2011 as one of the "30 Under 30" in the music industry. In 2012, Tao released a solo piano EP, The Juilliard Sessions: Conrad Tao Plays Debussy and Stravinsky, and a synthpop album, Eyelids. That year, he was named an Avery Fisher Career Grant awardee. In 2013, he also released two albums, Gordon Getty: Piano Pieces and Voyages. He served as artist-in-residence with the Dallas Symphony Orchestra throughout the 2015-2016 season and with the Hong Kong Philharmonic in 2017.
"ProMusica has been proud to foster and support composers and young artists throughout its almost 40-year history, and we are especially looking forward to welcoming Conrad Tao back to Central Ohio to present the orchestra's 65th commission," said Executive Director Janet Chen. "Along with Beethoven's 5th, the program will be a unique and interesting blend of the old and familiar and the brand new – perfect for what will certainly prove to be a memorable Opening Night!"
Classical music lovers and new-comers alike who wish to deepen their understanding of Beethoven's magnum opus Symphony No. 5 will get the chance as ProMusica presents NAKED CLASSICS, which is back for a second season by popular demand. In the first of the two-concert series, which also returns in April, Music Director David Danzmayr, host Paul Rissmann, and ProMusica Chamber Orchestra will deconstruct Beethoven's Symphony No. 5, giving insight into why the piece has become one of the most recognizable works of classical music ever.
NAKED CLASSICS: Beethoven 5 will be presented ahead of the Opening Night concert on Friday, Oct. 6 at 8 p.m. at the Southern Theatre.
NAKED CLASSICS host, the renowned music educator, performer and composer, Paul Rissmann, returns for the second season, and will present the first half of the two-part program. Through the use of digital projection, live musical excerpts from the orchestra, and interviews with the musicians on stage, RIssmann guides the audience with a presentation that not only explores the historical background of the music, but also investigates its construction in a way that is easy for concert-goers to understand and relate to. Rissmann delves into the music, uncovering secrets in the score and dissecting the composition.
In the second half of the program, David Danzmayr and the orchestra will perform Beethoven's Symphony No. 5 in its entirety, giving audiences new insight into the work.
In 2007, Paul Rissmann created NAKED CLASSICS and first performed it with the Royal Scottish National Orchestra. NAKED CLASSICS was devised to take some of the greatest works in the orchestra's repertoire and transform them into a highly approachable, yet sophisticated concert experience. Since then, Paul has performed music-discovery concerts for adults with orchestras throughout the UK, including with the London Symphony Orchestra, Philharmonia Orchestra, City of Birmingham Symphony Orchestra and Scottish Chamber Orchestra. In addition to David Danzmayr, he has worked with conductors such as Stéphane Denève, Edward Gardner, Valery Gergiev, Andris Nelsons, Esa-Pekka Salonen and Thømas Sondergård.
NAKED CLASSICS: Beethoven 5 is presented by PNC Arts Alive, with additional support from the Ohio Arts Council and the Shackelford Family Fund
SEASON TICKET SUBSCRIPTION (AND SINGLE TICKET) INFORMATION
Tickets for the Opening Night concert, ranging from $12 to $50, will go on sale beginning August 30th. Tickets for NAKED CLASSICS: Beethoven 5 are $25 each and are available now. Seating is general admission.
Subscriptions packages, ranging from $62 to $270, are still available for the 2017-18 concert season, including a Flex Series option and a Worthington Series for performances at the Worthington United Methodist Church. Single tickets to any regular season concert cost $12 to $50. Subscriptions and single tickets are on sale now through the ProMusica office (614-464-0066; www.promusicacolumbus.org) or through Ticketmaster.
ABOUT PROMUSICA
ProMusica Chamber Orchestra delivers a world-class and unique classical music experience—through innovative chamber orchestra programming, education outreach, audience intimacy, and artistic excellence. Recognized for its commitment to performing new and contemporary repertoire, ProMusica has commissioned 65 new works and has presented more than 110 premieres.
Bringing worldwide talent to Columbus since 1978, ProMusica offers an adventurous musical experience through intimate performances on the stages of the Southern Theatre and the Worthington United Methodist Church. The orchestra, comprised of 37 musicians, showcases homegrown talents, rising stars, and guest artists of international acclaim. Beyond the concert hall, the orchestra is equally at home throughout the community, serving thousands of individuals through key education and outreach programs. Known for its dual traditions of artistic integrity and fiscal responsibility, ProMusica is now in its 39th season.
ProMusica is funded in part through the work of the Greater Columbus Arts Council, The Columbus Foundation, The Reinberger Foundation, the Ohio Arts Council, and the ProMusica Sustaining Board. Media support is provided by WOSU Classical 101 FM.
####
08/27/2017