Beethoven and Brahms are focus of a pair of intimate ProMusica chamber ensemble concerts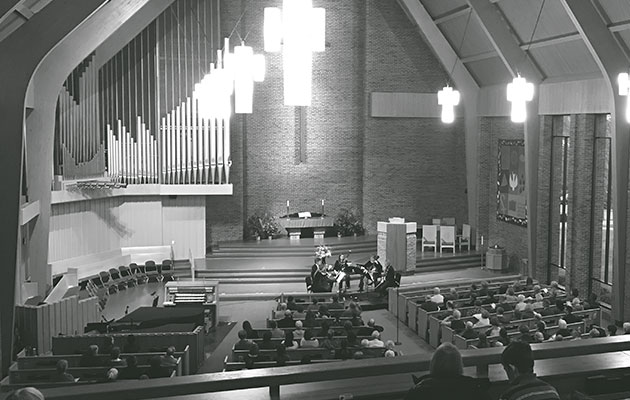 ProMusica's musicians are featured alongside guests collaborative pianist Andrew Campbell and Duke professor Larry Todd
(Columbus, OH) – The Worthington United Methodist Church will play host to ProMusica's two unique small enemble chamber concerts, part of its "Worthington Series." In March and April, ProMusica will shine the spotlight on the strengths of their world-class musicians and their collaborators in two evenings of classical and romantic works.
In March, concertmaster Katherine McLin will be accompanied by newly appointed principal horn Stephanie Blaha and guest pianist Andrew Campbell for an evening of chamber music in an intimate concert outside the framework of the full ProMusica Orchestra. In April, principal cellist Marc Moskovitz, along with pianist and professor Larry Todd, will discuss and perform several of the works written by Beethoven for cello featured in their co-written book, Beethoven's Cello: Five Revolutionary Sonatas and Their World, released in 2017.
"These smaller concerts at the Worthington United Methodist Church really give our own musicians a chance to shine. They have the opportunity to hand pick the music that they love to share with our audiences—while also getting the chance to bring in other artists who they frequently collaborate with outside of their time with ProMusica" said Executive Director Janet Chen.
The Brahms Horn Trio concert will take place on Saturday, March 2, 2019 at 5:30 p.m. at the Worthington United Methodist Church.
The program will begin with Ludwig van Beethoven's Sonata for Horn and Piano in F Major, Op. 17, followed by British composer Edward Elgar's Sonata for Violin and Piano, Op. 82. The program concludes with Johannes Brahms' Trio for Violin, Horn and Piano, Op. 40, one of his most significant works.
Andrew Campbell, a returning guest artist with ProMusica, has established himself as one of the most versatile collaborative pianists in the United States with a performing career that has taken him around the world. Recent appearances include a recital at the Johannesburg International Mozart Festival, a performance of the Bach D minor keyboard concerto with the Chintimini Festival Chamber Orchestra in Corvallis, Oregon, and a performance of the Stravinsky Concerto for Piano and Winds with the Arizona State University Wind Symphony. He served as opera rehearsal pianist for distinguished conductors
André Previn, Plácido Domingo and Heinz Fricke, and worked closely with the composer Carlisle Floyd on several productions of his operas. His partnership with violinist Katherine McLin, who is also his wife, in the McLin/Campbell Duo has led to performances on numerous recital series throughout the United States and Europe. He has recorded several CDs on the Summit and Centaur labels.
The Beethoven's Cello concert will take place on Saturday, April 27 at 5:30 p.m.. ProMusica cellist Marc Moskovitz and pianist Larry Todd will perform selections and share discussion on a subject they know well; Beethoven's sonatas for cello. In 2017, they collaborated on a book, Beethoven's Cello: Five Revolutionary Sonatas and Their World, published by Boydell Press. It was the Winner of the 2018 CHOICE Outstanding Academic Title Award, and is cited as "the ideal companion for cellists, pianists, musicologist and chamber-music devotees desiring a comprehensive understanding of this beloved repertoire."
Alternating between thoughtful discussion and musical performance, Moskovitz and Todd will present Ludwig Van Beethoven's Sonata in G minor for Piano and Cello, Op. 5, No. 2; Sonata in A major for Piano and Cello, Op. 69; and finally, Sonata in C major for Piano and Cello, Op. 102, No. 1. 
Larry Todd is Arts and Sciences Professor of Music in Trinity College of Arts and Sciences at Duke University. He is an accomplished chamber musician and, in addition to his collaboration with Moskovitz, is the author of several published works on Felix Mendelssohn as well as to a book on Robert Shumann and on Fanny Hensell – Mendelssohn's sister who was herself an accomplished composer and published several works under her brother's name.
The Worthington United Methodist Church is located at 600 High Street. Free parking is available onsite.
###
TICKET INFORMATION
Tickets for both the Brahm's Horn Trio concert and the Beethoven's Cello concert are $37 general admission. Subscriptions, single tickets, and more information are available through the ProMusica office (614-464-0066 ext. 101; www.promusicacolumbus.org).

ABOUT PROMUSICA
Under the artistic leadership of Music Director David Danzmayr and Creative Partner, renowned violinist Vadim Gluzman, ProMusica Chamber Orchestra is dedicated to raising the national profile of Columbus through world-class performances and creative approaches to community outreach and education.
Comprised of 37 musicians, ProMusica is the resident orchestra of the historic Southern Theatre in downtown Columbus. The orchestra also reaches audiences beyond the I-270 outer belt through regular performances at the Worthington United Methodist Church. ProMusica presents an annual outdoor Summer Music Series, open and free to the public in collaboration with Franklin Park Conservatory & Botanical Gardens. Special events such as NAKED CLASSICS and the annual Soirée broadens our audience by showcasing crossover artistry, with recent guests including Leslie Odom, Jr., Steep Canyon Rangers, and 14-time Grammy winner, Ricky Skaggs. Recognized for its commitment to performing new and contemporary repertoire, ProMusica has commissioned 67 new works and presented more than 110 world and regional premieres.
Beyond the concert hall, the orchestra is equally at home throughout the community, serving thousands of individuals through key education and outreach programs. In June 2017, ProMusica made its Chicago debut to perform for a sold-out crowd at the North Shore Chamber Music Festival in Chicago. Known for its dual traditions of artistic integrity and fiscal responsibility, ProMusica is now in its 40th season.
ProMusica is funded in part through the Greater Columbus Arts Council, The Columbus Foundation, the Ohio Arts Council, Nationwide, and the ProMusica Sustaining Board. Media support is provided by WOSU Classical 101 FM.
###
02/07/2019