Bach & Glass spotlighted in ProMusica's December concerts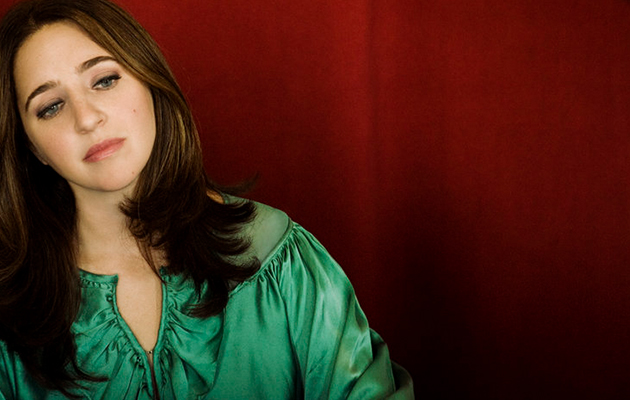 Guest pianist Simone Dinnerstein to lead orchestra
(Columbus) – Cited by The Washington Post as "an artist of strikingly original ideas and irrefutable integrity," pianist Simone Dinnerstein, who is widely known for her interpretations of Bach's masterworks, makes her debut with the ProMusica Chamber Orchestra in December. Dinnerstein will perform and lead the orchestra from the keyboard through an evening of Bach and a Bach-inspired piece by contemporary minimalist composer Philip Glass.
The Dinnerstein plays Bach concert will be presented on Saturday, December 11 at 5:30 p.m. and Sunday, December 12 at 7:00 p.m. at the Southern Theatre.
Dinnerstein and the orchestra will open the concert with Johann Sebastian Bach's Keyboard Concerto No. 7 in G Minor, followed by Erbarm' Dich for piano and strings arranged by Philip Lasser and the Orchestra Suite No. 2 in B Minor. The program will conclude with Philip Glass' Piano Concerto No. 3 – a work co-commissioned by twelve American and Canadian Orchestras and written expressly for Dinnerstein to premiere.
"We are thrilled to finally welcome Simone Dinnerstein to ProMusica following a year-long postponement due to the pandemic," said ProMusica CEO Janet Chen. "Not only is she an incredibly imaginative musician, but her passion for presenting art and music in inventive ways is such a gift. To have her rehearse, lead and perform as soloist and collaborator with our musicians from the piano will prove to be a concert not-to-be missed."
Pianist Simone Dinnerstein first gained public attention in 2007 through her recording of Bach's Goldberg Variations, reflecting an aesthetic that was both deeply rooted in the score and profoundly idiosyncratic. The New York Times called her "a unique voice in the forest of Bach interpretation." Since that recording, she has had a busy performing career, playing with orchestras ranging from the New York Philharmonic and the Montreal Symphony Orchestra to the London Symphony Orchestra and in venues from Carnegie Hall and the Kennedy Center to the Berlin Philharmonie, and the Sydney Opera House. She is committed to giving concerts in non-traditional venues and to audiences who don't often have access to classical music, including concerts at the Louisiana state prison system and the Maryland Correctional Center. Simone has recorded ten albums, all of which topped the Billboard classical charts. Her recording of Glass' Piano Concerto No. 3 appears on her album Circles (2018), accompanied by the Boston-based string orchestra A Far Cry.
Tickets for the Dinnerstein plays Bach concerts range from $16 to $58 and are available through the ProMusica office (online at www.promusicacolumbus.org, and by phone at 614.464.0066 ext. 111) or through Ticketmaster.
Only single tickets will be sold for ProMusica's fall concerts to ensure flexibility and safety for all audiences. A section for social distanced seating is available upon request, through the ProMusica office, and the Southern Theatre capacity will be limited. CAPA requires all patrons, staff, and volunteers to wear masks at all times while inside the Southern Theatre, in addition to showing proof of vaccination or a negative COVID-19 PCR test.
###
ABOUT PROMUSICA
ProMusica Chamber Orchestra delivers a world-class and unique classical music experience—through innovative chamber orchestra programming, education outreach, audience intimacy, and artistic excellence. Recognized for its commitment to performing new and contemporary repertoire, ProMusica has commissioned 69 new works and has presented more than 110 premieres.
Bringing worldwide talent to Columbus since 1978, ProMusica offers an adventurous musical experience through intimate performances on the stages of the Southern Theatre and The Fives. The orchestra, comprised of 37 musicians, showcases homegrown talents, rising stars, and guest artists of international acclaim. Beyond the concert hall, the orchestra is equally at home throughout the community, serving thousands of individuals through key education and outreach programs. Known for its dual traditions of artistic integrity and fiscal responsibility, ProMusica is now in its 43rd season.
ProMusica's 2021-2022 season is supported by the Greater Columbus Arts Council, The Columbus Foundation, the Ohio Arts Council, Nationwide, the Reinberger Foundation, and the ProMusica Sustaining Board. Media support is provided by WOSU Classical 101 FM.