ProMusica's artistic leaders highlight the works of Beethoven during 39th season finale concerts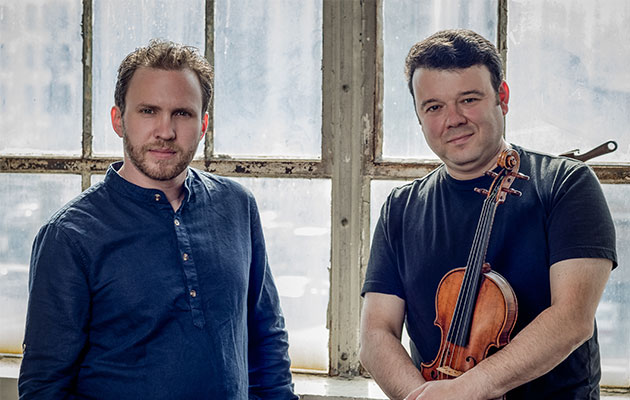 Creative Partner Vadim Gluzman and Music Director David Danzmayr join forces for annual "David & Vadim" program
(Columbus, OH) – Music Director David Danzmayr and Creative Partner and Principal Guest Artist violinist Vadim Gluzman team up for the fourth time for ProMusica Chamber Orchestra's grand season finale concerts this May. The Beethoven-focused program showcases the orchestra's artistic strengths through monumental works of the orchestral repertoire. Additionally, ProMusica will highlight middle-school violin students from the "Play Us Forward" program in a brief performance at the start of each performance.
The David & Vadim program will be performed on Saturday, May 12 at 5:30 p.m. and Sunday, May 13 at 7 p.m. at the Southern Theatre.
"It is always a high point of the season when we get our two artistic leaders, David Danzmayr and Vadim Gluzman, on stage together to perform," said ProMusica Executive Director Janet Chen. "These concerts have become a beloved tradition at ProMusica and are always exceptionally dynamic performances–providing a great way to end to our concert season."
The program will begin with Eric Wolfgang Korngold's Straussiana, which is an arrangement of forgotten melodies of Johann Strauss – the "Father of the Viennese Waltz" – brilliantly woven together by Korngold in 1953. Next, Gluzman will take center stage as soloist for Beethoven's Violin Concerto, one of the most significant works of the violin concerto repertoire. The concert will conclude with one of Beethoven's best-loved works, the joyous Symphony No. 7.
Beginning the concert each evening, violin students from ProMusica's Play Us Forward program will perform short selections, displaying their progress made as young musicians through the school year.  Play Us Forward is a collaboration with four Columbus charter schools, now in its third year, that provides high-quality music and violin instruction, along with instruments, to 75 middle-school students from underserved communities at no cost to the students or their families.
Vadim Gluzman is serving in his fifth season as ProMusica's Creative Partner and Principal Guest Artist, appearing with the orchestra twice each year. His wide repertoire embraces new music and his performances are heard around the world through live broadcasts and a striking catalogue of award-winning recordings exclusively for the BIS label. The Israeli violinist appears regularly with major orchestras such as the Berlin Philharmonic, Boston Symphony, Cleveland Orchestra, Chicago Symphony, Philadelphia Orchestra, San Francisco Symphony, Israel Philharmonic, London Philharmonic, London Symphony, and Leipzig Gewandhaus Orchestra. Gluzman has enjoyed collaborations with many of today's leading conductors, including Riccardo Chailly, Christoph von Dohnányi, Tugan Sokhiev, Sir Andrew Davis, Neeme Järvi, Michael Tilson Thomas, Semyon Bychkov, Jukka-Pekka Saraste, Paavo Järvi, and Hannu Lintu. His festival appearances include performances at Verbier, Tanglewood, Ravinia, and Lockenhaus, as well as the North Shore Chamber Music Festival in Chicago, founded by Gluzman and pianist Angela Yoffe, his wife and recital partner.
The David & Vadim concerts are supported by the E. Nakamichi Foundation.
###
TICKET INFORMATION
Tickets for David & Vadim range from $12 to $50 and available for purchase through the ProMusica office (614-464-0066 ext. 101; www.promusicacolumbus.org) or Ticketmaster.
ABOUT PROMUSICA
ProMusica Chamber Orchestra delivers a world-class and unique classical music experience—through innovative chamber orchestra programming, education outreach, audience intimacy, and artistic excellence.  Recognized for its commitment to performing new and contemporary repertoire, ProMusica has commissioned 65 new works and has presented more than 110 premieres.
Bringing worldwide talent to Columbus since 1978, ProMusica offers an adventurous musical experience through intimate performances on the stages of the Southern Theatre and the Worthington United Methodist Church. The orchestra, comprised of 37 musicians, showcases homegrown talents, rising stars, and guest artists of international acclaim. Beyond the concert hall, the orchestra is equally at home throughout the community, serving thousands of individuals through key education and outreach programs. Known for its dual traditions of artistic integrity and fiscal responsibility, ProMusica is now in its 39th season.
ProMusica is funded in part through the work of the Greater Columbus Arts Council, The Columbus Foundation, The Reinberger Foundation, the Ohio Arts Council, and the ProMusica Sustaining Board. Media support is provided by WOSU Classical 101 FM.
###
03/19/2018