ProMusica Announces Free 2019 Summer Music Series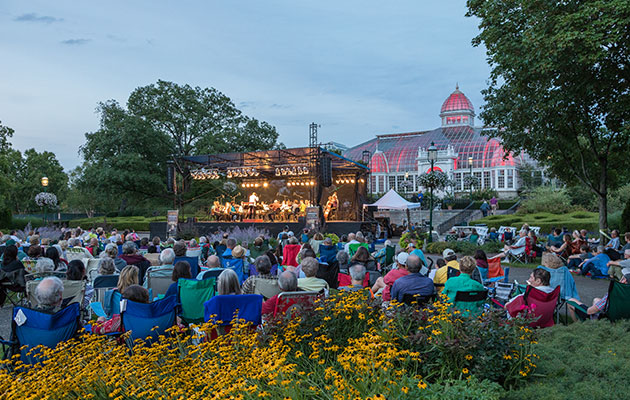 Three family-friendly concerts in August at Franklin Park Conservatory and Botanical Gardens
(Columbus, OH) – ProMusica Chamber Orchestra brings back its free Summer Music Series this August with three concerts, staged outdoors and surrounded by the beautifully curated and landscaped grounds of the Franklin Park Conservatory and Botanical Gardens (located at 1777 East Broad Street) on Aug, 8, 10 and 11. All concerts begin at 8 p.m. preceded by fun and educational music- and garden-themed activities for children beginning at 7 p.m.
"With a different program each night, it's not unusual to see the same faces returning for each concert throughout the three-night series," said Executive Director Janet Chen. "We want everyone to feel welcome at these performances that are intended for our whole community, regardless of age or walk of life. We look forward to returning to the gorgeous setting of the Franklin Park Conservatory each summer."
Thursday, August 8
Katherine McLin, violin & leader
Marc Moskovitz, cello
Katherine McLin, Heather Kufchak, Amy Cave, & Eric Kline, violins
Vivaldi — Concerto for Four Violins
Warlock — Capriol Suite
Bruch — Kol Nidrei for Cello and String Orchestra
Grieg — Holberg Suite
This program will be lead by ProMusica Concertmaster Katherine McLin from the first violin seat.
Saturday, August 10
Chelsea Hart Melcher, soprano
Adam Cioffari, baritone
Mozart — Divertimento No. 136 "Salzburg"
Mozart — Selections from The Magic Flute
Mozart — Symphony No. 41 "Jupiter"
The two vocal soloists will be featured in selections from The Magic Flute.
Sunday, August 11
Ilya Shterenberg, clarinet
Weber — Clarinet Concerto No. 1
Schubert — Symphony No. 5
Strauss — A selection of waltzes
ProMusica's principal clarinetist Ilya Shterenberg will be the featured soloist for Weber's Clarinet Concerto No. 1.
Saturday and Sunday's evening programs will be conducted by Music Director David Danzmayr.
Guests can either pack a picnic, or there will be food and wine vendors available on site each evening. Reserved table seating with a limited menu will be available by contacting Franklin Park Conservatory.
The 2019 Summer Music Series at Franklin Park Conservatory & Botanical Gardens is in partnership with Franklin Park Conservatory & Botanical Gardens, with support from Crane Family Foundation, The Fox Foundation, Cardinal Health, L Brands, and Columbus Recreation and Parks Department. Media sponsor is WOSU Classical 101 FM.
###
ABOUT PROMUSICA
ProMusica Chamber Orchestra delivers a world-class and unique classical music experience—through innovative chamber orchestra programming, education outreach, audience intimacy, and artistic excellence. Recognized for its commitment to performing new and contemporary repertoire, ProMusica has commissioned 68 new works and has presented over 110 premieres.
Bringing worldwide talent to Columbus since 1978, ProMusica offers an adventurous musical experience through intimate performances on the stages of the Southern Theatre and the Worthington United Methodist Church. The orchestra, comprised of 37 musicians, showcases homegrown talents, rising stars, and guest artists of international acclaim.
Additional information including ticket and subscription information for the 2019-2020 season is available at www.promusicacolumbus.org.
06/24/2019