ProMusica Chamber Orchestra Announces 39th Season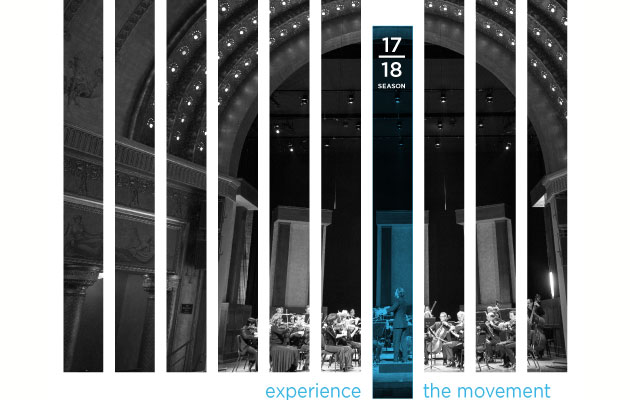 The diverse season of classical masterworks features a new commission, exploration of orchestral chamber music, and a remarkable roster of guest artists
(Columbus, OH) – ProMusica Chamber Orchestra is proud to announce the lineup for the 2017-2018 concert season, continuing the orchestra's trademark mix of tradition and innovation.
Four Beethoven Symphonies anchor the season and newer works, including the orchestra's 65th commission and world premiere, showcase living composers. Programs such as NAKED CLASSICS and special events engage all audiences to experience classical music. Among the highlights:
After a successful pilot year, the NAKED CLASSICS series returns with host and presenter Paul Rissmann. Enhancing the audience's connection with orchestral chamber music, the series explores and deconstructs a classical masterwork in a fresh and accessible format.
Each subscription concert honors American immigrant composers, and will include pieces by composers such as Osvaldo Golijov, Anna Clyne, Igor Stravinsky, and Erich Korngold. Having immigrated himself to the U.S., programming such composers' works served as inspiration for music director David Danzmayr's artistic vision for the season.
Danzmayr will lead the orchestra in the start of a two-year Beethoven Symphony Cycle, kicking off the season with the ever-popular Fifth Symphony.
Returning to ProMusica as part of the "Composer/Performer" project, Avery Fisher Career Grant recipient pianist Conrad Tao will perform the world premiere of a new commission. Having made his first appearance with the orchestra at age 13, he returns now at age 22 with his third commission with ProMusica.
Following a tradition of showcasing rising stars, ProMusica welcomes 14-year-old Westerville-native prodigy, pianist Gavin George, who demonstrates great musical maturity and has received extraordinary acclaim.
For the first time in its history, ProMusica will perform Mozart's Requiem, collaborating with LancasterChorale along with guest vocalists including soprano Kathrin Danzmayr.
ProMusica also continues its array of community outreach programs, including:
"CODA: Post-Concert Conversations" where audiences are invited to stay and share their insights with Danzmayr, guest artists, and host Boyce Lancaster of WOSU Classical 101 FM , following all Southern Theatre regular series performances.
Free, family-friendly concerts, hosted in partnership with the Columbus Metropolitan Library with dates to be announced.
Play Us Forward collaboration with four Columbus charter middle schools (United Schools Network – Main and Dana Campuses, The Graham Family of Schools, and KiPP Columbus) providing violin instruction and instruments to students from underserved communities at no cost to them.
"I am very excited and proud of the season we have built for Columbus and our audiences," said Music Director David Danzmayr. "We will be making music in such a variety of ways –– from conducting a new commission, to performing Mozart's Requiem for the first time in our history, having Vadim Gluzman lead the orchestra in his role as Creative Partner, to the start of our Beethoven Cycle, and finally highlighting a work composed by an American immigrant on every program. Together we will create passionate performances. I hope everyone will join us and I promise you will experience something new each time."
______________________________________________________________________
Opening Night: The Return of Conrad Tao
David Danzmayr conducts as piano prodigy Conrad Tao presents his third ProMusica-commissioned work. ProMusica first commissioned Conrad Tao (who was 13 years old at the time) in October 2007, when he premiered his own piano concerto with the orchestra, titled "Four Elements for Piano and Orchestra." A year later, ProMusica commissioned Tao again to compose music to celebrate its 30th anniversary. The piece was titled "Fanfare ProMusica."
Now at 22 years old, Tao returns to kick off the 39th season—on Sunday, Oct. 8 at 7 p.m. at the Southern Theatre—performing Joseph Haydn's Piano Concerto in D Major, and the orchestra premiering his newly commissioned work. Additionally, the orchestra will perform Ludwig van Beethoven's most recognized piece, Symphony No. 5.
Voices Highlight the November Concert
For the very first time, ProMusica undertakes Wolfgang Amadeus Mozart's Requiem in D minor, K. 626, a masterwork left unfinished upon his death in 1791, with a variety of stories and speculation surrounding the provenance of its original completion. Nevertheless, it is one of Mozart's most significant pieces of music, and the Southern Theatre stage will be filled with vocalists as ProMusica presents Mozart's Requiem on Saturday, Nov. 4 at 5:30 p.m. and Sunday, Nov. 5 at 7:00 p.m. David Danzmayr will conduct and the orchestra will collaborate with LancasterChorale, and will be joined by soprano Kathrin Danzmayr, mezzo-soprano Abigail Nims, tenor Lawrence Wiliford and baritone Aaron Wardell.
Additionally, Kathrin Danzmayr will take center stage as the concert begins with contemporary Argentinean composer Osvaldo Golijov's Three Songs for Soprano and String Orchestra.
British cellist Natalie Clein joins the orchestra for a pair of December concerts
Natalie Clein – born in Dorset, England – won the BBC Young Musician of the Year competition at the age of 16 and was the first British winner of the Eurovision Competition for Young Musicians. Clein toured with the Czech National Symphony Orchestra last season, and regularly appears with the Orchestre National d'lle de France and the Recreation Orchestra Graz. She currently serves as Artist in Residence and Director of Musical Performance at Oxford University.
David Danzmayr will conduct Clein and the orchestra for the concerts titled Beethoven's Eroica on Saturday, Dec. 9 at 5:30 p.m. at the Worthington United Methodist Church, and Sunday, Dec. 10 at 7 p.m. at the Southern Theatre.  In addition to Beethoven's Symphony No. 3 "Eroica," the orchestra will perform British composer Anna Clyne's elegy Within Her Arms, and Shostakovich's Cello Concerto No. 1.
Principal Guest Artist Vadim Gluzman guides ProMusica for Northern Lights
World renowned violinist Vadim Gluzman, who serves in the position of Principal Guest Artist and Creative Partner for ProMusica, joins the orchestra in January – the first of two appearances this season – for a set of winter-themed pieces.
The Northern Lights concert will be presented on Saturday, Jan. 20, 2018 at 5:30 p.m. at the Worthington United Methodist Church, and Sunday, Jan. 21, 2018 at 7:00 p.m. at the Southern Theatre. Gluzman, who will both lead and solo, will be joined by ProMusica's principal flutist Katherine DeJongh and guest harpsichordist David Schrader, professor at the Chicago College of Performing Arts at Roosevelt University.
The concert will feature Lera Auerbach's T'filah; Carl Nielsen's Petite Suite; a pair from Johann Sebastian Bach, Brandenburg No. 5 and the Adagio from Violin Sonata No. 1 in G minor; and finish with Peteris Vasks' Distant Light showcasing Gluzman's glittering artistry.
Local prodigy performs with ProMusica in April
Westerville native Gavin George has already created a big impression in the classical music world – and he's only 13 (14 by the time of this concert.)  He made his orchestral debut in 2010 at age seven with the Newark-Granville Symphony Orchestra, and was a gold-medal winner in 2010 and 2011 in the American Association for the Development of the Gifted and Talented International Piano Competition. He has twice performed at Carnegie Hall, and has appeared in concert venues throughout the United States and Italy.
David Danzmayr will conduct Gavin and the orchestra for the Stravinsky & Beethoven concerts on Saturday, April 7 and Sunday, April 8 at the Southern Theatre. The program will feature Igor Stravinsky's Pulcinella Suite, Wolfgang Amadeus Mozart's Piano Concerto No. 21 in C Major, and finish with Ludwig van Beethoven's Symphony No. 1.
Season Finale: David and Vadim!
Music Director David Danzmayr and Principal Guest artist and Creative Partner Vadim Gluzman first began their association as artistic leaders with the ProMusica Chamber Orchestra in 2012; in January of this year, both agreed to contract extensions. Danzmayr will continue to lead the orchestra until 2021, and Gluzman will serve in his role of Principal Guest Artist until 2020.
Continuing what has now become tradition, the closing concert of the 2017-2018 season will feature the interplay and musicianship of these two world-renowned performers. The David & Vadim concert will take place on Saturday, May 12, 2018 at 5:30 p.m. and Sunday, May 13, 2018 at 5:30 p.m. at the Southern Theatre.
Gluzman will be featured on Ludwig van Beethoven's Violin Concerto in D major, Op. 61, and Danzmayr, conducts Erich Korngold's Straussiana, and closes with a crowd favorite, Beethoven's Symphony No. 7.
THE WORTHINGTON SERIES
The Worthington Series is a pair of chamber-ensemble concerts staged at the more intimate setting of the Worthington United Methodist Church, in which members of the ProMusica Chamber Orchestra are given the opportunity to shine.
The first concert Brahms & Friends, will be held on Saturday, March 3, 2018 at 5:30 p.m. ProMusica musicians staging this concert will be: Katherine McLin, violin; Heather Kufchak, violin; Mary Harris, viola; Marc Moskovitz, cello; and Andrew Campbell, piano.
The second concert, Baroque & Beyond, will be Saturday, April 21, 2018 at 5:30 p.m. and will feature: Katherine DeJongh, flute; Donna Conaty, oboe; Ellen Connors, bassoon; John Pellegrino, bass; and Aya Hamada, harpsichord.
SPECIAL EVENTS
Holiday time at the Southern Theatre can only mean one thing–the interactive and thoroughly fun Messiah Sing-Along on Friday, Dec. 8 at 7:30 p.m. Join the orchestra and community members for a beloved holiday tradition! Raise your voice in song with friends, families, and church choirs, and sing selections from Handel's Messiah. Orchestra students and area music directors join ProMusica musicians on stage for this joyful community event.
The annual ProMusica Soirée will take place on Saturday, Feb. 10, 2018. Beginning with a pre-concert party in the historic ballroom of The Westin Columbus, mix and mingle with friends and then head to the Southern Theatre for a collaborative concert featuring ProMusica. Guest artist details to be announced.
The popular NAKED CLASSICS series will return for a second season. Paul Rissmann — renowned music educator, performer and presenter – will host the first half of the program. He will employ digital projection, live musical excerpts from the orchestra, and interviews with the performers on stage to deconstruct a composer's work and how the framework was transformed into a full symphony. In the second half, David Danzmayr and the orchestra will perform the piece in its entirety, with the audience having new insight into the piece.
The first NAKED CLASSICS: Beethoven 5, will take place on Friday, Oct. 6, 2017 at the Southern Theatre. The second in the series, NAKED CLASSICS: Stravinsky's Pulcinella, will be on Friday, April 6, 2018, also at the Southern Theatre.
###
SEASON TICKET SUBSCRIPTION (AND SINGLE TICKET) INFORMATION
Subscriptions packages, ranging from $62 to $270, are now available for the 2017-18 concert season, including a Flex Series option and a Worthington Series. Single tickets to any regular season concert cost $12 to $50, will go on sale on August 30. Subscriptions and single tickets will be available through the ProMusica office (614-464-0066; www.promusicacolumbus.org) or through Ticketmaster.
ABOUT PROMUSICA
ProMusica Chamber Orchestra delivers a world-class and unique classical music experience—through innovative chamber orchestra programming, education outreach, audience intimacy, and artistic excellence.  Recognized for its commitment to performing new and contemporary repertoire, ProMusica has commissioned 65 new works and has presented more than 110 premieres.
Bringing worldwide talent to Columbus since 1978, ProMusica offers an adventurous musical experience through intimate performances on the stages of the Southern Theatre and the Worthington United Methodist Church. The orchestra, comprised of 37 musicians, showcases homegrown talents, rising stars, and guest artists of international acclaim. Beyond the concert hall, the orchestra is equally at home throughout the community, serving thousands of individuals through key education and outreach programs. Known for its dual traditions of artistic integrity and fiscal responsibility, ProMusica is now in its 39th season.
ProMusica is funded in part through the work of the Greater Columbus Arts Council, The Columbus Foundation, The Reinberger Foundation, the Ohio Arts Council, and the ProMusica Sustaining Board. Media support is provided by WOSU Classical 101 FM.
###
05/09/2017