ProMusica Announces 2020-21 Season of FESTS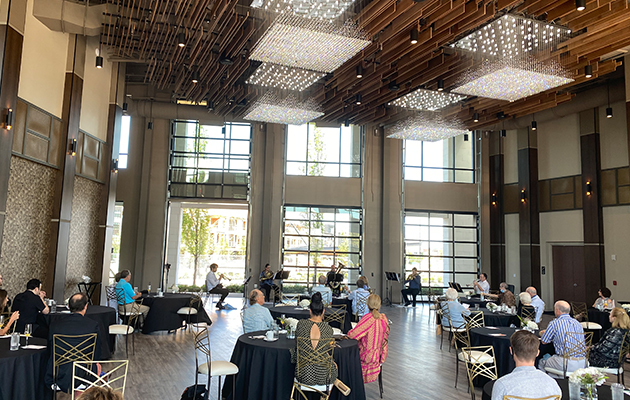 ProMusica and The Fives develop season-long partnership to host live concerts
 (Columbus) – ProMusica Chamber Orchestra announces its 2020-21 season plan, which will be presented as a year-long series of Festivals, performing live concerts for audiences that will be safe and socially distanced for patrons, musicians, and staff.
Following the success of its recent SummerFEST, the 2020-21 Season of Festivals will include AutumnFEST, WinterFEST, and SpringFEST. Each festival will be announced approximately six weeks in advance of its start to allow for maximum flexibility. AutumnFEST will include three concert weekends, kicking off on Nov. 7 & 8, followed by concerts on Nov. 14 & 15. Additionally, there will be concerts in December, dates to be announced in early November. All performances will take place at The Fives, as ProMusica enters a unique partnership with this new event venue, to host its concert season this year.
"We were thrilled to be the first major performing arts organization in Columbus to perform in front of live audiences this summer and we're excited to have found a way to create a concert season for this year." said Janet Chen, CEO of ProMusica. "We have decided to embrace these months and moments of creative chaos – encouraging ourselves to be imaginative in order to bring music to audiences in a time where its most needed. Our new home for the year, at The Fives, will keep us all safe while enjoying our world-class performances that audiences know and appreciate."
The Fives offers the flexibility to implement safety measures that is not currently available at a traditional venue, like ProMusica's usual home at The Southern Theatre, including non-fixed seating for distancing.
The Fives is located at 555 W. Goodale St. and will have the ability to accommodate approximately 150 seated guests, socially distanced, for each concert. It is a new exclusive event space that is part of the Reach on Goodale development, located adjacent to White Castle's new corporate headquarters, and operated by Together & Company. Both walls of the space feature glass garage doors that can be opened wide to for maximum airflow, weather permitting. Additionally, they are currently installing a new air cleaning technology that uses UV light to sterilize the air and photohydroionization technology to disinfect all surfaces and the air.
Each concert will be approximately 60-70 minutes in length with no intermission and will feature up to 25 ProMusica musicians, socially distanced. The November concerts will be conducted by ProMusica's Music Director David Danzmayr and Creative Partner violinist Vadim Gluzman will lead the December program.
AutumnFEST tickets for the two November weekends will go on sale Oct. 19 and must be purchased online in advance due to limited capacity. Face coverings and social distancing requirements will be enforced. Tickets for December AutumnFEST dates will go on sale in November.
November 7-8
David Danzmayr, conductor
Victoria Moreira, violin
Bach – Brandenburg Concerto No. 3
Piazzolla – "Autumn" from The Four Seasons of Buenos Aires
Respighi – Ancient Airs and Dances, Suite No. 3
Gabriella Smith – Riprap for Marimba and Strings
Mozart – Symphony No. 1
November 14-15
David Danzmayr, conductor
Bach – Allemande from Partita in A minor (arr. for Solo Oboe)
Berio – "Lied" for Solo Clarinet
Pirschner – "Mit Fagottes Hilfe" for Solo Bassoon
Mozart – Gran Partita
December TBA
Vadim Gluzman, violin & leader
Bach – Adagio from Sonata No. 1 in G Minor
Golijov – Dreams and Prayers of Isaac the Blind
Mendelssohn – String Symphony No. 10
Piazzolla – Adios Nonino and Fuga y Misterio
"In a time where many orchestras across the country are not playing live, ProMusica is still playing on and thinking outside the box," said David Danzmayr, Music Director of ProMusica. "It has taken a lot of ingenuity to transform our season concerts into a year of festivals, but we love a good challenge so we can keep the music alive. We're looking forward to these new opportunities."
Tickets are $58. For more information and to purchase tickets, please visit www.promusicacolumbus.org or call 614.464.0066. The 2020 AutumnFEST is in partnership with Together & Company at their exclusive venue at The Fives.
###
ABOUT PROMUSICA
ProMusica Chamber Orchestra delivers a world-class and unique classical music experience—through innovative chamber orchestra programming, education outreach, audience intimacy, and artistic excellence.  Recognized for its commitment to performing new and contemporary repertoire, ProMusica has commissioned 68 new works and has presented more than 120 premieres.
Bringing worldwide talent to Columbus since 1978, ProMusica offers an adventurous musical experience through intimate performances on the stages of the Southern Theatre and the Worthington United Methodist Church. The orchestra, comprised of 37 musicians, showcases homegrown talents, rising stars, and guest artists of international acclaim. Beyond the concert hall, the orchestra is equally at home throughout the community, serving thousands of individuals through key education and outreach programs. Known for its dual traditions of artistic integrity and fiscal responsibility, ProMusica is now in its 42nd season.
ProMusica's 2020-2021 season is supported by the Greater Columbus Arts Council, The Columbus Foundation, the Ohio Arts Council, Nationwide, and the ProMusica Sustaining Board. Media support is provided by WOSU Classical 101 FM.
Additional information is available at www.promusicacolumbus.org.
###