WOSU Classical 101 FM: Concert Broadcasts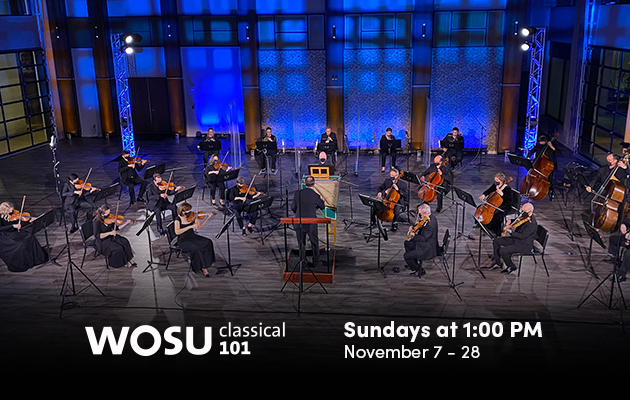 During the month of November, tune in weekly to WOSU Classical 101 FM's ProMusica Chamber Orchestra Broadcast with Boyce Lancaster, Sunday afternoons at 1:00 PM, to hear selected concerts from our 2020-21 season. Mark your calendars to relive the joyful and exciting concert moments on your radio!
Broadcast Schedule:
November 7, 2021 – The broadcast season opens with a program led by Creative Partner and violinist Vadim Gluzman, which served as our first virtual performance, weaving together the classic and the contemporary. Beginning with Mozart's Adagio and Fugue in C Minor and Mozart's timeless Clarinet Quintet. The strings are highlighted with Mendelssohn's Sinfonia No. 10 in B Minor, and the program closes with Pēteris Vasks' sublime Musica Serena, a work that offers reflection, hope, and harmony for the modern world.
November 14, 2021 – Opening the broadcast, which includes a program of Double Concertos, showcasing the virtuosic and soloistic talents of our own musicians with Music Director David Danzmayr at the lead. Starting with Bach's Concerto for Oboe and Violin in C Minor, oboist Dwight Parry and concertmaster Katherine McLin are featured. Next, Vaughan Williams' lyrical Five Variants of Dives and Lazarus offers picturesque sounds of the English countryside. Continuing with our second of the concertos, principal second violinist Jennifer Ross and Katherine McLin are showcased with Bach's Concerto for Two Violins in D Minor. The broadcast concludes with Haydn's Symphony No. 34, full of joyous emotions and irresistible zest.
November 21, 2021 – This week's broadcast brings a program of serenades that highlight the virtuosic forces of ProMusica's wind and string sections. Samuel Coleridge-Taylor's charming Four Noveletten and Grammy-nominated composer Anna Clyne's achingly beautiful elegy Within Her Arms offers the diverse sounds of our strings. The program is bookended by the expressive and lyrical sonorities of Strauss and Dvorak's Wind Serenades, performed by our dynamic wind section as we celebrate this joyful season.
November 28, 2021 – The final broadcast begins with, the return to live audiences, with Music Director David Danzmayr leading ProMusica wind musicians performing one of Mozart's most famous serenades – Serenade No. 10. Known as the "Gran Partita", the work is scored for 13 instruments and its seven movements take you on a journey through Mozart's musical genius, from the glorious to the sublime. The second half of the broadcast features Klaus Simon's arrangement of Mahler's beloved 4th Symphony. Featuring soprano Martha Guth and 14 musicians, this chamber orchestra version endeavors to offer an intimate experience of this emotional work, while preserving the integrity of Mahler's signature orchestral sound.