WOSU Classical 101 FM: Concert Broadcasts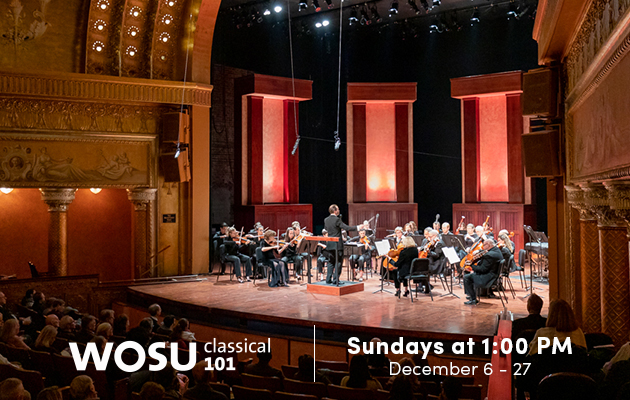 Starting December 6 through December 27, tune in weekly to WOSU Classical 101 FM's ProMusica Chamber Orchestra Broadcast with Boyce Lancaster, Sunday afternoons at 1:00 PM, to hear our 2019-20 season concerts with both full orchestra and chamber music selections. Mark your calendars to relive the joyful and exciting concert moments while staying safe at home!
Broadcast Schedule:
December 6, 2020 – The broadcast season opens with a program that features a Beethoven String Quartet orchestrated by Gustav Mahler, and two works by Mozart — the fourth of Mozart's five Concertos for Violin featuring ProMusica Creative Partner Vadim Gluzman as soloist, along with his 25th Symphony. Next, the stirring Musica Serena by Latvian composer Peteris Vasks rounds out the orchestral part of the performance. Fittingly, since the opening piece was written for string quartet, you'll also hear two string quartet pieces to close out the program—one not originally written for string quartet, the Contrapunctus I from Art of the Fugue by J.S. Bach, and Ravel's String Quartet in F.
December 13, 2020 – Opening the broadcast, which includes two symphonies from Schubert, is his best known Unfinished Symphony. Then, his Symphony No. 3, written some seven years earlier, closes the orchestral part of the program. Sandwiched in between is a relatively new work by Richard Scofano, Iberá, which features the composer as the bandoneón soloist. Ending the program, are two performances from the Worthington Chamber Music Series including the String Quartet in B flat, Op. 18, No. 6 by Beethoven and Caroline Shaw's Blueprint.
December 20, 2020 – This week's broadcast brings the sounds of the season opening with Traetta's Armida Overture, followed by the Corelli Christmas Concerto. Then Music Director David Danzmayr taps into his Austrian roots with one of Mozart's best-known works, his Great G Minor Symphony and percussion master Colin Currie returns to ProMusica performing the Ohio premiere of Helen Grime's Percussion Concerto. The program is rounded out with chamber music selections, Milhaud's Suite for Violin, Clarinet, and Piano and Piazzolla's Four Seasons of Buenos Aires.
December 27, 2020 – The final broadcast begins with contemporary work, ZZ's Dream by Golijov, followed by the beautiful "Elegie," composed by ProMusica's music director's father, Wolfgang Danzmayr. The program continues with  Haydn's Symphony No. 75 and violinist Esther Yoo's ProMusica debut with Tchaikovsky's Violin Concerto — one of the most celebrated works of the violin repertoire. Concluding the broadcast are chamber performances by ProMusica musicians of Ravel's Sonata for Violin and Cello and Rota's Trio for Clarinet, Cello, and Piano.