Concert Broadcasts on Classical 101 FM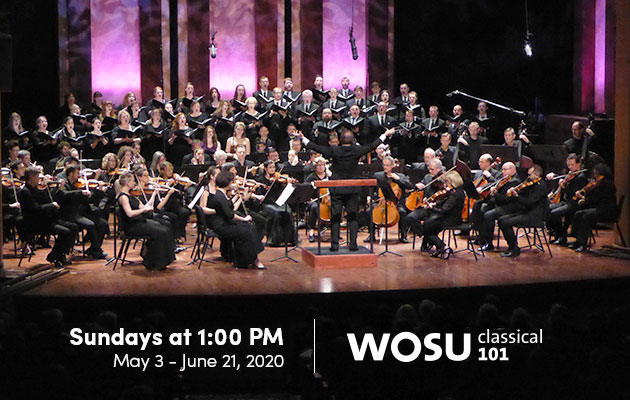 Starting May 3 through June 21, tune in weekly to WOSU Classical 101 FM's ProMusica Chamber Orchestra Broadcast with Boyce Lancaster, Sunday afternoons at 1:00 PM, to hear our 40th anniversary season concerts. Mark your calendars to relive the joyful and exciting concert moments while staying safe at home!
Broadcast Schedule:
May 3, 2020 — The broadcast season opens with violinist Vadim Gluzman, pianist Angela Yoffe, and principal cellist of the Cleveland Orchestra Mark Kosower, in a performance of Beethoven's Triple Concerto. Beethoven's 2nd Symphony and Three Places in New England by Charles Ives rounds out the program.
May 10, 2020 — Venezuelan-born pianist Gabriela Montero came to Columbus for the second ProMusica concert of the 2018-19 season. She has a particularly inspiring story, as she speaks out about how her native country is being destroyed from within. Not only does she do this in both the spoken and written word, but musically as well. She and ProMusica perform the World Premiere of Babel, as well as Mozart's 14th Piano Concerto.
May 17, 2020 — Composers have used melodies and themes written by others as inspiration for centuries, but rarely do you reimagine an entire work. Vivaldi's Four Seasons has served as the launching point for many. Jorge Calandrelli did a Jazz/Classical blend featuring clarinetist Eddie Daniels and Astor Piazzolla wrote a complimentary Four Seasons in Buenos Aires, as examples. (Both have been performed by ProMusica). ProMusica presents Max Richter's take on the well-known classic with violinist Alexandra Soumm and also features Beethoven's 4th Symphony on the program.
May 24, 2020 — Norwegian trumpeter Tine Thing Helseth brought two works to the Southern Theatre with ProMusica, Seraph for Trumpet and String Orchestra by celebrated Scottish composer Sir James MacMillan, and Haydn's ever popular Trumpet Concerto. ProMusica's Beethoven cycle continues with his Pastoral Symphony.
May 31, 2020 — ProMusica's Creative Partner and violinist Vadim Gluzman will leads the orchestra with two works by Bach –– his Violin Concerto No. 2 and Concerto for Two Violins –– in addition to Shostakovich's Chamber Symphony and Tchaikovsky's Serenade for Strings. Also, 20-year-old violinist Alina Kobialka makes her debut with ProMusica in collaboration with the North Shore Chamber Music Festival's Stars of Tomorrow! program. At the age of 13, Alina won the San Francisco Symphony Youth Orchestra's Concerto Competition and performed Tchaikovsky's Violin Concerto with the orchestra.
June 7, 2020 — Beethoven's five sonatas for piano and cello mark Western music's first true ensemble sonatas for the combination of these two instruments; works that in time would become regarded as cornerstones of the cello-piano repertoire. ProMusica explores Beethoven's Cello Sonatas, featuring ProMusica principal cellist Marc Moskovitz and guest pianist Larry Todd. Moskovitz and Todd co-authored the recently released book published by Boydell & Brewer, Beethoven's Cello: Five Revolutionary Sonatas and Their World.
June 14, 2020 — Four of ProMusica's principal musicians, concertmaster Katie McLin, violist Mary Harris, cellist Marc Moskovitz, and double bassist John Pellegrino join forces with pianist Andrew Campbell for an afternoon of glorious chamber music, including Franz Schubert's Trout Quintet.
June 21, 2020 — David Danzmayr closes the 40th anniversary season with the Beethoven's massive Symphony No. 9. Vocalists Chelsea Hart Melcher, Julie Miller, Lawrence Wiliford, and Aaron Wardell combined with the LancasterChorale are featured for an exciting conclusion to the 2018-19 season. The concert also includes Mozart's Allegri Miserere and select Schubert songs orchestrated by Max Reger.