WOSU Classical 101 FM: Concert Broadcasts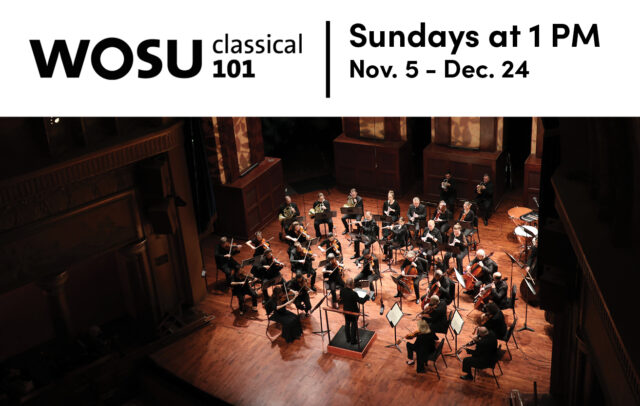 During the months of November and December, tune in weekly to WOSU Classical 101 FM's ProMusica Chamber Orchestra Broadcast with Boyce Lancaster, Sunday afternoons at 1:00 PM, to hear selected concerts from our 2022-23 season. Mark your calendars to relive the joyful and exciting concert moments on your radio!
Broadcast Schedule:
NOVEMBER 5, 2023 – The broadcast season opens with Opening Night of ProMusica's 44th season! Music Director David Danzmayr conducts Beethoven's Fifth Symphony, which remains one of the most celebrated symphonic works in history. Hailed as a "remarkable cellist" and described as "sheer perfection," cello virtuoso Kian Soltani performs two works by Haydn and Iranian composer Reza Vali.
NOVEMBER 12, 2023 – Recognized among today's top performing artists, Creative Partner Vadim Gluzman brings the lyricism of Brahms' Violin Concerto to life. Music Director David Danzmayr opens the program with Korean-born composer Unsuk Chin's fiery subito con forza. Sir James MacMillan's One pairs with Mendelssohn's triumphant Reformation Symphony.
NOVEMBER 19, 2023 – One of today's top performing violinists, Creative Partner Vadim Gluzman leads the orchestra for a program that evokes rich sonorities and showcases stunning technique. Vivadi's sprightly Concerto for 4 Violins juxtaposed with the deeply reflective Musica Serena by Pēteris Vasks', and culminating with one of music's most loved works, Vivaldi's Four Seasons.
NOVEMBER 26, 2023 – Hear Mozart's remarkable musical path from child prodigy to adult genius as the orchestra performs his first symphony, composed when he was eight years old, and his last, written at age 32. Noah Bendix-Balgley, Concertmaster of the Berlin Philharmonic, is featured as both composer and soloist, performing his vivid and lively Klezmer Concerto.
DECEMBER 3, 2023 – Music Director David Danzmayr conducts the orchestra for a diverse program of little-known gems and traditional favorites of sparkling virtuosity. ProMusica's winds are featured on Strauss' Sereande for Winds and the strings take center with Tausky's reflective and moving Coventry. Principal bassoon Ellen Connors performs Villa Lobos' beautiful and evocative Ciranda Das Sete Notas, and Mozart's Prague Symphony, offers an exciting conclusion to the broadcast.
DECEMBER 10, 2023 – Our Creative Partner, violinist Vadim Gluzman, leads the orchestra on an evocative journey through time. The dreamlike sonorities of Golijov's Dreams and Prayers of Isaac the Blind are bookended by the brilliant and sprightly melodies of Mozart. Indonesian pianist and rising star Janice Carissa performs her ProMusica debut as soloist for his renowned Piano Concerto No. 23. 
DECEMBER 17, 2023 – Hear ProMusica's 2022-23 season finale featuring the powerful musical prowess of Caroline Shaw and Johannes Brahms. Shaw, who at age 30 became the youngest composer to win the Pulitzer Prize, is one of the most inventive and engaging performers of today. Brahms' majestic Symphony No. 1 triumphantly ends to the season.
DECEMBER 24, 2023 – Relive the our November 2022 performance of Handel's Messiah. The orchestra is joined by LancasterChorale, soprano Yulia van Doren, mezzo-soprano Julie Miller, tenor Steven Soph, and bass-baritone Kevin Deas, led by Music Director David Danzmayr.