WOSU Classical 101 FM: Concert Broadcasts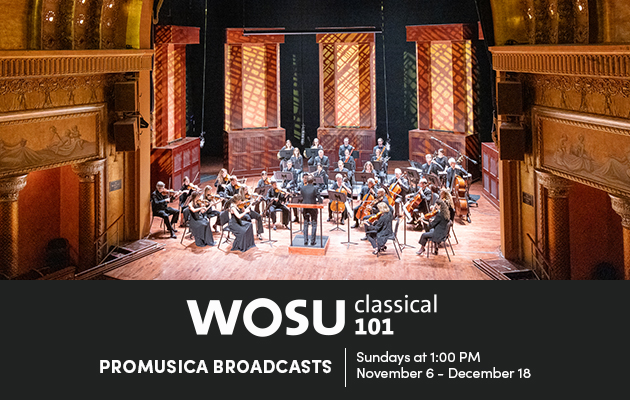 During the months of November and December, tune in weekly to WOSU Classical 101 FM's ProMusica Chamber Orchestra Broadcast with Boyce Lancaster, Sunday afternoons at 1:00 PM, to hear selected concerts from our 2021-22 season. Mark your calendars to relive the joyful and exciting concert moments on your radio!
Broadcast Schedule:
NOVEMBER 6, 2022 – The broadcast season opens with Opening Night of ProMusica's 43rd season with the celebratory return to the Southern Theatre! Composer/performer Xavier Foley performs Bottesini's Bass Concerto No. 2, and violinist Eunice Kim joins him for Foley's own composition, For Justice and Peace – a moving work that illustrates the importance of social justice issues to our society today. The program opens with Suite for Lower Strings, a reimagination of beloved Bach melodies by Brazilian-American composer Clarice Assad, and concludes with Beethoven's wildly energetic and fantastic Seventh Symphony.
NOVEMBER 13, 2022 – Led by Creative Partner and violinist Vadim Gluzman, our musicians perform Beethoven's lyrical Septet – evoking beautiful sonorities and warm timbres through its unique ensemble mix of wind and string instruments. Rising star violinist Julian Rhee makes his ProMusica debut and joins Vadim for Schnittke's compelling Concerto Grosso No. 1, showcasing the soloists' and orchestra's extraordinary virtuosity and musical flair. 
NOVEMBER 20, 2022 – Widely known for her distinctive musical voice, pianist Simone Dinnerstein makes her ProMusica debut leading the orchestra from the keyboard for a transformative program of Bach and Philip Glass. Her inventive interpretations of the great Baroque master are highlighted in the first half, and the program closes with Philip Glass's Piano Concerto No. 3 — written to be paired with Bach, and which Dinnerstein helped co-commission and premiered in 2017.
NOVEMBER 27, 2022 – Pianist Spencer Myer returns to the ProMusica stage, joining concertmaster Katherine McLin and principal cellist Marc Moskovitz, for Beethoven's masterful Triple Concerto. The evening begins with Samuel Coleridge-Taylor's charming Four Novelletten and ends with Mendelssohn's poetic and romantic "Scottish" Symphony.
DECEMBER 4, 2022 – This week's broadcast features combinations of duo, trio and quartets revealing the virtuosic and musical potential of the string family. ProMusica's principal string musicians Katherine McLin, Mary Harris, Marc Moskovitz, and John Pellegrino crisscross the European musical continent, from Italy and Austria to England and Russia, in a varied program of unusual music for strings. The broadcast ends with Vaughan Williams' string orchestra masterpiece, Fantasia on a Theme by Thomas Tallis, performed at St. Mary's Catholic Church in March of 2022.
DECEMBER 11, 2022 – David, Vadim, and longtime ProMusica friend, cellist/composer Joshua Roman finally reunited to perform a program that had been canceled in 2020, due to the pandemic, and was finally performed last April. Vadim graces the stage for Mendelssohn's infamous Violin Concerto, and then joins Joshua for the world premiere of his double concerto and ProMusica's 68th commission. Haydn's whimsical "Surprise" Symphony and Argentinian composer Osvaldo Golijov's Last Round round out the broadcast program. The broadcast will end with Katherine McLin's performance of Astor Piazzolla's beloved and virtuosic work "Four Seasons," that was performed at St. Mary's Catholic Church in March of 2022.
DECEMBER 18, 2022 – The 2021-22 season finale featured the return of Croatian pianist Martina Filjak, known for her brilliant lyricism and technical mastery, to perform Beethoven's Third Piano Concerto. Hear Grammy-nominated composer Anna Clyne's Stride, commissioned as part of Beethoven's 2020 anniversary celebrations, which highlights ProMusica's strings, and Mendelssohn's energetic and dramatic "Italian" Symphony bringing a fiery, celebratory end to the broadcast season. 
*SPECIAL HOLIDAY BROADCAST* December 25, 2022 – For the final broadcast of the season, relive the recent November 2022 performances of Handel's Messiah with LancasterChorale, soprano Yulia Van Doren, mezzo-soprano Julie Miller, tenor Steven Soph, and bass-baritone Kevin Deas, led by Music Director David Danzmayr.