What is the "Composer/Performer Project?"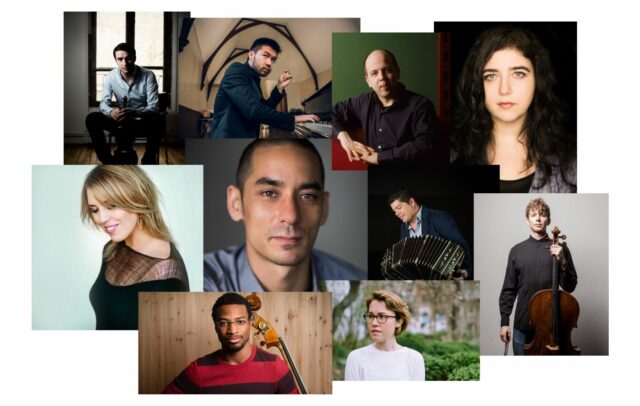 At ProMusica, we've had a longstanding commitment to performing new music and Music Director David Danzmayr's Composer Performer Project has played a significant role in connecting audiences to living composers. The project is an effort to showcase today's composers as not only creators of work, but soloists in their own right. While there was a time when this idea might not have seemed so novel (for example during the time that Mozart lived), we're giving audiences a new and fresh perspective on current living composers. Having launched the project in 2014, this month, we'll be featuring our tenth composer with Andy Akiho at our Steel Pan & Schubert concerts on November 11 & 12.
We'd like to take a moment to reminisce about our past artists, and see what they are up to since performing on our stage.
---
Lera Auerbach
Kicking off the Composer/Performer Project in the spring of 2014, pianist Lera Auerbach joined the orchestra with her piece Eterniday, which was her tribute to, the great composer, Mozart. Lera returned again to the Southern Theatre stage in 2017 with a work commissioned by ProMusica, her Concerto for Violin, Piano, and Orchestra where she was joined for the world premiere by our concertmaster Katherine McLin.
In recent years, Lera has collaborated with the New York Philharmonic, Philadelphia Orchestra, and National Symphony, among many others. Besides being a conductor, pianist, and composer, she is also an award-winning poet and exhibited visual artist. In 2022, her Symphony No. 6 "Vessels of Light," a commission of Yad Vashem – The World Holocaust Remembrance Center, was unveiled in Lithuania as part of the city's Cultural Capital of Europe celebrations, and the work received its American premiere later at Carnegie Hall. Last month, Amare, a new house for arts at The Hague (Netherlands), presented a two-week Auerbach Festival, including all aspects of her artistic offerings, from aural to visual.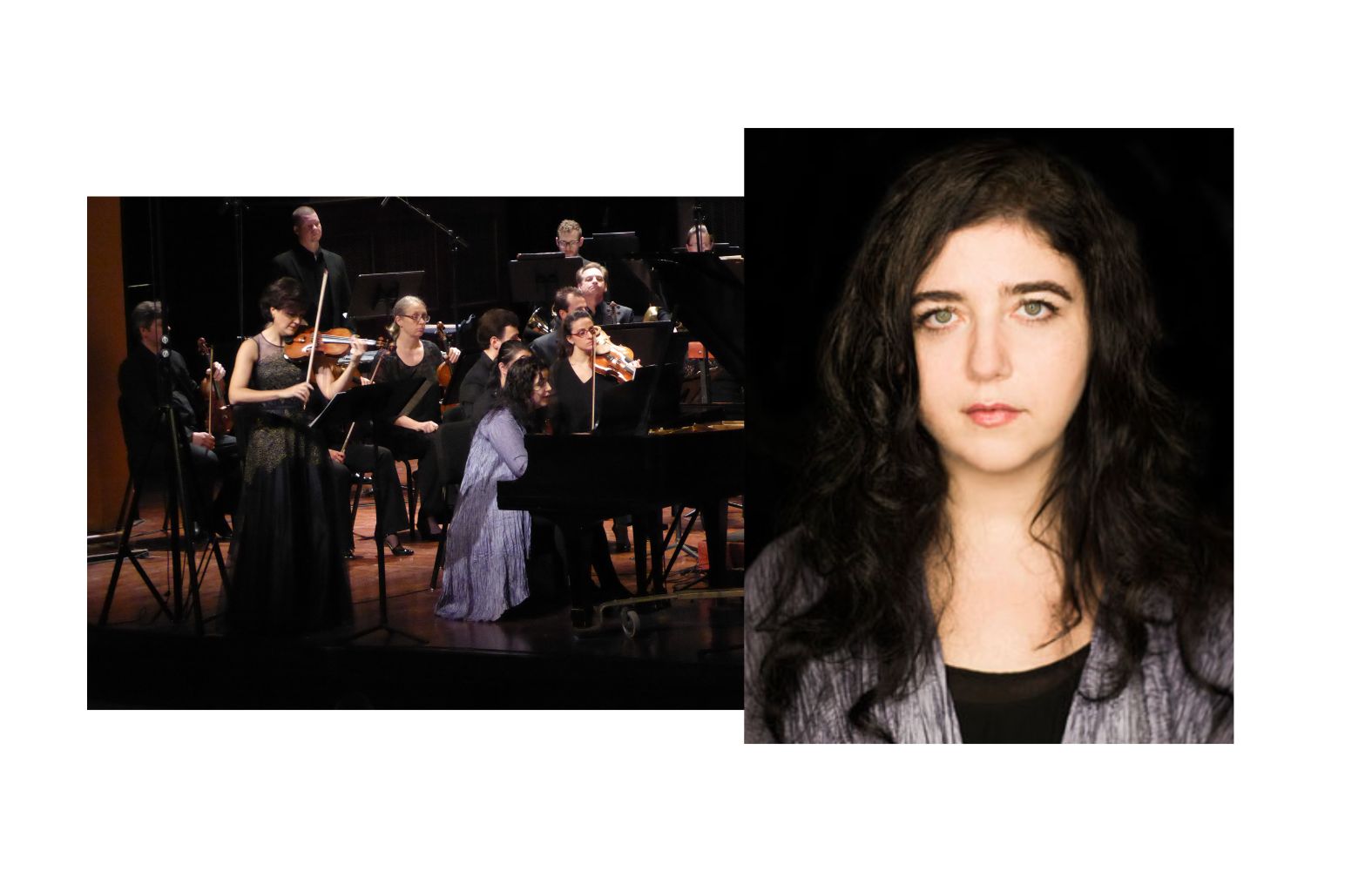 Huw Watkins
In 2015, Huw Watkins, British pianist and composer, brought the U.S. premiere of his piece, Little Symphony to ProMusica. He had originally written the piece for the Orchestra of the Swan, a group based in Stratford-upon-Avon, crafting it to highlight the groups' strengths and variety of orchestral colors. Huw also joined the orchestra as soloist for Shostakovich's Piano Concerto No. 2.
Huw has written concertos for a number of high-profile soloists, including the widely acclaimed Violin Concerto for Alina Abragimova, premiered by the BBC Symphony Orchestra conducted by Edward Gardner. Huw's longstanding relationship with the BBC National Orchestra of Wales has resulted in a number of works, including a Piano Concerto and a Double Concerto for viola and cello. In addition to his work for globally renowned symphonies and soloists, Huw has a large chamber orchestra repertoire, and is increasingly recognized as a composer for voice having recently completed two operas.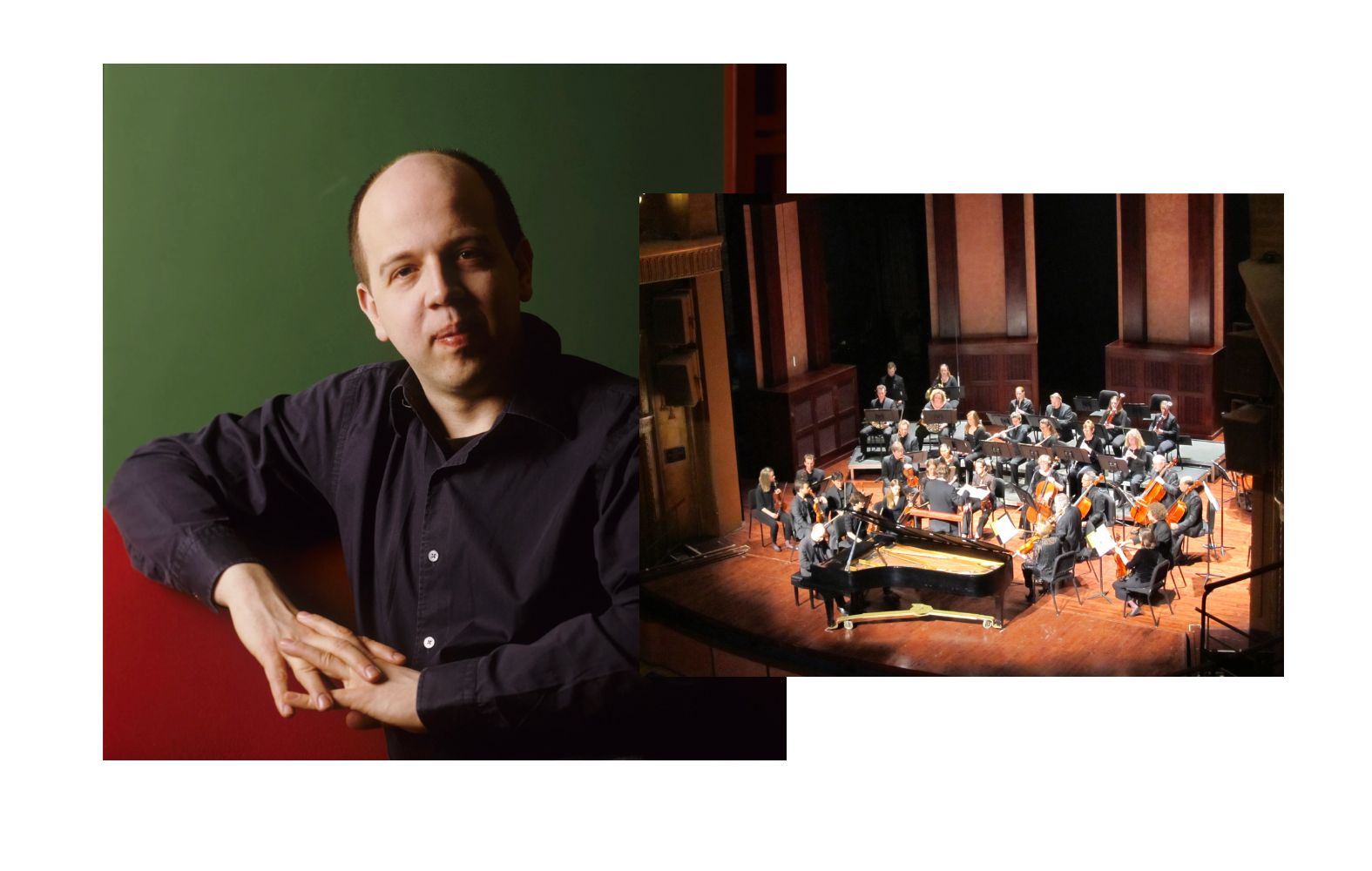 Conrad Tao
The 2017-18 season opened with pianist Conrad Tao. Conrad made his first appearance with ProMusica at age 12 in 2007, and his performance with the Composer/Performer Project was his third appearance with the orchestra. His 2017 performance was the debut of his piece Over, commissioned by ProMusica, which explores the three definitions of this common word.
The current 2023-24 season looks to be an exciting one for Conrad. In October, he made his subscription series debut with the Chicago Symphony Orchestra performing Gershwin's Concerto in F Major with James Gaffigan. He will re-unite with the New York Philharmonic to perform Mozart's Piano Concerto No. 17, following his curated program for them last season as part of their Artist Spotlight series. Meanwhile, he's celebrating the 100th anniversary of Rhapsody in Blue with multiple performances of the work and a new companion piece commissioned from him by the Santa Rosa Symphony.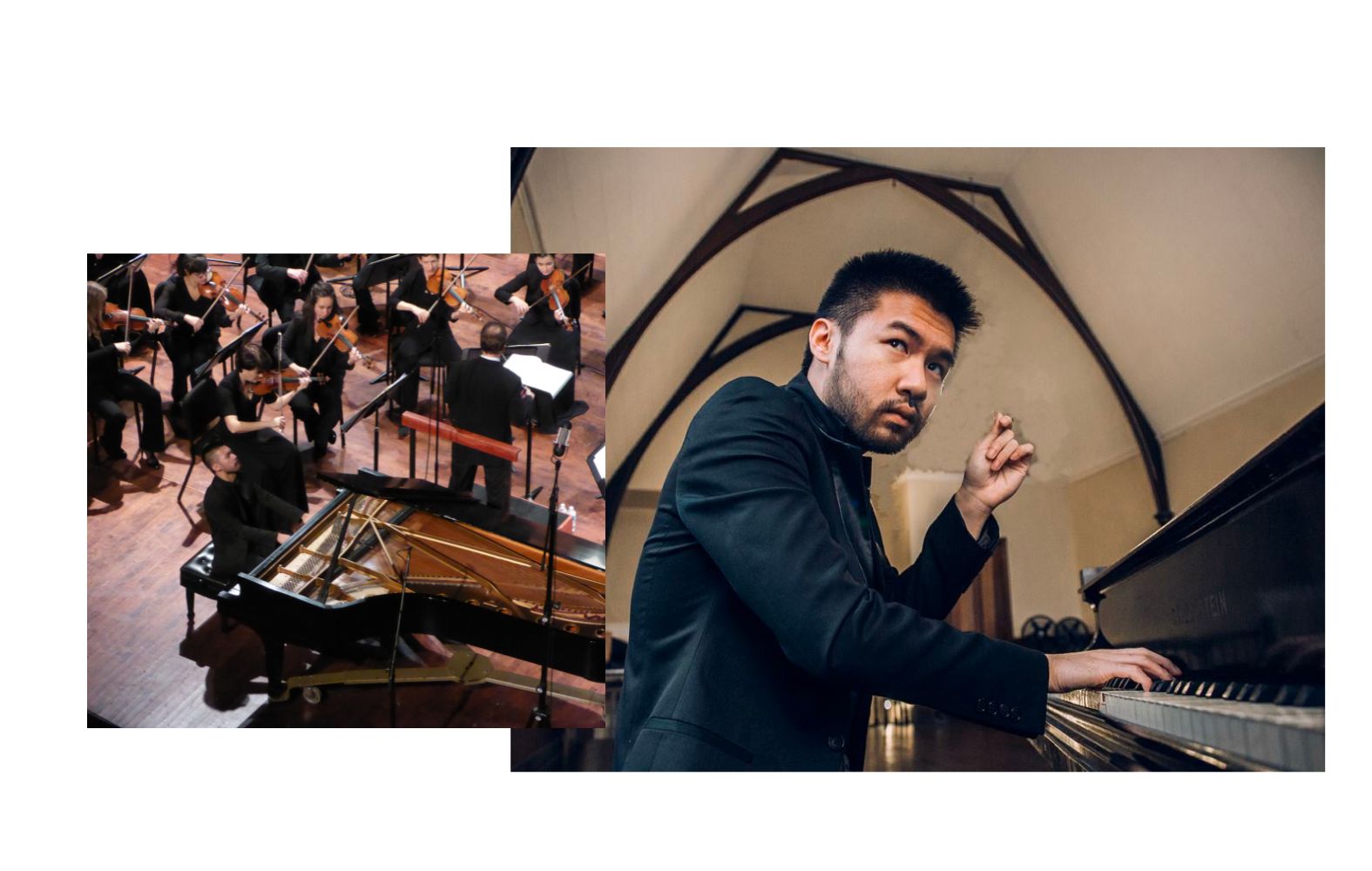 Gabriela Montero
Pianist Gabriela Montero performed with ProMusica in 2018 with the premiere of her piece Babel, which was commissioned jointly by ProMusica and the Scottish Ensemble. The piece highlighted her experiences with the hijacking and collapse of her home country of Venezuela by unprecedented forces of criminality, barbarism and nihilism.
Shortly after playing with us, in 2019, she released an album on the Orchid Classics label that features her own "Latin" Concerto and Ravel's Piano Concerto in G Major, recorded with the Orchestra of the Americas in Frutillar, Chile. This year, she is launching two initiatives: "Gabriela Montero at Prager," a new ongoing artistic residency established at the Prager Family Center for the Arts in Easton, Maryland and the "Gabriela Montero Piano Lab," a mentorship program in partnership with global music conservatory OAcademy. Montero also makes venue debuts in Paris at the Seine Musicale and the Philharmonie. This season she also re-joins forces with Marin Alsop for performances of her "Latin" Concerto with the Chicago Symphony at the Ravinia Festival and the Dallas Symphony. Last March, she brought her 2018 composition Babel to the Oregon Symphony conducted by David Danzmayr.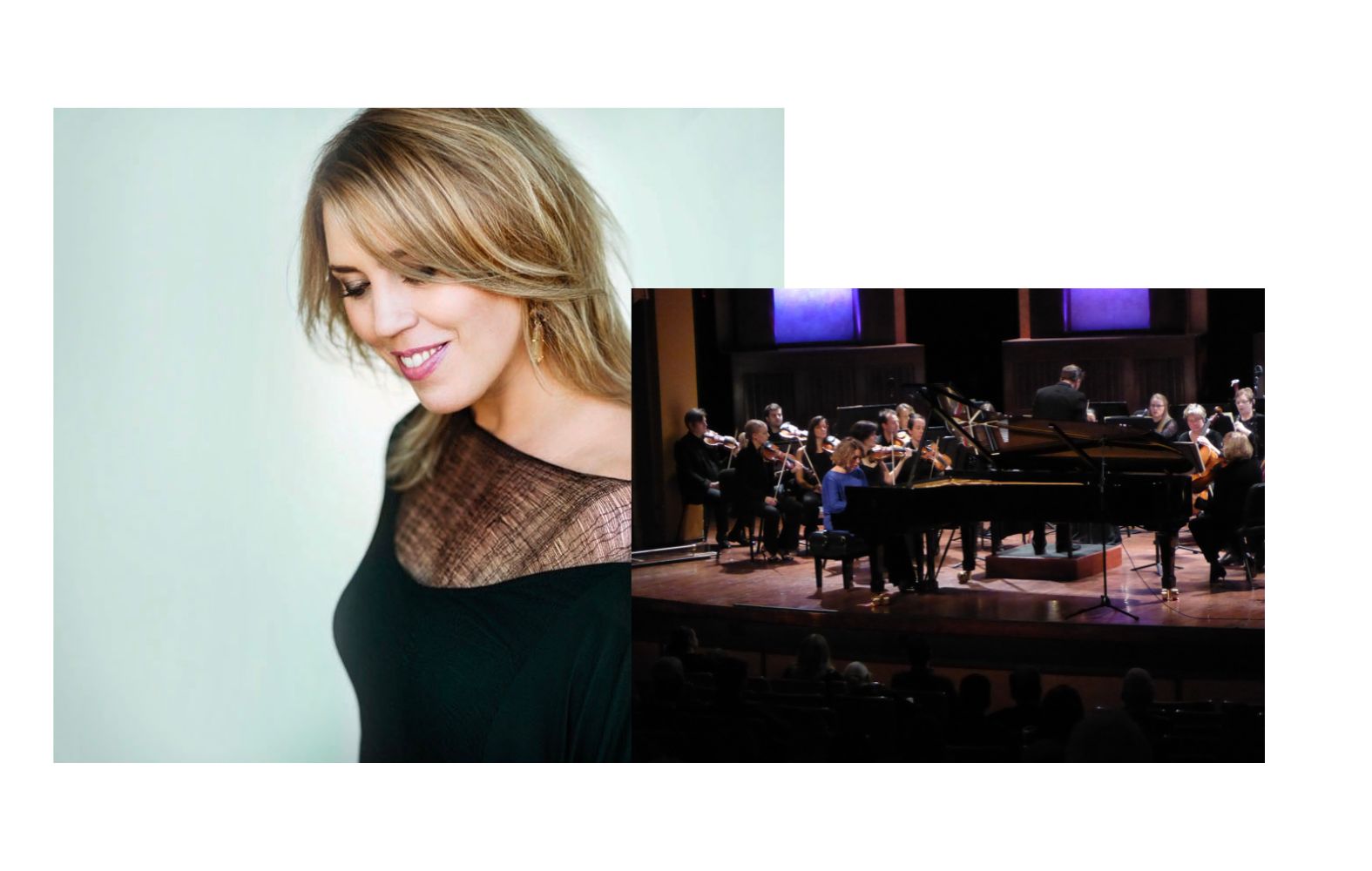 Richard Scofano
In 2019, ProMusica featured Richard Scofano as bandoneon soloist, an unusual instrument to hear with an orchestra, with the U. S. premiere of his piece IBERÁ Concerto for Bandoneón & Orchestra. Iberá means "bright waters" and is a reference the wetlands located in the of Corrientes, Northeastern Argentina, a province at the crossroads of Paraguay, Brazil, and Uruguay.
Richard continues to distinguish himself as an expert bandoneon player, as he received a commission by the River Oaks Chamber Orchestra in 2020 to write a symphonic poem entitled La Tierra Sin Mal. In September 2022, he performed his Concerto for Bandoneón & Orchestra and La Tierra Sin Mal with Orquestra Sinfônica Brasileira. Later that year he also brought the symphonic poem, and a performance of Astor Piazzolla's Concerto for Bandoneon, to the New Mexico Philharmonic.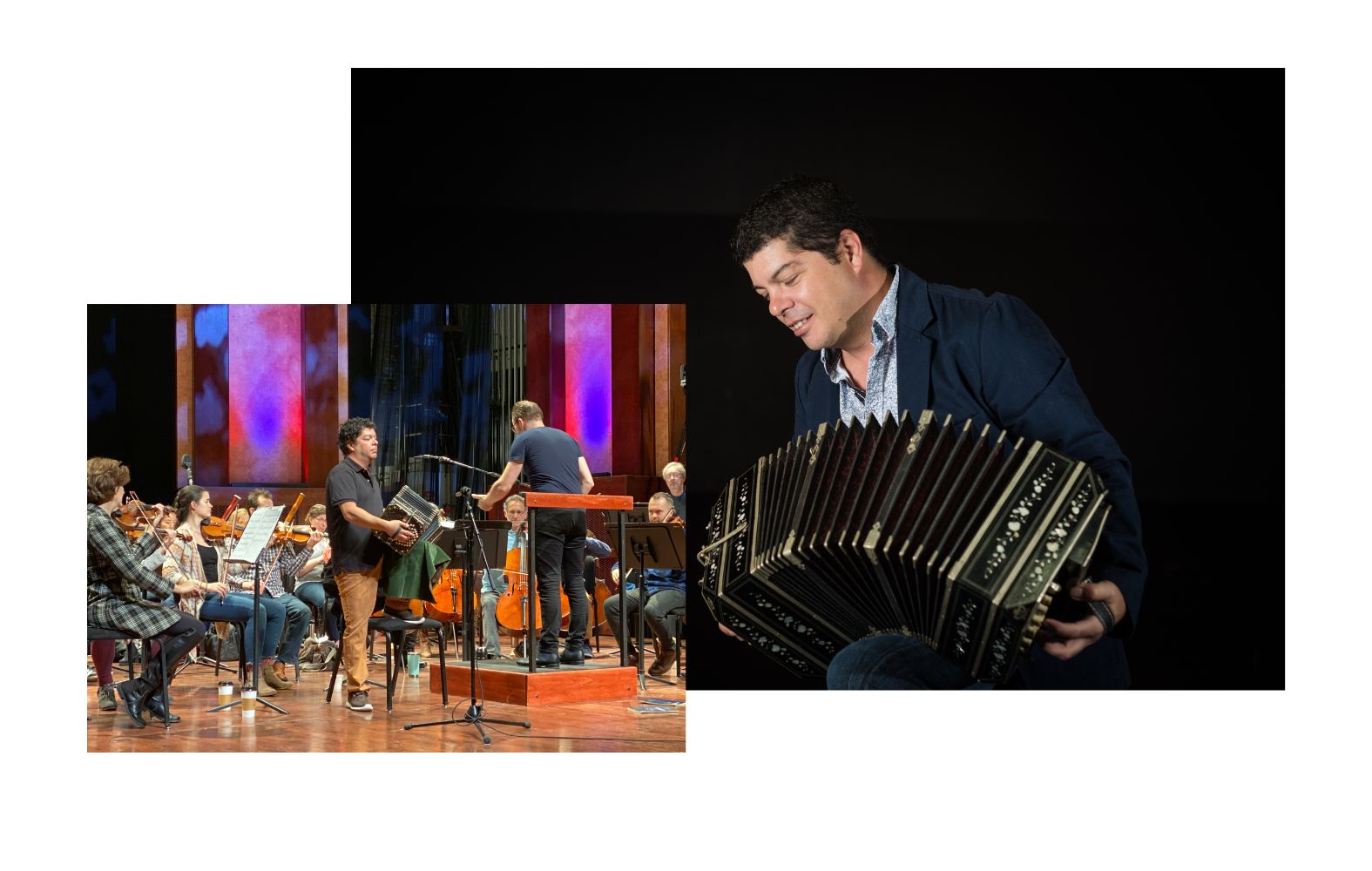 Xavier Foley
Bassist Xavier Foley was the first artist in the Composer/Performer Project after returning from the COVID-19 pandemic shutdown. The orchestra played his piece For Justice and Peace with Xavier on the bass and Eunice Kim on violin. The piece, co-commissioned by Carnegie Hall, the Sphinx Organization, and the New World Symphony acknowledges 400 years of slavery since the arrival of the first slave ship in Jamestown Virginia. It is a work that illustrates how the issues of justice and peace remain critical to our society today.
Xavier continues to perform with world-renowned orchestras and continues adding to the repertoire for double bass through his compositions. During the 2023-24 season, Xavier will tour extensively throughout North America with the Sphinx Virtuosi playing his new concerto, Galaxy Concertante, for two double basses commissioned by Sphinx Virtuosi, New World Symphony, and Carnegie Hall. He will also make appearances performing his own works with the Spartanburg Philharmonic, San Luis Obispo Symphony, Chicago Sinfonietta, University of South Carolina Symphony, Kansas City Symphony, Northwest Sinfonietta, and Oregon Symphony.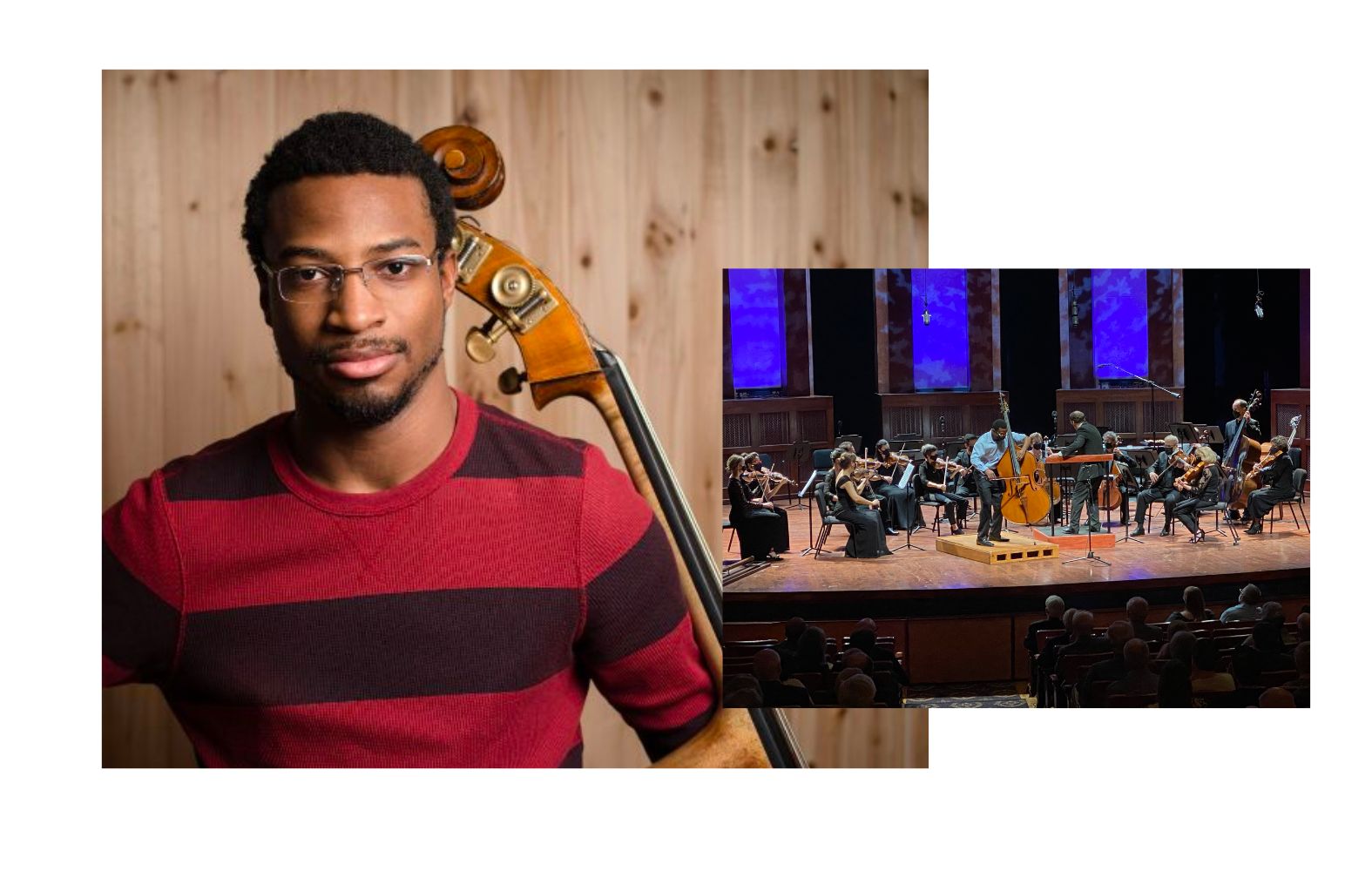 Joshua Roman
Cellist Joshua Roman is the second composer to have been featured twice as part of the Composer/Performer Project. First, in 2016 he premiered his Cello Concerto, co-commissioned by ProMusica and the Illinois Philharmonic Orchestra. Originally planned for April of 2020, the premiere of Joshua's double concerto, Confluence, finally took place in April of 2023. Creative Partner violinist Vadim Gluzman joined Joshua for the world premiere of this work, written to commemorate a milestone wedding anniversary of two long-time ProMusica patrons, that became the organization's 68th commission.
These days, Joshua is continuing his work as part of Las Vegas Philharmonic's inaugural Artist in Residence and will perform as a soloist with the Detroit, Oregon, Monterey, Vermont, and Greenville Symphonies. His ongoing trio project with Edgar Meyer and Tessa Lark will also have a performance at the acclaimed Big Ears Festival.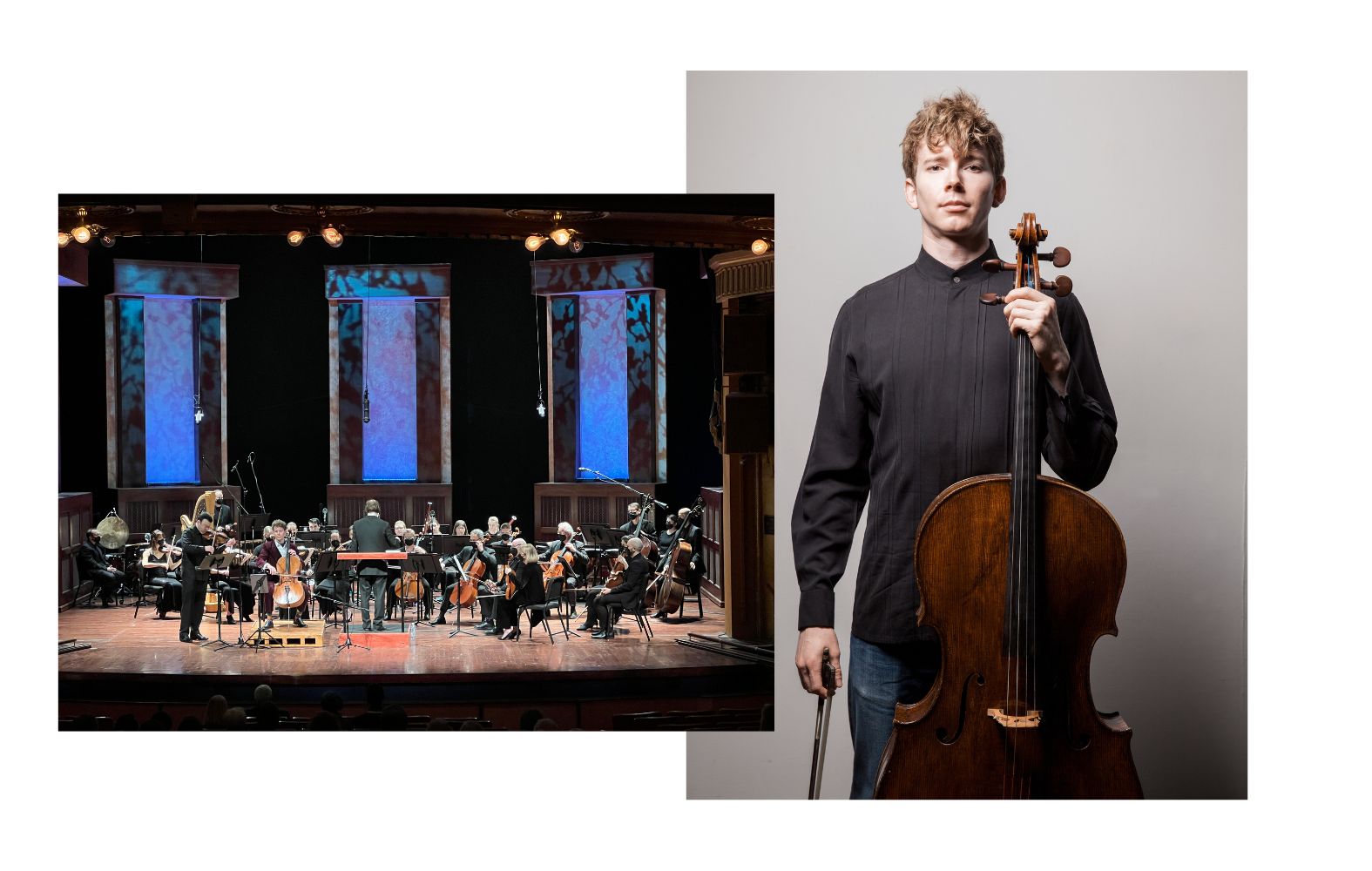 Noah Bendix-Balgley
In March of 2023, violinist and composer Noah Bendix-Balgley joined our orchestra with his piece Fidl Fantazye: A Klezmer Concerto. The work was inspired by his musical upbringing and listening to klezmer music with his family, and recently arranged to be performed by chamber orchestra. With three movements that are played without pause, the piece's melodies explore different dances from the klezmer tradition.
Noah is currently First Concertmaster for the Berliner Philharmoniker, as well as a featured soloist with some of the most distinguished orchestras including the Baltimore Symphony Orchestra and the Pittsburgh Symphony Orchestra. Last year, Noah made his concerto debut at Carnegie Hall, performing as the featured soloist of the Berliner Philharmoniker on their U.S. tour. Noah continues to work with the Berliner Philharmoniker and will tour Asia with the ensemble starting this month.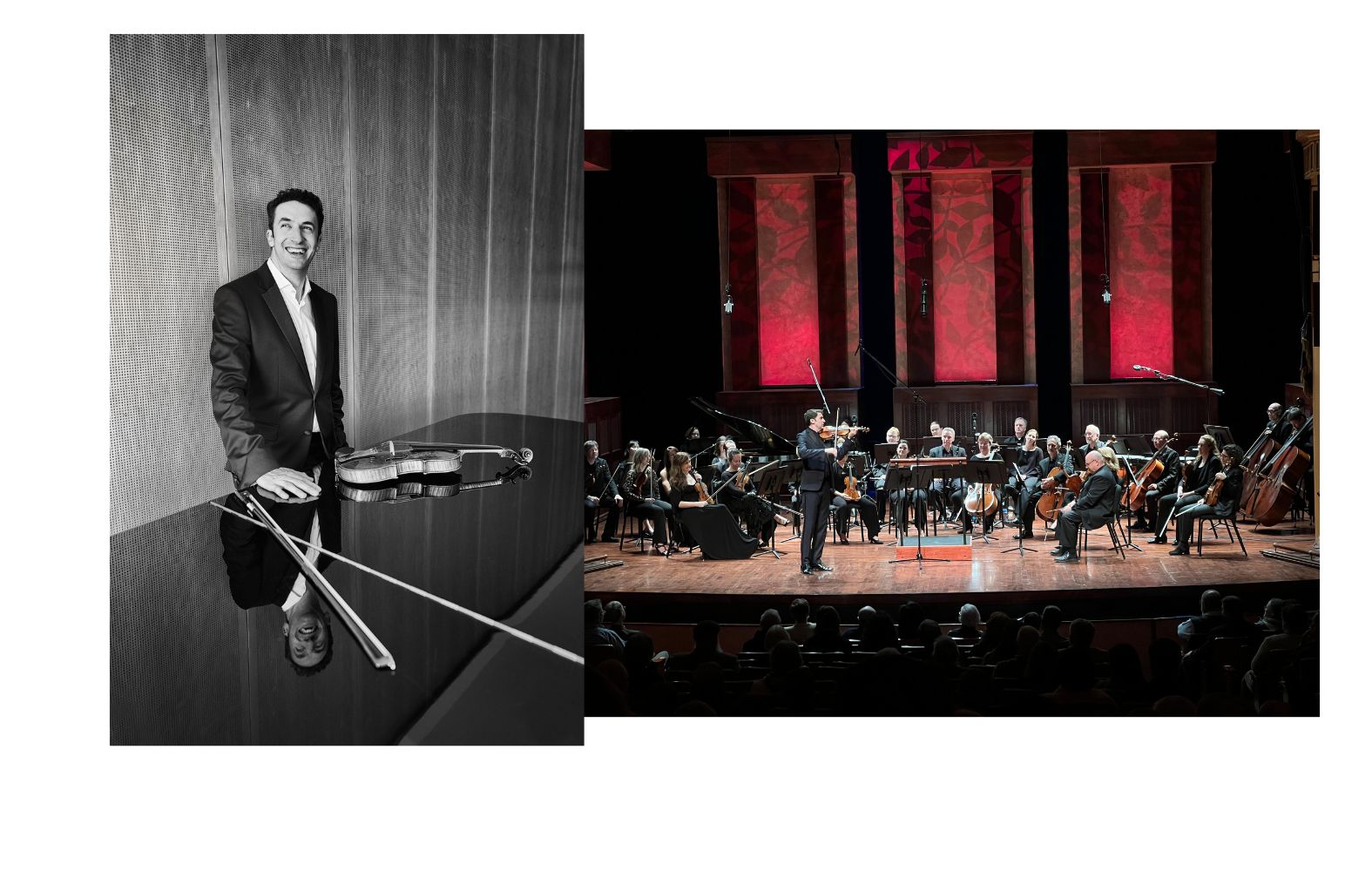 Caroline Shaw
Most recently, in May of 2023, we welcomed composer and vocalist Caroline Shaw to the ProMusica stage to showcase her range as a composer. We opened the concert with Blueprint for String Quartet, a single-movement string quartet inspired by Beethoven's Op. 18 No. 6. Caroline then joined the orchestra, adding her unique voice to her collection of songs, Is a Rose. Finally, audiences enjoyed a performance of her Entr'acte for String Orchestra, a piece that Caroline was inspired to write in 2011 after hearing the Brentano Quartet play Hayden's Op. 77 No. 2. Caroline Shaw was originally scheduled to appear with ProMusica in May of 2020.
Some of her recent projects include projects include the score to "Fleishman is in Trouble" (FX/Hulu), vocal work with Rosalía (MOTOMAMI), the score to Josephine Decker's "The Sky Is Everywhere" (A24/Apple), and much more. Since her performance with ProMusica, she has worked with Vali Dance Festival and their dancers to find ways to bring movement into her music. She also recently released new songs from her latest project, Ringdown, which can be found on all streaming platforms.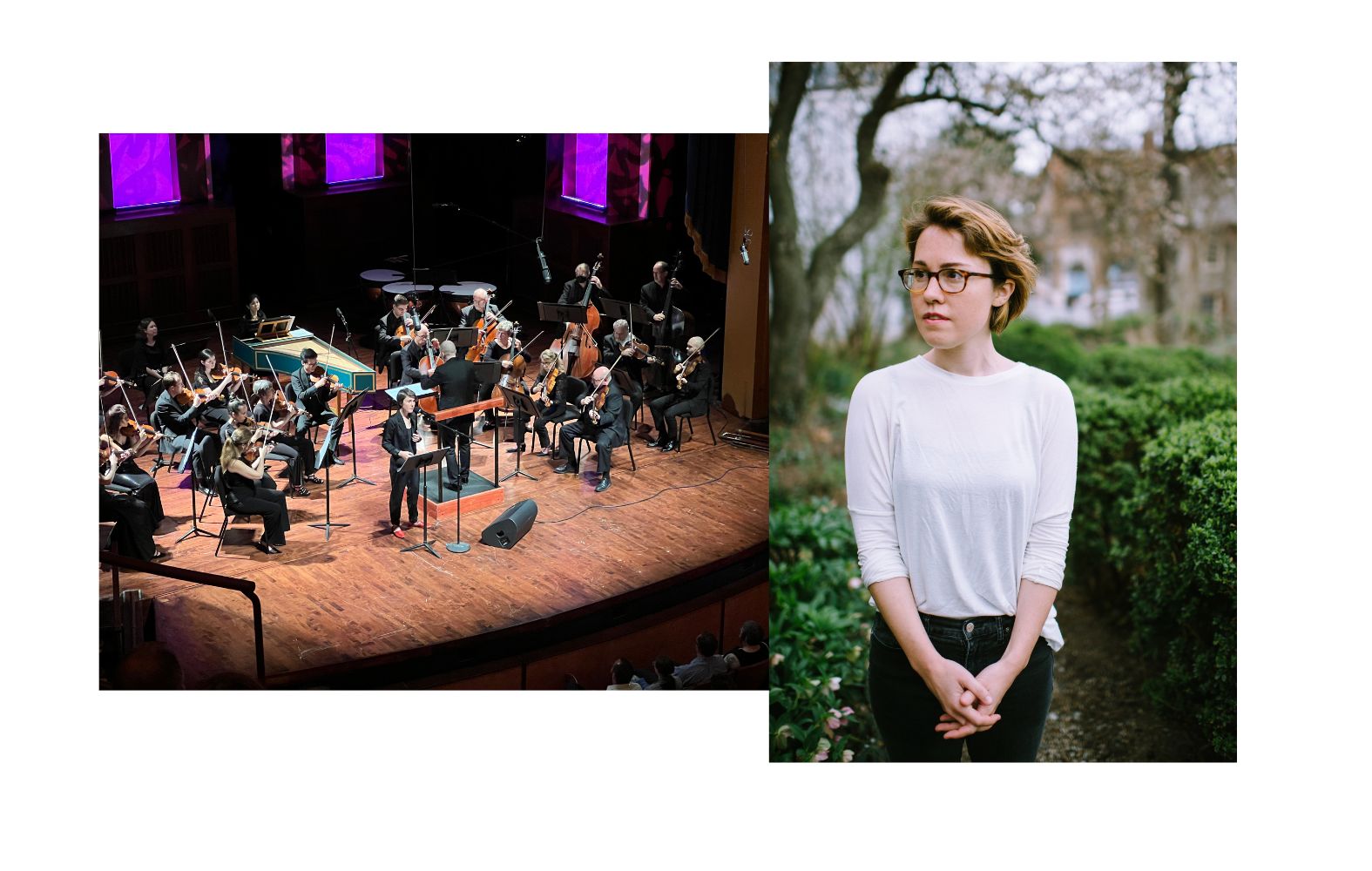 Andy Akiho
We're excited to continue the Composer/Performer Project this season with Andy Akiho, on steel pan, performing his piece Beneath Lighted Coffers. The piece was originally written for the National Symphony Orchestra and is a homage to the Roman Pantheon and its unique structure.
Andy is a Pulitzer Prize finalist and GRAMMY-nominated composer whose bold works unravel intricate and unexpected patterns while surpassing preconceived boundaries of classical music. Recent engagements include commissioned premieres by the New York Philharmonic, National Symphony Orchestra, Shanghai Symphony and much more.
You can experience Andy's engaging and unique performance at Steel Pan & Schubert on November 11 and 12 at the Southern Theatre.